We all know that wellness and sustainability were two trends at the forefront of corporate events last year. It's still true in 2019! Event attendees in general are focused on health, culture, experiences, and connection. With that in mind, meatless dishes, unique flavors, vegetables, and low-calorie, savory cocktails are some popular food and drinks being highlighted on corporate event menus this year.
Chefs are emphasizing vegan, vegetarian, and raw food dishes to promote wellness. Main dishes that are comprised of vegetables only are being offered, and plant-based proteins, such as jackfruit, are becoming a common meat alternative. As in 2018, sustainability practices are more important than ever. Organic produce continues to be sourced locally, and chefs continue to work on creating zero food waste.
Meat is not the only thing being swapped this year; vegetables are replacing carbs, too. Yuba pasta, cauliflower gnoc­chi, and chickpea pizza crusts are a few of the carb exchanges you can expect to see on corporate event menus.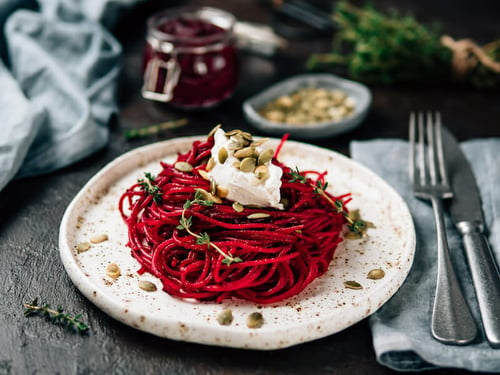 African, Israeli, Kazakhstan, and Japanese spices are finding their way into wellness-focused specialty dishes. Ethnic dishes we are seeing chefs include on event menus this year are Turkish shawarma, Polish bratwurst and pierogis, Indian chicken tikka masala, Spanish chorizo with papas bravas (cubed potatoes in a spicy tomato sauce), and from the Yucatan peninsula, cochinita pibil (pork taco with pickled red onion).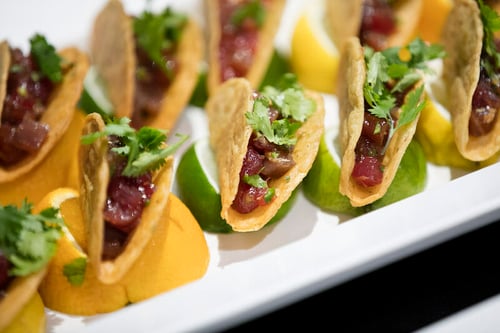 Superfoods like goji berries and mushrooms are now being highlighted not only in food but also infused into cocktails and other beverages, such as seltzer and mushroom tea.
Since 2019 is the year of wellness, the vegetable cocktail trend is a big one. Cocktails crafted with ingredients like corn, beans, beets, tomatillo, jicama, and sunchoke will take your attendees' taste buds for a spin. Savory ingredients like cheese are now inspiring martinis while fresh basil and other herbs are being paired with gin, vodka, and even bourbon to create more sophisticated drinks.
Also, because cannabis is now legal in a several states and Canada, hotels and bars in those areas are creating cocktails infused with THC and others with CBD, which is a cannabis compound that relieves inflammation. Expect to see these on drink menus at events in those areas this year. Continuing the effort to be healthier, we are seeing quite a few cocktail offerings that have less calories and alcohol content available for attendees that don't want a hangover the next day. Expect this trend to continue as people are more and more focused on their well-being than in years past.