There is special anticipation that comes with knowing you have a large corporate event coming up. If you're like us, you've looked forward to the return of "big" events and can't wait to learn new concepts, meet new people, absorb new experiences, and more. Maybe you've perused the pre-event marketing communications, you've downloaded the app, and all you've got left to do is…wait. Then, the day of your event arrives, and if that event is overscheduled, excitement can quickly transform into exhaustion.
A schedule that's packed can be overwhelming. Moving, interacting, and engaging all day long can be taxing. If you've gone to a corporate event and been instantly inundated by sessions and activities, you know the resulting exhaustion can impact what you retain. As event hosts, we want to make sure our attendees leave feeling that they gained valuable knowledge and their experience was worthwhile, not as if they've been run into the ground.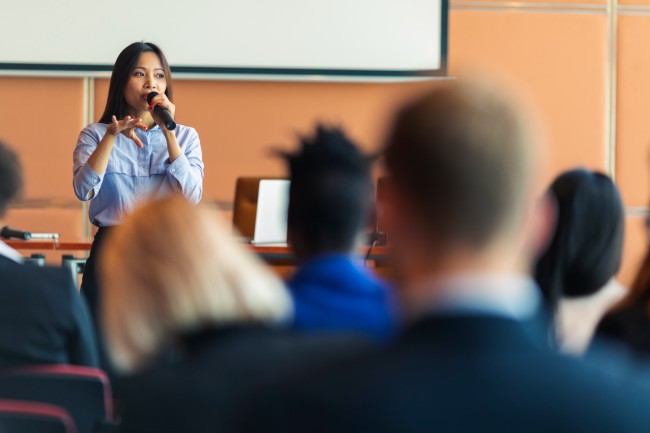 Quick Links
What Is Corporate Event Planning?
Planning and delivering a quality corporate event can be challenging. Because there are many moving parts and behind-the-scenes tasks, businesses often hire event planning companies and agencies to assist with the process.

Event planning starts with strategizing and outlining goals for the event and extends through post-event communications and feedback. It covers everything from speakers, registration, and technology to venues, vendors, and entertainment. As one can imagine, it involves complex logistics, so it's always helpful for the team you're working with to have significant experience to ensure that they are prepared to handle changes and issues as they arise.

Common Challenges to Corporate Event Planning
Event planning is complex. It involves both strategy and art. At times, it is like watching a performance in that various aspects are happening "behind the curtain," but the audience should not see those elements. To keep the "performance" on track, having an experienced team to help support your efforts is invaluable. There are few flawless events; however, knowing what challenges may be coming your way can better help you plan and prepare for those instances. Common challenges include:
Overspending or

budgeting issues

Lacking backup plans for emergencies
Over scheduling or not considering timing
Not properly planning for the number of attendees
Lacking event structure or clearly defined support roles
Not including enough time for networking
Hiring inexperienced event planners
Not creating an engagement plan for before, during, and after an event
Hiring an experienced event planning agency can resolve all of the above problems. One of the biggest issues relates to timing and understanding how to move your guests to and from events, leaving them enough time for informal conversations while not feeling overcommitted.
How Over Scheduling Your Event Can Impact Success
As an event planner and event host, one of your primary goals is to ensure a successful event. However, it is key to mention here that your definition of success will be different from your attendees. Identifying the factors that can impact event success and the guests' enjoyment is crucial. More and more, people are beginning to focus on ways they can slow down. The pandemic created a period of reflection for people to determine how they feel about investing their time and engaging in events.
Your goals as a host or planner may be different from your attendees. While both of you have a goal, it's important to remember that yours is likely larger in scope. For example, you probably want to pack as many meaningful sessions into the schedule as possible while your attendees simply want to dig deeply into the concepts they came to explore. Attendees often see corporate events and meetings as an opportunity to connect. Their goal is to leave with new information, new ideas, and new connections. It's difficult to feel as if that goal has been successfully met if a guest is exhausted or forced to miss sessions they planned on attending.

Five Tips to Avoid Over Scheduling Your Corporate Event
If being over scheduled has the potential to shift guest perception of your program, then event planners and hosts must consider the ways they can avoid over scheduling.
1. Build in transition time
Not only will your speakers and guests thank you, but so will event staff. Brief windows of time between sessions allow your attendees to take care of needs, follow-up with other attendees or guests, or simply take a break, take notes, or reflect. Your speakers are similar in their needs post-session. As for your event's team and staff, they'll be thankful for the time to reset rooms, address technical issues, and provide additional support to attendees. Time buffers will give everyone wiggle room.
2. Use technology
If you've created an event app that can push out notifications for attendees, you can use them to remind guests of sessions and remind them to slow down, grab a cup of coffee, and enjoy a chat with a friend. Technology doesn't have to be an invasive tool; instead, it can be used to manage time effectively, including reminding us to slow down.

Further, you can use push notifications to send out a question for session participants, one they might want to sit down and discuss with another attendee or simply ponder on their own. Opportunities to remind attendees to slow down will help alleviate any feelings attendees might have of being overwhelmed or overscheduled.
3. Consider session lengths
Not every session needs to be the same length! Varying session lengths can help attendees create schedules with natural breaks and allow them to build in their own rest periods. They may even find ways to use this schedule to their advantage and will appreciate the variety.
4. Understand hard and soft timelines
Create your schedule around sessions or circumstances that have time requirements, whether those be based on travel schedules, VIP attendance, or other considerations. Planning around items that are inflexible due to circumstances beyond your control (or even the goal of mass attendance, such as a keynote speaker) will help you build in buffers elsewhere.

Additionally, you will want to check with vendors and venues, especially if there is catering or food and beverage service involved, as those factors will likely require stricter schedules.
5. Consider building in relaxation sessions and spaces
From meditation to mindfulness, self-care practices and sessions that discuss, encourage, and teach these skills are valuable. In 2016, Aetna concluded a study that found that stressed employees cost a company $2,000 more a year in healthcare costs. When stress reduction efforts were employed, health care costs went down.

In an effort to eliminate stress at one of our corporate events, Bishop-McCann built a Zen Zone to give attendees an area where they could escape the fast-paced meeting environment, relax, enjoy a chair massage, or visit a quiet island getaway via a VR headset. Even creating small seating areas tucked away from the regular meeting spaces or, better yet, outside can help attendees find a place to recharge.
In short, if you demonstrate through your schedule that relaxation is expected and that the event won't be moving at a breakneck speed, attendees will naturally slow down. Slowing down, in turn, will allow them to focus on the content of the sessions they choose rather than worrying about the schedule. In fact, research supports the idea that relaxation fosters retention and decision making with the added benefit of making us happier.

Building opportunities to destress into the schedule will help your attendees get more from your corporate event. Refreshing and resetting throughout the day is better than hoping for an hour of rest before a big dinner, keynote speaker, or entertainment event.
If you're ready to plan your next event with a strategic schedule that meets your goals while satisfying your attendees, get in touch with the Bishop-McCann team today! You bring your guests, we'll bring the zen.