Every corporate event you host is an opportunity to introduce, renew, or reinvigorate your brand in the eyes and minds of your stakeholders and attendees. If you're like many companies today, you understand how important social responsibility can be to your brand. Over the last few years, experts and researchers have noted a marked increase in consumer expectations and demands regarding corporate social responsibility (CSR). Additionally, research points to how important CSR activities, messaging, and positioning can be to employees as well.
In an effort to meet these expectations, one area consumers and employees alike agree on is the fact that we must find ways to incorporate sustainability into our everyday lives. But how can you find opportunities to demonstrate your brand's commitment to sustainable efforts? One effective way is to incorporate those efforts at your next corporate meeting or event. Even small gestures can make a significant impact, so let's take a closer look at some of the aspects you can consider and steps you can take.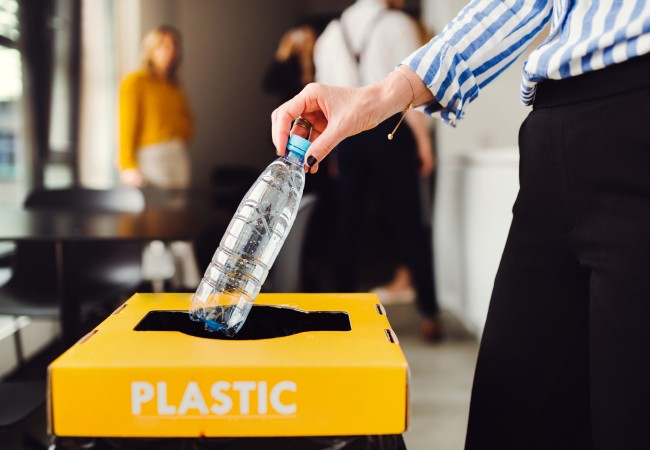 Quick Links
What Is Sustainability?
First, let's be clear. Sustainability and corporate social responsibility are not the same. While CSR refers to a company enacting practices and policies that encompass a wide array of social concerns to make a positive impact on our world, sustainability is simply one of the many concerns corporations can commit to. With both attendees and employees demanding more accountability from corporations, becoming sustainable in your daily work practices and additionally at your next event will help your company navigate the new landscape of environmental concerns. The primary goal of corporate sustainability is looking to the future and determining what actions, policies, and protocols can be put in place to positively contribute to environmental efforts.

How Can You Create Sustainable Corporate Events?
While we'll share concrete tips and examples below, there are other aspects you'll want to consider as you decide the most meaningful and impactful sustainable practices to utilize.
One major consideration is your footprint. Where are you creating the most waste, especially waste that can be avoided? Where and when during your event will you be consuming the most resources, particularly non-renewable ones? Consider where your event is and what impact it will have on the environment. Additionally, when it comes to your footprint, consider any travel for your event as it will likely create a fairly sizable carbon footprint (though domestic air travel scores lowest).

You'll also want to consider any social issues related to not just the event itself, but also the vendors, entertainers, speakers, and venues you choose. In the information age, it's easy for word to spread quickly if one of your event's sponsors or venues are engaging in shady labor practices, not supporting sustainable initiatives, or engaging in lobbying or politics in a way that clashes with your brand. You always want to consider everyone who is representing your brand at any point during the event.

Six Tips to Incorporate Sustainability at Your Next Corporate Event
As we mentioned, sustainability gestures don't need to be grand gestures (though those may benefit your CSR stance), but instead, you should consider how small changes can add up.
1. Go paperless
By implementing digital replacements, such as using a mobile app and email instead of hand-outs, you are taking the first step toward a more sustainable meeting. At Bishop-McCann, we often develop mobile apps for our clients. We've found they improve attendee engagement and enhance the attendee experience overall.
2. Promote recycling and reusable products
Recycling makes a big impact on the planet. Make sure your event has clearly labeled containers throughout the venue that make it easy for attendees to recycle. You might even consider including green symbols and compliance logos on your materials.

Further, consider giving attendees branded swag that will reduce their waste, such as a reusable coffee mug or water bottle. It's no secret that single-use water bottles and coffee cups are in high demand at corporate events, but they don't have to be if you give guests alternatives. You can reduce your waste and market at the same time!
3. Provide virtual attending options
By providing guests attendance options, you can reduce your carbon footprint. Giving attendees the option to attend virtually means that you will have fewer guests in cars or on planes, which can significantly reduce your footprint. At Bishop-McCann, we can easily help you with alternatives.
4. Choose a centralized location
If people must travel and the majority of your attendees are in or near one location, consider choosing an event venue that is central to that location, allowing for shorter travel time. In addition, you may choose a venue or destination in which restaurants, shops, and other attractions are within walking distance, making it easier for guests to navigate the chosen location without contributing to pollution. For high-demand destinations not in walking distance, you might consider shuttle buses to further reduce your footprint.
5. Integrate sustainability activities
The goal of any sustainable event is to leave positive legacies that benefit others. Ask what you can do to make a difference in the community where your event or meeting is being held. Nearly every region and city you visit has a project that your team can get involved in. You could even do an impromptu neighborhood clean-up! The goal is to leave the location you visit better than you found it.
6. Select a green venue or hotel
More and more hotels are implementing environmentally friendly practices and have sustainable programs in place. From green and eco-friendly cleaning supplies to efforts to reduce their own carbon footprints, investigate your venues and find out how they're contributing to sustainable efforts.
Creating a sustainable corporate event and involving your employees in this effort builds a more cohesive group with all individuals involved working toward a common goal. You never know – your next meeting or event might start a movement, inspiring your associates to invest more heavily in a cause. They may even encourage more of those actions around the workplace, and that would be a win all around!
If you're ready to discuss your next event and how we can help you go green, get in touch with us today. We're excited to be part of this movement and a culture that supports corporate sustainability!