Sustainability is more than a trend; it's a solid core value for many companies today. So, in order for your company to model sustainability practices, your next meeting or corporate event should reflect those values. Taking a sustainable approach can make the time more rewarding for your company and for your attendees. For example, using the "reduce, reuse, recycle" mindset and focusing on helping the community can be simple solutions to sustainability.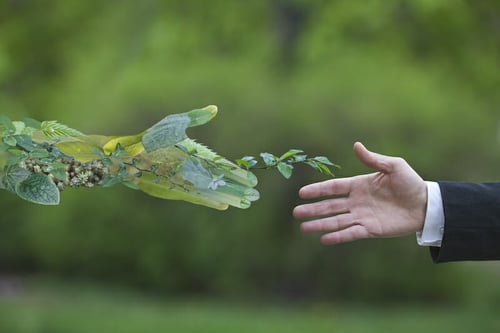 7 Ways to Make Your Next Event Eco-Friendly
Go paperless. By implementing digital replacements, such as using a mobile app and email instead of hand-outs, you are taking the first step toward a more sustainable meeting. At Bishop-McCann, we always develop mobile apps for our clients. We've found they improve attendee engagement and enhance the attendee experience overall.
Use recyclable materials. Recycled paper products make for a lot less waste and help reduce attendees' carbon footprint. Clearly labeled containers make it easy to recycle. You might even consider including green symbols and compliance logos on your materials.
Provide remote and virtual attending options. Do you have some employees that are not able to attend your event or meeting? Why not give them an option to attend virtually? At Bishop-McCann, we can easily help you with alternatives.
Use a centralized location that reduces travel. Are the majority of your attendees in specific cities? Think about choosing an event venue in the middle of those locations, allowing for shorter travel time. Also, you might want to choose a venue where attendees can walk to restaurants and shops, making it easier for them to get around town.
Support local businesses by using them as suppliers. At Bishop-McCann, we have partners in cities all across the country that we work with every day to make the most of each meeting or corporate event. Publicizing these partnerships is important, too, and helps expand your community reach.
Integrate charitable activities into the framework of the event. The goal with any sustainable event is to leave positive legacies that benefit others. Ask what you can do to make a difference in the community where your event or meeting is being held.
Use a green venue or hotel. More and more hotels are implementing environmentally friendly practices and have sustainable programs already in place.
Holding a sustainable meeting or corporate event and involving your employees in this effort helps to create a more cohesive group, all working toward a common goal. You never know, your next corporate event or meeting might start a movement, inspiring your associates to have more value for the cause.