One of the biggest questions on many event planners' and event hosts' minds today: how do I elevate my virtual events? As we've written in previous blogs, there are many elements that can be incorporated to take your online event to the next level. But one component that we are seeing increasing interest in is gifting. Organizations holding virtual events want their attendees to leave their computers with tangible items that make them feel appreciated. But not only do hosts want to give attendees gifts, they also want to give them gifts that are unique to their organization. And that's where branded swag bags come in.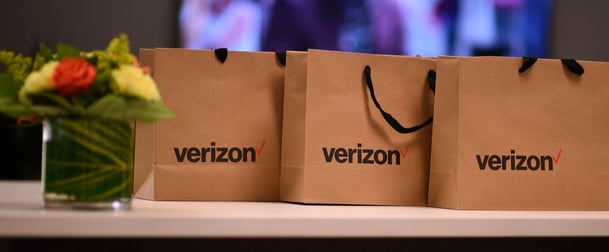 Below is a list of the 15 most relevant and unique items to brand in your virtual event swag bag right now.
For Pandemic Preparedness
Everyone is facing the effects of the global pandemic, so giving them a gift that helps them better navigate these times is a smart move. Check out just a few of the branded items we think you should include in your next event's swag bags during the age of COVID.
Protective Mask. Did you really think you could make it through this list without seeing a face mask? As the pandemic continues, so does the use of masks to help reduce the spread of the virus. Why not help your attendees keep others safe by including a mask with your company's logo in their swag bag? Not only will the attendee think about your organization every time they put it on, but it's also like having a walking advertisement for your business. Win, win! Below are some of our favorite masks that Eventure sends in their boxes.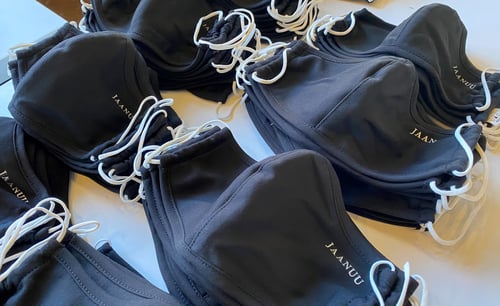 Phone Sanitizer. With all of us being more germ conscious, a phone sanitizing box could be yet another great addition to your branded swag bag. Guests can put their phone inside and in a few short minutes, 99% of germs are gone.
Touchless Tool. One last virus-fighting item to include in your attendees' gift is a branded touchless tool. This tool allows your guests to avoid germs when opening doors, using touchscreens, or coming in contact with any high-touch surface.
For the Tech Lovers
Now more than ever, we are becoming more reliant on technology in our day-to-day lives. That's why you should think about sending your attendees gifts related to tech. Check out just a few of our ideas.
Blue Light Glasses. Another timely item to include in your virtual attendees' swag bag are blue light blocking glasses. No one likes the headaches or eye strain that can come from staring at their screen for hours, so give your guests glasses that can help prevent some of these modern-day struggles. Even better than giving them a generic pair, consider adding your logo on the side to add a personalized touch.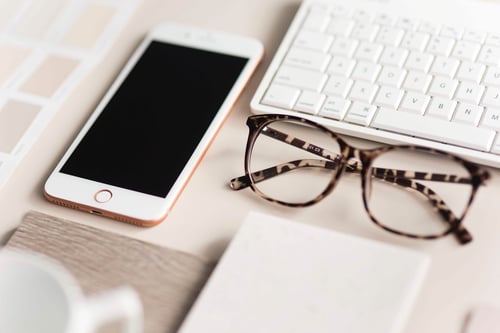 Webcam Cover. No one wants to be the person who thinks their camera is off in the Zoom meeting but actually has it on (in which case, the whole meeting can then see you rocking your button up, pajama bottom combo). Help them know the camera is covered by gifting them a webcam cover that includes your logo.
Tech Taco. Help keep your guests organized by sending them a branded tech taco. Tech tacos are little pouches shaped like—you guessed it—tacos that easily store chords, snapping them into place and keeping them from getting tangled.
Case Logic Padfolio. This is one of our favorite items on this list. The Case Logic Padfolio is a portfolio with a built-in wireless phone charger and journal for taking notes. Put your logo on it, and this is a perfect gift to send to your guests.
For the Home Office
More people than ever before are working from home, so it's a perfect time to consider incorporating gifts that could improve their home office. And let's face it, lots of these home offices are makeshift and less than ideal. Send your virtual attendees a gift that makes that spare room they're using feel more like a workspace.
Succulent. Even a plant can now be branded with your company's logo—well, at least the pot that it comes in can be. Include this gift in your swag bag to give your guests' home office some life and remind them of you!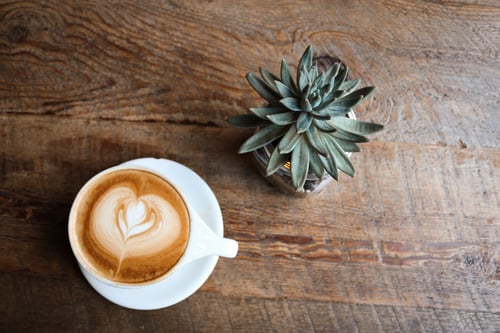 Charging Desk Clock. Why not provide your attendees with a gift that could spruce up that office a bit? Send them a desk clock with your logo. The clock not only displays the time, but by laying a phone on top of the clock, it also charges the device.
Light-Up Sign. Going along with the idea of home office decorations, you could also send attendees a cinema light box that allows your guests to display their own messages with the included letters. The box can also feature your logo on top! It's a fun way to brighten their offices and their day.


Blanket. Maybe it's just me, but blankets are one gift that I will never be upset about getting. Make your attendees feel all warm and fuzzy inside about your company by adding your logo to the blanket and sending it in their virtual event swag bag.
For the Drink Lovers
To finish this list up, we have some of our favorite gifting ideas for those coffee, tea, wine, whiskey—really any drink—lovers. Below are some of our favorite drinkware gifts that you can brand with your organization's logo.
Yeti Tumbler

. Honestly, who can ever have enough tumblers in their life? Especially if it's a Yeti. At a previous staff retreat, we gave away embossed, Bishop-McCann branded tumblers, and they were a huge hit! Consider including a fun new drinking option in your attendees' swag bag.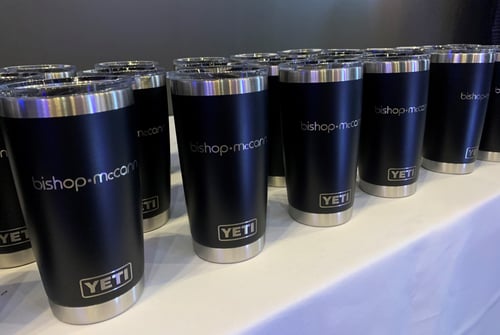 Wine or Whiskey Glass. Amp up virtual happy hour by sending your attendees a wine or whiskey glass etched with your company's logo! It's a cute way to include your logo on an item that's proven to be useful during the pandemic.
Que Bottle. If you've never heard of a Que bottle, you're missing out because they're so handy and adorable. Collapsible and eco-friendly, they can be branded with your organization's logo. Interested? Eventure includes Que bottles in their Collaborate Boxes or can include them in your own custom box!