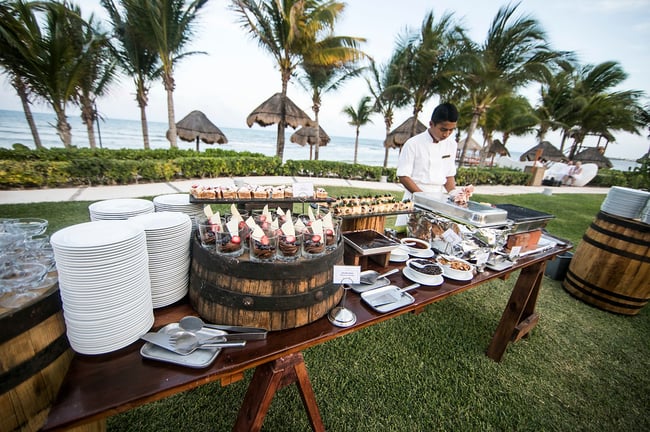 Post a good meal on social media, and you'll quickly realize exactly how important food and drinks are in our lives. You'll notice comments accumulating because people want to know what you ate, where you were, and how they can get the same experience. Because most of our social interactions involve some type of food and drinks, we are always looking for ways to elevate our social gatherings.

So it isn't surprising that when it comes to an event, a sure way to wow your audience is with your menu. We're not just talking about sit-down meals; even snack and drink stations can make a huge impact. Though some hotels or other venues are known for their impressive food displays, event planners may still have to flex their corporate event management muscle to achieve their perfect menu. Thankfully, many hotel and venue chefs pay attention to trends and constantly changing palates, and their sole purpose is to help you provide an unforgettable gastronomical experience.


Quick Links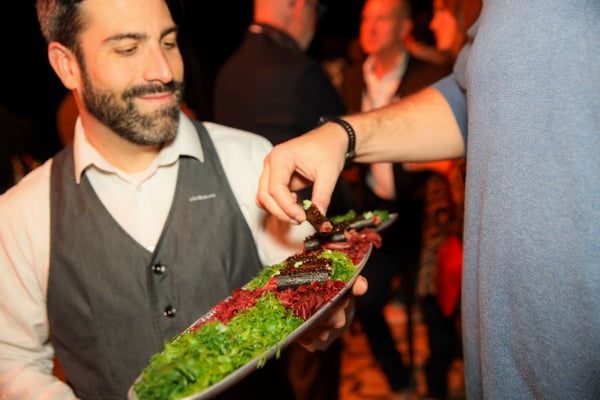 How Food and Beverage Help Shape Your Event
When it comes to social media posts of your event, food will be a highlight. For that reason, menu planning is an art form that builds excitement around the communal activity of eating and sharing a meal. This act of sharing can help to create familiarity and connections – a goal of any meeting.

Food has the power to bring us together in ways that create community and a collective experience. These aspects of a dining experience can facilitate other event goals through:
Creating a more relaxed environment for conversation - Food and drink can act as excellent icebreakers.
Providing networking opportunities - Meals are a great place to reconnect with old friends or talk more in depth with people you've just met.
Sparking creativity - Elaborate and creative displays can spark creativity, but food also keeps the body and brain working to provide fuel for those sparks.
Offering branding and sponsorship opportunities - Not only can you have food items or glassware branded, but some companies may also be willing to provide food and beverage to gain access to your guests.
Producing theme continuity - If you're working on creating a theme, food and beverages can often extend or enhance it.
Keeping guests energized at the venue - Let's be honest. When people get hungry and there's nothing to satisfy them, they'll start leaving. If you offer good food and drinks, your guests will stay and more enthusiastically participate in your event.
Essentially, food is there to elevate many other event elements. A satiated crowd will be more engaged, more receptive, and more likely to take part in other activities. Plus, they are far more likely to sing the praises of your event online and beyond!
Planning Your Food and Beverage Budget
One difficult aspect of event planning is determining how much of your budget should be allocated for food and beverage. However, one aspect of planning that many forget is that your food and beverage budget needs to include more than just meals.

From breakout sessions and off-site events to coffee/cocktail hours and informal mixers, all activities will need snacks and drinks. You'll also want to consider how many meals attendees will require on site. To help you factor how to spend your food and beverage money:
Determine the number of attendees

Remember VIPs, special guests, plus ones, speakers, etc. in your count

Consider that some might skip a meal or two
Identify and evaluate catering packages of the venue or caterers
Breakdown cost per meal
Look for ways to get deals, discounts, or sponsors to help stretch your budget
Don't forget any service charges or taxes
Most importantly, have a conversation with your CSM and/or chefs. If you like aspects of a menu but want to see other options, just ask! The menus are a great guide, but don't let them limit you from creating what is perfect for your event. At the end of the day, chefs are creative people who want to create something beautiful for their guests.
Event Trends: Top Food Trends for 2023
When restaurants reopened post-pandemic, the food landscape changed. Because many became self-proclaimed foodies as they experimented in their own kitchens, expectations were raised. We now demand and expect more from professionals and are looking for food experiences we can't necessarily recreate at home.
No One Is Bored With Charcuterie
Everywhere you look these days, from restaurants to wine bars and breweries, you'll find charcuterie boards. They don't require a kitchen, they're easy to style, they accommodate a variety of food/dietary requirements, and they provide a variety of flavor profiles. In short, when it comes to versatility, charcuterie boards are where it's at. As one can imagine, this is advantageous for corporate events where a diverse crowd may have varying food preferences and needs.

And, don't think you need to rely solely on meats and cheeses; there are ample amounts of out-of-the-box board ideas that you can tap into. One of the latest charcuterie trends is a butter board (we can thank TikTok for that one!). Have some fun with it, and be creative!
Savor Sweet 'n Spicy
While fusion food is trending right now, one of the primary flavor combos it's capitalizing on is the mix of sweet and spicy. Whether it's as a dipping sauce (think sweet Thai chili), a spicy honey glaze, or even just a Korean dish that blends these two profiles, the combo is hot. Looking to put a little kick in dessert? Chili-infused chocolates are popular, too. When it comes to building buzz with food, a combo like this gets people talking.
The World of BBQ
You should no longer wonder if your guests prefer simply Kansas City or Memphis BBQ; instead, think globally. BBQ has literally opened up the world. From Asian and African BBQ styles to fusions that blend your favorites, BBQ can be done creatively (if not cleanly), and your attendees will love it. This trend is especially fitting if the location of your event is in a locale famous for its BBQ flavor.
Pass the Plant-Based and Vegan Foods
The popularity of plant-based diets and vegan food is exploding. Previously, you had to search specialty stores to find meat and dairy alternatives; these days, plant-based menu options are coming out of Michelin-starred restaurants and have some meat eaters turning their heads. Nut cheeses have changed the game, as have some of the newer meat alternatives from brands like Beyond Meat and Impossible. Plant-based options don't have to be a menu aside or something vegans ask for prior to attendance. Consider featuring them as a main component of the meal, and with the right chef, you can create quite the buzz.
Make Room for Mushrooms
Whether from the growth in popularity of foraging or the versatility of the many different varieties, the popularity of mushrooms has exploded. From noodles to meat alternatives (Lion's Mane is often used as a plant-based substitute for seafood), mushrooms are popping up all over.

Another important factor is that mushrooms fit well into trending sustainable diets. With consumers being more mindful regarding where their food comes from, as well as how far it traveled to get to the table, more and more chefs are considering what grows locally. And in some regions and seasons, mushrooms are bountiful. From appetizers to main dishes, look for mushrooms on the menu!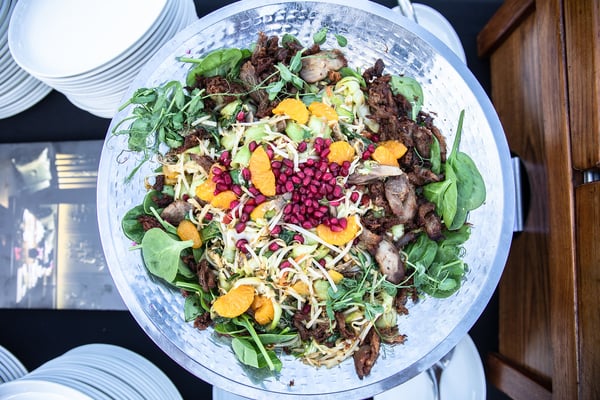 Event Trends: Top Beverage Trends for 2023
Craft beer and handcrafted cocktails still top most lists for staying power when it comes to trending alcoholic beverages, but non-alcoholic options are gaining traction as well.
Mocktails as a Mainstay
Mocktails made the list last year, and it now seems they're a mainstay. In the past, mocktails were relegated to a side menu or were simply a note at the bottom that stated certain drinks could be made alcohol free. This year, and likely beyond, mocktails have made it to the main menu. Attendees who don't drink want to be included, so they can celebrate with everyone. Having only soda or water as options for those who don't drink alcohol might give the false impression that those guests are less important. Serving specialty mocktails helps them feel included and thought of instead of an afterthought.
Additionally, as more people try a healthier lifestyle and limit or reduce their alcohol intake, the mocktail has become a drink in its own right. In fact, mocktails enable mixologists to be just as creative by boosting flavor without alcohol. Bonus for hosts: they're better for your budget.
Put a Garnish On It
Whether it's a mocktail or a cocktail, consider putting a garnish on it. The classic bloody mary has always been a big hit with its edible garnishes (sometimes they even become a bit over the top. But these days, most cocktails and mocktails come with a visually stunning – if not always edible – garnish. As chefs will tell you, tasting starts with the eyes, and the cocktail world is doubling down.
Don't Just Mix It – Infuse It
Health spas and yoga studios are offering infused water while coffee bars and restaurants are infusing various beverages. Use this trend at your next event to win over your attendees. These days, cocktails and mocktails are infused with everything from fruits and veggies to herbs and spices. And, if you want to take it one step further, garnish the ice!
And speaking of infusion, Amaro is trending. Last year, it was a Negroni or an Aperol Spritz. This year, look for Amaro, which is an herb/spice/citrus-infused Italian liqueur. It plays on the bitter theme that was popular last year, but because Amaro is sweetened with honey or sugar, it takes away some of the bite.
Who's Ready to Drink?
The market is flush with what's referred to as ready-to-drink (RTD) beverages, which you've likely already seen on retail shelves or at your favorite bar. Perhaps, we owe the popularity of RTD cocktails and mixed beverages to hard seltzers surge in popularity. Now you'll find just about everything in a can, which can speed up beverage service at a busy event and even open the door for a sponsorship opportunity!
Food and Beverage Trends Coming in 2024
These trends are already starting to hit in certain markets, and we believe their popularity will continue to increase in the next year. Here's what we're keeping an eye on:

Functional foods - Functional foods are not just tasty, but they also provide additional benefits. Whether it's boosting energy or mood, these foods include everything from probiotics and anti-inflammatories to calming agents. In particular, this will include a lot of Indian and Asian flavors, so look for turmeric, tamarind, ginger, and more!

Fill your bowls - The bowl trend is likely to continue. They're great for flexibility and variety as diners choose their own base and toppings, meaning you can meet the needs of various dietary restrictions. Time is also saved on plating and service. If you have a big event, this may be a great lunch option.
Edible packaging - As our awareness about the environmental impact of single-use packaging grows, edible wrappers present an innovative solution. Edible materials like seaweed, rice, and fruit skins can be utilized to make spoons, pouches, containers, and films. These materials add unique tastes and aromas to the food (though there are versions – especially those made from seaweed – which can be odorless and tasteless in order to maintain the original flavor of the food or beverage). This trend aligns perfectly with the sustainability push many companies are making, providing a unique alternative that is as kind to the environment as it is to our taste buds.

The food landscape is changing rapidly. Thanks to both TikTok and food entrepreneurs, new flavors, new products, and even new ways of looking at food mean there's a lot to be excited about. For example, bowls will be shaken up by some of the trends on the horizon with new ingredients, new toppers, and even some new bases.

There's little doubt that the right food and beverage can enhance an event and delight your guests. Given the complexities of budgeting, managing attendees' dietary restrictions, menu prep work, and so much more, hiring an event planner can mean less stress for you and a better experience for your attendees. An event planning agency, such as Bishop-McCann, can help stretch your budget and leverage connections to please the palates of all your guests.

If you're ready to start planning your 2023 and 2024 corporate events, get in touch with us today! We're here to help. Good luck, and bon appétit!