Dec. 15, 2016 - The days of chafing dishes filled with chicken and the typical pasta primavera are slowly phasing out within the corporate events industry; in fact, creative food displays at corporate events are starting to become a symbolic way to measure corporate event success based on attendee feedback. Food has always been the focal point of an event and it taps into people's emotions; ones that remember how good or how bad the food can be at an event they attend. The biggest challenge planners face when coming up with creative food displays is just how willing and able hotels or other venues will be to become creative with them. There are times when planners have to flex their corporate event management muscle to get what they want, and there are times when hotel and venue chefs understand the ever-changing palate of food trends and create an unforgettable gastronomical experience.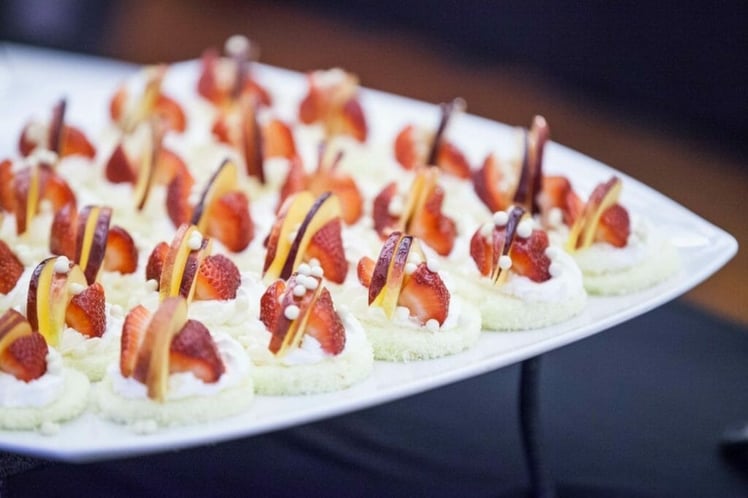 The food & beverage industry is ever-changing. If a restaurant doesn't keep up with trends, then chances are it will probably go out of business. There is a similar attitude with conference and corporate event attendees. They are looking for something different, inspiring and somewhat healthy while they are traveling.
2017 Trends
Colorful Foods
Artificial colors are out, natural colors in fruits and vegetables are in. Foods that are rich in color (think purple cauliflower and rich red berries). Pigments called anthocyanins give red and purple fruits and vegetables their color and serve as powerful antioxidants in the body. Chefs are becoming more and more creative in how they use these ingredients and create incredible dishes that are delicious yet incredibly healthy. Look for a rainbow full of colors from greens to yellow citrus fruits used in gourmet dishes too.
Comfort Foods with a Twist
The traditional meatball is now being served with five different dipping sauces, or traditional chocolate pudding is now being served in creative grab-and-go flavors such as salted caramel or green tea.
Tonic Bars
The Juice Bar trend is still going strong however this takes the traditional cold-pressed drinks one step further. Tonic Bars are organic, non-GMO or vegan drinks that are infused with herbs, superfoods and other life-enriching ingredients that take wellness to a whole new level. Tonic bars are a great incorporation into a group break for a healthy alternative (but keep the soft drinks; there is always a handful of health food rebels who require a Diet Coke pick-me-up to get them through their afternoon sessions).
Pasta Alternatives
The low-carb craze is still alive and well but chefs were running out of great low-carb options to keep the palate intrigued. Look for pastas made from plant-based products, such as spiralized veggies and kelp. Pasta made from alternative grains will also be hot on the list: quinoa, lentils, and chickpeas will be offered as healthy alternatives in addition to the traditional pasta dishes for those who don't keep track of their carb count.
Bodacious Burgers
Who doesn't love a great burger? This big trend of 2016 isn't losing its steam anytime soon, and burger bars will be bigger than ever, offering more personality in burger toppings such as mini sliders topped with chicken & waffles, habanero aioli with fried pickled jalapenos, and cheeseburgers. Burgers bars are never a disappointment and can be made into fun, themed buffet bars with live action chefs serving up some unforgettable dishes.
Fat is Back
Full-fat is back and it's kicking fat-free, low-fat, ingredients to the curb. Butter usage is on the rise and is influenced by a more conscious consumer who is looking to omit less processed foods and introduce cleaner, more natural ingredients into their diet. The comeback of full-fat dairy, butter and ghee will be prevalent in better tasting dishes in 2017.
Want a chance to win a $100 gift card to OpenTable? It's easy! Here's how:
Like this article on LinkedIn
Share this article on LinkedIn
Submit a quick snap of an event you've attended with a great food & beverage display to marketing@bishopmccann.com
Good luck and Bon Appetit!