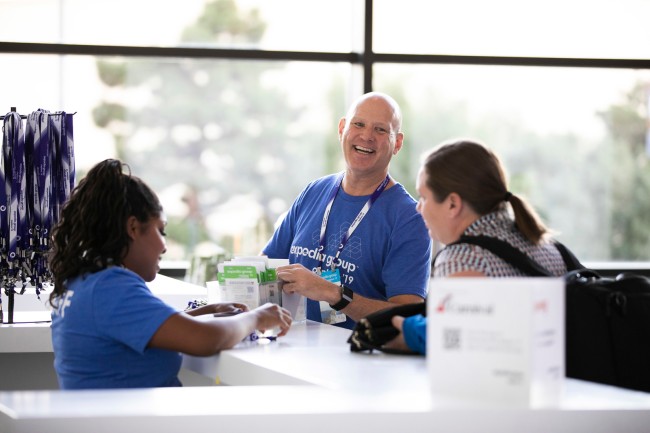 Maya Angelou said it best: "I've learned that people will forget what you said, people will forget what you did, but people will never forget how you made them feel."
This quote truly captures the importance of making guests feel valued. There's no shortage of research out there discussing how essential customer experience is right now, and at the heart of those experiences is superior customer service. Knowledgeable, friendly staff trumps all other aspects of your business. Guests want to feel valued through human interaction and the investment of time and care, more than through gimmicks or giveaways. In fact, in a world moving out of a pandemic, human connection is valued more than ever, and that means focusing on customer service is essential.
Quick Links
What Is a Guest Experience, and Why Does it Matter?
Angelou's quote embodies the essence of guest experience. It's about how your event attendees feel about their experience with you from the minute they register to the moment they leave. If handled thoughtfully, their interactions with you will be memorable and perhaps result in repeat business.

That, in reality, is the reason why guest experience matters. In fact, 72% of guests who have a positive experience will share that information with friends, often naming the business responsible. Further, a 2020 study in the same article found that customer experience will be more important than other factors when individuals choose between two brands.

For event hosts, this means creating a memorable guest experience that can translate into customer and employee loyalty, increased revenue, and increased employee productivity. Whether it's an event rewarding loyalty or employee achievements, your guests and their experiences reflect on you, your brand, and your business. Having your guests feel seen and valued creates deeper connections with numerous benefits.
How Customer Service Helps Create a Guest Experience
While there are a lot of elements to guest experience, the one that has the most potential to shape how a guest feels is customer service. Even if you provide an immersive experience, an exciting destination, beautiful decor, and amazing food and drink, poor treatment can destroy all of that in moments.

Any time a member of your team comes into contact with a guest is an opportunity for them to be an ambassador for your brand. They represent you and reflect your attitude toward customers. But it's more than that.

An excellent example of someone who invests in customer service is Tony Hsieh, Founder and CEO of Zappos. Hsieh based his company's core culture on customer service because he believes that customers deserve great service, and in return, this exemplary service is an excellent marketing tool and strategy to boost business. Zappos hires 24/7 phone reps who are upbeat and kind at all times (one even helped a customer order pizza to their home online). In fact, Zappos is so dedicated to ensuring their employees are committed to their brand and customers that they have paid new hires to quit during training sessions. They took this step to ensure that their new employees were there for more than the money. Customers love the experience and the high-touch customer service they receive keeps them coming back for more. As a result, this service is a key reason for the company's growth and success year over year.

While you don't have to order pizza for your customers, this does demonstrate that customers remember and broadcast their positive experiences. Additionally, you should keep this in mind when scheduling your venues and vendors, as guests will also associate experiences had in those circumstances with yours. Using an event planner that has established relationships with vendors and venues is a must for this very reason.
Five Common Customer Service Mistakes
So where do companies go wrong? For example, take the hospitality industry. A hotel chain can invest in training employees on the tactical components (how to work the hotel check-in system, how to mix a proper drink, etc.), but if they don't invest in training employees on customer experience, it won't result in a positive, memorable guest experience.

That said, there are a few customer service mistakes that seem to be more common than others. Below are a few that should be addressed because of their potential to affect guests negatively.

1. Saying, "that's not my department"
There is nothing more frustrating than being transferred multiple times on the phone when talking to customer service. One transfer is one too many and is guaranteed to increase customer tensions, especially if they've been on hold for several minutes.
2. Being unresponsiveness or giving a significantly delayed response
When a customer calls, writes, or emails with a question or a letter of complaint, the turnaround time to respond is key as to whether or not a company can earn the business or even retain the customer's loyalty. When it comes to questions and complaints, swift communication can turn a bad situation into a positive interaction quickly.
Social media is a perfect example of an opportunity to impress a customer. When a customer contacts you through social media, your response time is critical. In fact, research suggests that customers expect a response in an hour, but most customers wait five. Simply responding quickly is a great first step and can put you ahead of the competition.
3. Engaging in an argument with a customer
Just don't. This is a no-win situation, and trying to prove your point will cause the loss of a customer and impact any potential witnesses to the exchange. Again, this is often an opportunity for your team to impress (and why customer service training is so vital). Sometimes a question as simple as, "What can I do to help correct this situation?" can change a customer's attitude. Just demonstrating that you want to help in some way has power. Remember, it takes five times more effort and cost to gain a new customer than it does to maintain a current one.
4. Sending generic or "canned" responses
This is probably the best way to make a customer feel insignificant. Personalize your message for impact. A personalized email or phone call from a member of your team has significant power. However, a generic mass email can cause customers to feel as if they do not matter to your company.
Any contact that occurs in person is an opportunity to provide outstanding service. From check-in to casual interactions, using a customer's name is an instant way to create connections and personalize interactions. If you want to increase the odds of having a lifelong customer, personalizing all contact speaks volumes.
5. Failing to define your company's culture
Remember that Zappo's example? Company culture starts at the top. Defining culture means sharing beliefs, standards, and behaviors that represent the company's best self. For many companies, that means treating everyone with respect, starting with your employees. How they are treated will absolutely reflect how they treat your customers.
When you adhere to these standards from the top-down, employees will work toward a cohesive goal resulting in consistent results, especially when it comes to delivering exceptional customer service.
Five Easy Customer Service Wins
Now that we've covered a few mistakes to avoid, we'd like to look at a few ways you can impress your customers with service that creates JOY and positive reviews. It's easy to overlook the small things, but that's really where the difference lies.

1. Accept both good and bad feedback, and then act on both

If you're in customer service, you're likely already aware of how readily customers will provide feedback. This means that when guests offer their perspective, it's an easy win to simply listen (and actually listen). Repeat the information to them, so they know they've been heard, and then ensure that the feedback is delivered to the team member who needs to hear it.

Further, you need to ask for information through surveys, reviews, and personalized emails. Inquiring about a guest's experience is an excellent way to get feedback and create a touchpoint. Imagine how delighted a customer will feel to see that their suggestions were considered and that your business has adjusted based on their feedback.

2. Reward loyalty

These days, nearly every business has some kind of rewards or loyalty program, so to really stand out, you need to offer something different. Personalizing the rewards is a great way to start. If you're maintaining a solid CRM database, keeping track of a customer's preferences is essential and an excellent tool to reward their loyalty. Rather than doling out points, send them a gift basket with their favorite products or a gift card for their favorite service. It's a small touch that differentiates you from all the other points-based loyalty programs out there.
3. Make customer service and support fast, easy, and accessible
There are few things more frustrating to customers than trying to navigate complicated phone trees only to sit on hold for half an hour. Instead, consider omnichannel support options (think email, phone, or chat). Then man those channels with enough personnel to ensure that your customers are taken care of quickly. While many businesses see staff as overhead, shifting that perspective in order to provide quality customer support can result in more customers (and more repeat customers) that make up for the cost of these employees.
4. Empower your staff to problem solve
Imagine you have a guest with an issue, but instead of requiring your frontline staff to follow the chain of command to find a resolution, you empower them to offer discounts or upgrades in order to quickly resolve difficult situations. Not only does this build the kind of confidence in your staff that can translate to superior service, but on-the-spot resolutions please customers as well.
5. Review your feedback and be proactive
First, be sure the person reviewing feedback is someone in a position to both understand and offer potential solutions. Sometimes, feedback is reviewed by team members who are not involved in the day-to-day and may not see a potential solution or understand how significantly a problem impacts service. That said, if the same feedback keeps showing up, it's time to act. Particularly when it comes to service, repeated feedback on the same concern means you have a problem, and addressing the most frequent concern can quickly turn around service issues.
Of course, this is not an exhaustive list of how to improve service quality, but avoiding the pitfalls and proactively introducing other initiatives can make a world of difference to your customers and your business.
How an Event Planning Company Can Help You Create Amazing Guest Experiences
When it comes to creating guest and event experiences, customer service is key. That means from the time attendees begin registering, your goal should be to deliver an exceptional user experience. Every step of the way, you should find strategies to exceed your customer's expectations. So how does an event planning company help?
For example, if you are searching for venues and vendors, you want to ensure that your guests receive the very best, and in part, that means vetting the companies that will represent you. This is where an event planning company can help. Because companies like Bishop-McCann have considerable experience in this space, it means we have a vast network of preferred vendors and venues. It also means we know the service they provide, and only work with those who provide exceptional customer experience.
If you're ready to find out how we create corporate events that reflect the customer service culture you've created for your business, get in touch with our team today!