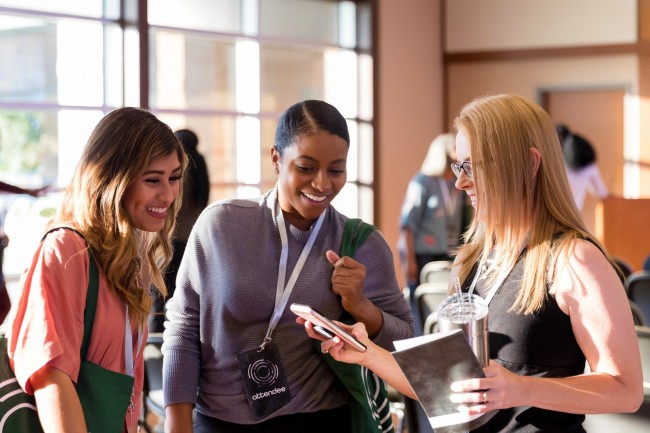 From simplifying our ride services, money sharing, and food delivery to calming our minds and keeping us on task at work, apps have revolutionized the way we live. It's now easier than ever to keep track of scheduled appointments, communicate with people or groups, share documents and photos, and so much more. There's no reason why an app shouldn't be having the same impact on your events.
Don't have time to read right now? Tune in to our event apps podcast episode of The Events Experience to listen to our experts explain the importance of event apps.
Quick Links
What Are Event Apps?
Event apps provide multiple functions with the basic principle remaining the same: to help organize and manage the event for attendees and hosts alike. The right functionality within an app can serve everyone and help them keep track of scheduled events and even who is attending them. Beyond that, they can also help teams manage the audience and communicate with them on the fly, even if they need to segment communications to specific attendees.
In short, event apps are a tool for attendees to schedule events and sessions, store information, interact with other attendees, and explore new content from the event hosts. For hosts, apps offer the opportunity not just to organize, track, and communicate with attendees, but they can also capture feedback during and after the event. They're incredibly useful for everyone.
Why Are Event Apps Essential?
Mobile is where it's at. There are approximately 6.6 billion mobile users in the world today. That means you can connect directly with your guests through a device they are accustomed to using daily for communication and scheduling. Further, they'll likely start using the event application before the event, which means you can leverage event polling and pre-event notifications.

As with any communication and scheduling tool, your app is essential for a variety of reasons. However, their benefits go beyond instant access to attendees, and some of the uses noted above. In fact, event apps can also:
Simplify registration, check-in, and administration
Assist with branding and theme
Assist with marketing and engagement
Facilitate event feedback and communication
Create experience longevity with ongoing connections
Leverage sponsorship opportunities
Streamline oversight and management of attendees and sessions
Receive real-time polling and analytics for various metrics, such as attendance
Implement cost savings and revenue boosters (in-app sales and more)
Improve and simplify customer service

What to Include in Your Event App
Hopefully by now, you're realizing that given the benefits, event apps are indispensable. Obviously, you want an event app that has the essentials, but what if you could also include a few additional features? What would that look like?
Essentials
There are a few must-haves for your event app—not just in terms of functionality, but in terms of opportunities and expectations.
Event branding - The application you build should not only reflect your brand but also branding for the event itself. From color schemes and graphics to usability and features, the event app is your first opportunity to begin to establish the essence of both brands (business and event).
Event schedules and session details - Access to the schedule and information is the primary reason users will download the app, so failure to deliver on this aspect can cause considerable problems. Electronic schedules and the ability to set reminders or add sessions to a calendar can save attendees a lot of stress. Digital formats can also save printing and publishing costs.
Maps - The last thing you want is attendees struggling to get to sessions because they cannot navigate your venue. Site maps and even local maps are a great feature to include when creating your event app.
Live, real-time polling - Polling your guests for reviews, impressions, questions, and more can not only allow your team to adjust on the fly, but the results may also inform your guests. For example, let's say an informative session is offered each day or a vendor booth has great swag or information; live polling attendees' favorite sessions or booths can help others make sure they fit those into their schedule.
Social tools - While social feeds and links to social media pages are engaging, apps should go a step further. Event applications with the highest engagement offer forums for conversations and opportunities for connecting and networking. Remember that networking is one of the primary reasons guests indicate that they attend events, so don't miss this opportunity to deliver for them.
Push notifications - Obviously, you'll want to ensure your guests have the chance to turn these on or off, but many people have come to rely on reminders and real-time notifications. This is particularly useful if there's a last-minute change or update to your event schedule.
Vendor, exhibitor, and speaker information - Your guests will want information about whom and what they may see at your corporate event. Including listings in your app (with links to websites, social media, and more) can simplify the "research" process as attendees determine how they want to spend their time.
Content library - From videos of sessions to handouts, downloads, or other links, you'll want to have a repository for all content from your event in one place. As an extra incentive for downloading the event app, you may also want to include exclusive content (think videos with popular speakers, insights from corporate leaders, and more).
Non-Essentials
Whether these items are essential or not is likely up for debate, but some of these are fantastic additions to any event app.
Games, mindfulness, and relaxation tools - Not only do tools like this keep attendees on your event app, but they also suggest you understand the need to stop, slow down, and take a minute to digest.
Private scheduling - If networking is a primary goal for attendees, then facilitating and enabling them to make appointments and meet with new connections is a great add-on.
Sponsored ads or content - Your corporate event app is the perfect opportunity for you to leverage sponsorship opportunities. Given how frequently guests may be on the app, real estate in the app or sponsor-provided content are excellent perks to offer.
Event shop - Not only is an event shop an excellent way to market your branded event merchandise, but if you have exceptional event gifting, your vendors can set up shop there as well, enabling attendees to buy extras.
Five Tips to Creating the Best Event App
Now that you have a good idea about the functionality you'll need, you'll also want to consider some other factors to make your event application the best it can be to ensure a great user experience.
1. Make it user-friendly
From navigation to personalization, make the app as user-friendly as possible. If your guests have to spend too much time navigating or trying to find features, they'll abandon it pretty quickly, defeating all of your event application goals.
2. Keep it secure
Including password protection is a good baseline, but creating comprehensive privacy, as well as the option to opt-out of some data sharing, will go a long way toward building trust. If you want high adoption rates of your application, ensuring your app is secure is important.
3. Incentivize adoption
Whether it's a registration discount when it's completed through the app or rewards points for creating a profile, offering incentives is an effective way to get your attendees to download the event app.
4. Promote your event application
From your initial marketing to the last day of your corporate event, continue promoting your application. Early adoption can help you get better sponsorship packages, but even late adopters can provide valuable feedback after your event. Encourage your presenters to direct attendees to the event app for downloads, follow-ups, and continued discussion. Adoption will drive engagement, and engagement will drive ROI.
5. Facilitate social sharing and social media
Guests are already on their phones and social media, making it easy for them to share and promote your brand and event. Consider including a live Twitter feed, so attendees can jump right in a conversation, building buzz and even more engagement.
Your attendees are likely looking to make the most out of your event, and a corporate event application is the best way to do that. Not only do apps make it easier for them to have all the information at their fingertips while they plan their agenda, but they also make it easier for you to stay in touch with your guests, even after the event has ended.

Similarly, your event management is streamlined when you have one application to update and notify all guests of changes or new information. Additionally, your app also pulls valuable data for you through all phases of the event. It's a win-win for you and for attendees.

If you're ready to start planning your next corporate event and begin designing your branded app to help organize and manage your event, get in touch with the Bishop-McCann team. We love to talk about event planning, management, and event technology, and our team is ready to leverage our expertise to help you create a memorable corporate event!