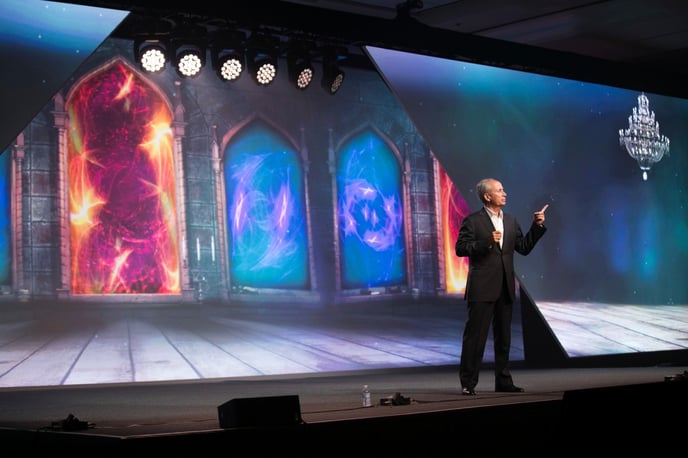 Think back to the last corporate event you attended. What was the most memorable aspect? Some may say the venue and others the food. Maybe it was the breakout sessions or the swag. But if you don't remember the keynote speaker, the event hosts missed a huge opportunity.

The keynote speaker should be among the highlights of a memorable event. They have the potential to shift energy, invigorate crowds, enlighten, and engage. Don't make the mistake of hiring who's available—hire who you need. To do that, you'll need to know a few things about how to find the right keynote speaker for your next corporate event.
Quick Links
What Is a Corporate Event?
A corporate event is an umbrella term covering a variety of functions that occur in a single day or over several days, depending on its purpose. Corporate events are typically planned to bring together various stakeholders and align them on anything from an idea or an initiative to a brand or product. Corporate events may include:
Trade shows
Conferences/workshops/seminars
Executive retreats
Incentive programs
Appreciation events
Organization celebrations (marking milestones)
Team building
Board or shareholder meetings
While many businesses hold smaller, informal events, corporate events usually require coordination between many moving parts from venues to menus and entertainment. So, while a department may go out for a meal to celebrate a small win, a corporate event is more likely to include the whole company and caterers.
What Is a Keynote Speaker?
Keynote speakers are essentially the "lead" speakers of an event. In some cases, they're the people your guests are coming to see, whether an executive from the company, a thought leader in the industry, or simply a well-known speaker on a topic or theme relevant to the event. Not only will they speak to your crowd about the topic, but typically, their secondary goal is to energize them, inspire them, and kick start the event in a memorable and meaningful way.
Why You Should Have a Keynote Speaker
Let's be clear: when we say this, we don't mean just any keynote speaker. We mean someone who will light up the stage and your audience. While their goal is to be informative and engaging (not always easy), there are many other benefits to having a keynote speaker.
Build Audience/Event Energy
While we'd love to believe that every person in attendance comes to an event with an open mind about the experience, it's sadly just not true. Not everyone who walks through the door on day one is going to be fully engaged. This is when your keynote speaker can work wonders.

The right keynote speaker is adept at engaging and inspiring an audience, even if some seem disinterested at first. Through their speaking experience and skills, a great keynote speaker can turn a quiet room into guests who are eager to participate.
Create Community
Depending on the event, you may be dealing with some attendees who are hesitant to interact, especially if they are surrounded by people they may not know. Though they may share common interests or a common workplace, it can still be difficult to get them to see themselves as part of a community. Often their work experiences, successes, and growth occur in silos, but an effective keynote speaker can show them where they overlap. More than that, a skilled speaker can demonstrate how common goals, missions, and values connect them all with the larger community present.

Prepare for Perspective Shifts
Corporate events are often centered around a change, whether that's the introduction of a new product or service, the marking of a major milestone, or the accomplishment of a goal that opens the door for new (and bigger) goals. As we all know, humans—at least some of us—can be resistant to change. We get stuck in our own ways, beliefs, and mindsets. Talented keynote speakers can reframe changes, obstacles, and challenges in a way that prepares an audience to meet them head-on and even invigorates them to seek out creative solutions.
Present New Ideas
Much like change, "new" can be scary to some, but with the right speaker, new can be exciting. Through motivational speeches that touch on the potential of new ideas or initiatives, keynote speakers can get an audience excited about possibilities. Not only can they present new ideas, but they can sometimes open the door just enough to lead your audience to creative thinking while energizing them to spend the rest of the event talking with their new community about the possibility and potential.
Entertain and Educate Your Audience
There's a reason TED talks are available online, and it's not just so you can seek out great keynote speakers. A skilled public speaker can entertain a crowd while educating them. In that way, a great keynote speaker is a gift to your crowd. It shows that you are invested enough in them and the future (the future with them) to share the information in a highly engaging way. It demonstrates your investment in the ideas and the audience. The right keynote address and speaker infuses the event, experience, ideas, and your people with inspiration.
Factors to Consider When Selecting a Keynote Speaker for your Corporate Event
If only finding a keynote speaker was as easy as watching a few TED talks and picking a person! Much like other facets of a corporate event, there are a few moving parts that go into selecting your keynote speaker, and given what we've discussed thus far, it's not a selection process one should take lightly.
1. Know your basics
Not every speaker will be available when you want or need them, nor will they always be available at the price point your budget allows for. Before going into the search process, you can usually narrow down selections based on event logistics (date/time/location) and your event budget.
2. Know your audience
While some speakers are capable of reaching across chasms to pull in an audience, it doesn't mean they should have to. Knowing your audience is a fundamental part of selecting the appropriate speaker. Not only do you want someone who can entertain and educate, but you also want someone who has experience with similar audiences, industries, or topics. In addition, you want someone with whom your audience can connect. This might mean shared commonalities, similar values, or name recognition. It might also mean you want someone who will specifically challenge a way of thinking. Knowing your audience is part of the equation.
3. Know your goal/objective
The other part of the equation is knowing what the goal or objective of the keynote is. Much like your audience, a good part of the selection process will include the overall message of the address. For example, if you've got an audience who needs to be motivated and energized, you'll likely not pick a speaker whose primary strength is informative, technical keynotes. You might want more of a storyteller than a lecturer. Knowing what you want your audience to take away from the experience will inform your decision.
4. Consider Possibilities
Many event organizers seeking keynote speakers instantly go for celebrity and name recognition. However, if you've watched any of the most popular TED talks, some of the favorites are from smaller TED events with unfamiliar speakers. A big name may not always be what will work best. Consider the best fit for your audience and event because sometimes inspiring people can be found in ordinary spaces.
5. Know who your speaker is (and is not)
While you should work with an event planner who has expertise and connections, you still want to vet the speaker. Not only do you want to know who your speaker is and why they'd be a good fit for your event, but you also want to know who they are not (why they might not be a good fit). Looking into their experience and talking with your potential speakers before hiring them is crucial. Part of this process allows you to ensure your expectations are met and that your speaker can move your audience in the direction you have chosen. This should be a partnership.

How to Find the Right Keynote Speaker
While there are many ways to find a speaker, hopefully we've outlined why you don't want just any speaker. You can take simple routes to find speakers, like a Google search or even asking your potential guests who they'd like to hear. Similarly, you can consider internal candidates or scour social media (or TED). Unfortunately, all of those methods are time-consuming and still may not result in you finding the speaker you want for the price you need.

One of the best things you can do for your event is work with an event planner who has connections to speakers and speakers bureaus. Not only are they familiar with someone's work, but they've worked hard to build relationships you can leverage to find the right person to meet your needs. In fact, many keep an active roster of exceptional speakers, and once they understand your goals and needs, they will be able to name the perfect person to deliver your keynote.

Further, an event planner also has the advantage of really understanding your event—as well as years of industry experience—which allows them to facilitate communication about your needs, about who your audience is, about a speaker's skills, and potential niches within a market.

If you're ready to talk to a team who can help you plan your corporate event (including the kind of keynote speaker that will leave your guests talking for days, weeks, or even months to come), then get in touch with the Bishop-McCann team. We're the event planners who have the experience and connections to find a speaker who will truly be the highlight of an unforgettable event.