As children, we all loved a good story. Listening to someone tell us something exciting, weaving the elements of the story together to create a whole new world intrigued us. But the truth is, adults aren't all that different. Whether we will admit it or not, a good story is a way to grab our attention and keep us entertained. So why not infuse a story into your next event to boost engagement and make your event more memorable? I recently attended EMS 2021 by Event Marketer, and one session that made an impact was "Storytelling in the Post-Covid Era" with speakers Jitter Garcia, Mark Henneberger, Cameron Mercer, Andrea Schwartz, and Teresa Terasaki. Knowing that Bishop-McCann is an agency full of storytellers, this was the perfect session to attend. We love telling our clients' stories through events, and this session reminded me of why it's important and how to accomplish this effectively.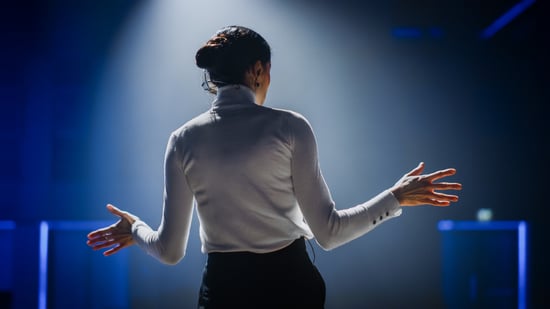 Tips on Effective Event Storytelling
Identify the Event's Purpose First
Before you can even start to think about creating a story, you need to uncover the true purpose of the event. Is the program taking place to educate the client's staff? Or is this an event that is meant to celebrate employees? Once you've determined the main reason for the event, you also need to identify any and all objectives of the program. Having a solid understanding of why your client wants the event in the first place will help guide your storytelling. You can then take that information and infuse it into the overall experience.
Tell the Real Story—It's the Best Story
Once you've determined why your clients are hosting their event, you can begin to weave your story into your plans. Now more than ever, people value transparency and honesty. It's easy to tell when you are being ingenuine with your storytelling or when you're stretching the truth. Instead of spinning a false tale, create a story that reflects the truth. People will appreciate your honesty and will be more interested in that than some unbelievable farce.
Raise the Creative Bar
During the difficult times caused by COVID, event planners had to become extremely innovative with their virtual events in order to stay afloat. From this creativity and innovation came higher expectations from attendees. Now that they've seen incredible work, this established a new standard. So when you're coming up with a story, think of ways to surprise the audience and keep them immersed in the event. Whether that's through the delivery of the content or the actual writing is up to you, but it's imperative to ensure that your storytelling is successful.
Incorporate Surprises in Your Story
What's the best part of any good story? Most people would say a surprise element, like a twist ending. If everyone knew how the story ended, why would they stick around to listen? That's why it's important to make sure you're telling a story that has at least one surprising element incorporated. For example, tell a story that allows the audience to learn something new about your client's company.
Utilize Shorter, More Succinct Content
Content in the virtual landscape should be shorter. When attendees are viewing an event from home with a dozen different distractions vying for their attention, you need to make sure you get to the heart of your story quickly to keep them engaged. While being succinct is necessary, make sure you don't sacrifice quality when parring down.
Realize That On Demand Is In Demand
After you've taken the time to carefully craft a story that your audience will love, make sure that you give people the chance to listen to it—even if they hear it after it airs live. Giving your guests the choice of on-demand content is imperative in a virtual setting to accommodate potential attendees' busy schedules. Everyone's time is valuable; make sure they know you realize that.
No matter if you are planning virtual, live, or hybrid events, creating a compelling story will always be beneficial. Good content is good content. Your audience will be thankful to hear content that doesn't put them to sleep, and your clients will love how focused their attendees are on their message. Be sure to try out these tips at your next event to master the art of storytelling!