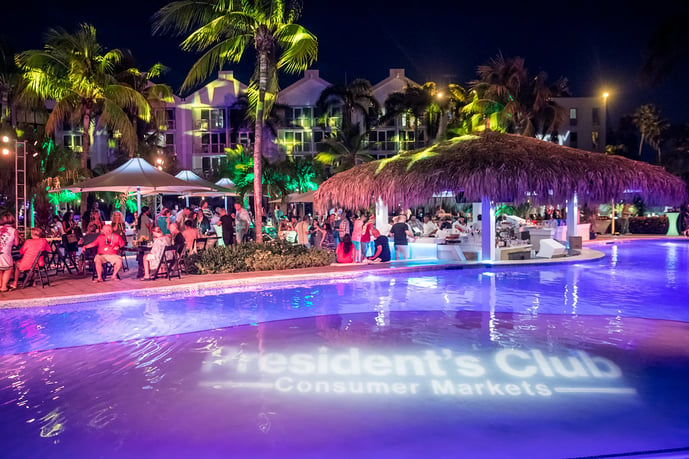 If you think back to your childhood, you might remember the JOY and excitement you felt planning a party for your friends. From selecting the decorations and the goodie bags to choosing colors and games to play, the planning was nearly as much fun as the party itself. And, if you can also remember, there were likely parties you were excited to attend. They had the best themes, games, and gifts for attendees. There's no reason why your corporate event can't elicit that same excitement.
Quick Links
What is a Corporate Event?
Corporate events include a variety of functions occurring over a single day or several days, depending on their purpose. Corporate events are designed to bring together a business's stakeholders and introduce them to ideas, initiatives, or even a new brand or product. Corporate events may include:
Trade shows
Conferences/workshops/seminars
Executive retreats
Incentive programs
Appreciation events
Organization celebrations (marking milestones)
Team building
Board or shareholder meetings
While many businesses hold smaller, informal events (such as dinners and office parties), corporate events usually require coordination between many moving parts from venues to menus and entertainment. In short, corporate events usually involve the whole company and are significantly larger than informal events.
Why Does Your Corporate Event Need a Theme?
While you could host a corporate event without a theme, it'd be a huge missed opportunity and may result in some unintended or unforeseen consequences. Themes are more than just an effort to coordinate colors. In fact, they're a valuable part of your event and can help reinforce your message when planned well.
Themes Create Community and Cohesion
One of the primary reasons your corporate event needs a theme is because it can bring everything together, including your guests. Your theme should reflect your mission or goal for the event, and that theme can then help you craft messaging.
From planning and invitations to the event itself, a theme can unify attendees who experience cohesion from speakers, breakout sessions, activities, and more.
Themes Create Focus
When introducing or reinforcing a value or idea to your attendees, themes can keep those concepts top of mind. Everything from your menu to decorations can help deliver that message and focus guests on your theme.

For example, if your event's goal is to celebrate a milestone, such as a decade in business or the opening of a new office, your theme could be a road trip or travel. Your speakers then have the opportunity to incorporate that idea into their sessions, your guests could be surrounded by decor that reminds them of travel, and your menu can offer a cross-country experience, featuring foods from the regions where you have offices.

Because your entire event is focused on the theme, it keeps your guests and speakers present and focused.
Themes Create Buzz
Whether it's a birthday party or a corporate event, you want people talking. You want them discussing your event before it happens, sharing it on social media while it's happening, and expressing how wonderful it was when it ends. One of the best ways to build buzz is to choose a great theme.

Not only can you then create exciting promotional materials, but you can also choose decor and props that promote your theme. This means your guests will be more likely to share information about the event with their friends. That word of mouth is invaluable for your brand, your product, and your next event.

In short, the right theme can help all facets of your event, from the planning and cohesive message delivery to the promotion and social media buzz.

How to Choose an Event Theme
Because your corporate event theme has the potential to bring the entire experience together, choosing the theme is incredibly important. Let's take a look at a few ways you can narrow down your choice.
1. Review your event goal(s)
Remember, your theme is an important opportunity to reinforce your goal or mission. Consider the key messages, lessons, or ideas you'd like your guests to walk away with, and try to include those in your theme.
2. Consider the tone of your event
The type of event you're hosting will, no doubt, have an impact on your theme. For example, a retirement event for the CEO will have a different theme than one rewarding your employees for a banner year. You want the theme to reflect the tone of the event.
3. Define your audience
Much like the event's tone having an impact on your theme, so will your audience. What is appropriate for stockholders or VIPs may not be appropriate for employees or loyal customers you'd like to reward. You'll also want to consider demographics, such as the age range of your guests. For example, if it's the kind of event where employees or guests may bring their families (children), you'll want to make sure to choose an inclusive theme.
4. Consider your venue
If you've already selected a venue, consider it in your theme. Using the venue in the theme's construction can reinforce your theme and help create a memorable experience. While ballrooms are popular, investigate the variety of spaces your venue has to offer (or potential venues). You may feel instantly inspired when viewing your venue, but if not, those providing tours can tell you about previous events and themes that were successful.
5. Consider what you don't want
Sometimes choosing what you do want is best narrowed down by identifying what you don't want. Consider events you've attended before and what worked or didn't for those themes. If a theme is trendy this year, you might want to avoid it or anything similar in order to make your event stand out from the crowd. You may also want to steer clear of themes that are outdated or have the potential to overshadow or diminish your message.
6. Seek inspiration
There are loads of resources to look for inspiration for your event from the web to other organizations that have held similar events. Further, you can check with potential vendors and venues to learn what events they've participated in and what was successful. You can also seek inspiration from your team members and other important attendees. Brainstorming sessions can be fruitful.
7. Seek expert help
If you plan on hiring an event planner, one area of expertise they can share with you is theme selection. Not only are these individuals creative, but their experience in the industry means they've seen more themes than most and have a keen sense of what's successful and what isn't. They can provide ideas that closely match your aesthetic and your mission.
3 Theme Idea Examples for Unforgettable Events
At Bishop-McCann, we're no strangers to requests for memorable event themes that will keep guests talking for some time to come. Let's take a look at a few of our favorites.
At this award-winning event, the attendees were the top sales associates for Verizon. Not only was there the goal of rewarding these individuals, but they also sought to motivate them to continue exceeding sales goals and expectations. Throughout the year, sales associates were made aware of the "Reach the Beach" challenge, pushing them to work hard in order to earn the trip (as well as other gifts and rewards).

To really drive home the beach theme, the event was held in Miami Beach, Florida, and featured:
A "Neon Nights" tiki bar event, including DJ, bar, and graffiti artist
A "Price is Right" game night to win more rewards
Catamaran cruises
Everglades tours
Spa days
Little Havana lunch and culinary tours
Monument Island kayak and snorkeling trips
Speed boat rides
Additionally, attendees received swag, such as Ray-Ban sunglasses, that fit the theme as well.
America's iconic Route 66 is a road to the West and all it stands for in American culture. Its rich history and connection to the tradition of American road trips made it a perfect theme for G6 Hospitality. Deemed "Route 6" to play off the iconic brand Motel 6, the group shared a mission to open the roads and the American landscape to everyday travelers.

As a program for an owner's conference, the theme allowed Bishop-McCann to tap into a retro style that captured the history of both the motel and the highway. This theme enabled our team to design decor that embraced the spirit of freedom and adventure symbolized by the iconic roadway.

Starting with registration, which featured an old-fashioned service station complete with attendant to hallways lined with roadside attractions, the event's theme was utilized throughout. A Converse sneaker "Get Your Kicks on Route 6" station was also featured in the lobby of the resort and spa in Phoenix, Arizona where attendees spent a few days attending sessions, a trade show, and networking events.
Everyday Heroes
When you want to focus on the way your team members change not only your business but also your clients' lives, you need to ensure the spotlight is on them. When the goal is motivating your team to continue providing amazing service to people who change the world, you want to choose your theme carefully.

This was the challenge presented to Bishop-McCann for a large pharmaceutical company's launch party. The theme chosen was "Everyday Heroes" to remind the team that they were providing products and services to customers who were, in turn, providing life-saving therapies and treatments. Both the pharmaceutical company's team and those working in labs were heroes in their own right, so the meeting sought to tap into that messaging.

To tap into the hero theme, introductions featured theatrical and special effects to mimic the entrance of superheroes, caped cutouts enabled guests to put their faces onto the bodies of superheroes, team members were identified for their superhuman characteristics, and all technology used featured graphics that supported the theme. Thematically, it was unified through colors, designs, tone, and significant touches that successfully relayed the overall objective of the event

Choosing a theme keeps your event unified and your guests focused. It doesn't always have to be elaborate, but it should deliver a message and a feeling that captures the spirit of your brand.
These are just a few examples of ways that Bishop-McCann has been able to provide immersive themes for our clients. If you're looking for a way to wow your attendees, let's explore the options together. Get in touch with our team today, and let's start planning!