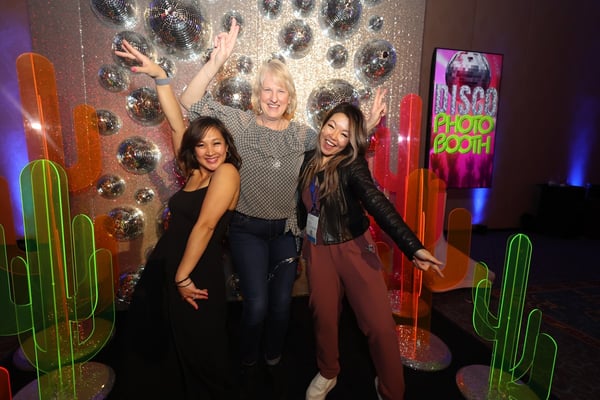 In theater circles, Bertolt Brecht is credited with changing the trajectory of staged productions through his use of technology and the way he invited the audience into the production by disrupting previously held notions about the "fourth wall," which separates the audience from the actors. It had such a profound impact because it changed the way theater-goers experienced performances, making a long and lasting impression (one that extends into modern theater even now).

Why are we talking about Brecht? Because this is the same concept behind creative event design. While design elements should be seamlessly integrated into spaces, they should also invite attendees to experience an event rather than just witness it. Though creative event design is often behind the scenes, its role is no less pivotal.

Quick Links
What Is Event Design and Creative?
The best events are cohesive and flow from one space, session, or activity into another. Often theme, design, style, decor, and tone create that cohesion, bringing spaces and attendees together. This event element is, ultimately, what creates and delivers on the vision of event planners and key stakeholders.

If you've been at an event where design wasn't a concern of the event planners, it may have felt disjointed. However, when creative event design is executed correctly, it takes you from vision and goals to planning and execution, tying everything back to those original ideas.
Event design is about more than color schemes and eye-catching decor. It's about creating event experiences that "wow" your attendees. When it comes to creating memorable events – the kind your attendees will talk about for months (or years) to come – then a strong creative team is a must.

Solid logistics will get you through an event, ensuring all things happen as scheduled. Event tech can provide the necessary screens and audio for your message. But let's be honest, those are rarely the elements that capture our attention. What makes a corporate event memorable? Event creative – the things your guests will see, feel, and hear at your event – all of which should be carefully curated by your event planning team. Event creative is what turns your meeting into an impactful and unforgettable experience.
Types of Creative Event Design
Creative event design, much like an event theme, connects all aspects of event planning from pre-event marketing to post-event communications.
1. Graphic design
Logos? Registration websites? Invitations? Marketing materials? Name badges? Event apps? All of the elements that help you connect with attendees require the assistance of a creative team. From the start, you want to use these components of your program to help convey the tone, along with the look and feel of the event.

Similarly, in the same way that creative designers shape the experience attendees have in person, they can also help with the execution of your digital presence, ensuring that the user experience is seamless, cohesive, and memorable – from your website to presentations in general sessions.
2. Event branding
When considering a theme, you may want to create an event brand – one that extends beyond your actual brand and captures the mission, goals, or feeling of the conference itself. This brand can start based on the theme and be utilized throughout the program on everything from signage to t-shirts to create a cohesive experience for your attendees.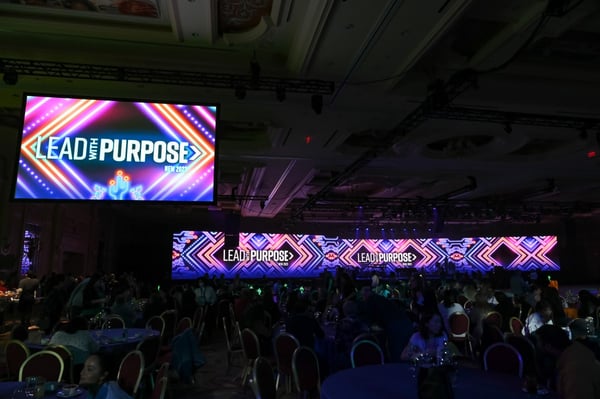 3. Presentation design
One great way to create cohesive messaging is through consistent presentation design. Rather than letting every speaker design their own slides or videos for sessions, a creative team can help you create a template that is branded specifically for your event.
4. Event renderings and scenic design
From vision to execution, you want to know what your event space will look like. Floor plans, layouts, seating areas, interactive elements, and lighting can all be rendered prior to the event, giving you a strong sense of how the space will look and feel. From those renderings, your creative team will provide what's called scenic design.

Much like a set is designed in a movie to create a feeling or experience, creative event designers work to capture just the right atmosphere for your event. They "set the stage" at your venue to reflect the goals you have for your program.

5. Script, copy, and speech writing
Maintaining unified messaging across your entire event is key, and that includes marketing copy, signage, communication, and speeches. To keep presentations cohesive, ensure that you choose speakers whose messaging aligns with event goals. You probably will have a variety of speakers, and while keynote speakers may have presentation and script-writing skills, others may not. So when it comes to corporate leadership and other invited speakers, you may need to provide support for them to stay focused on your overall message and to convey the right tone.

6. Installations, activations, and experiences
One of the best ways to make an event memorable is to create interactive experiences for attendees. While photo booths and selfie spots are a great way to do this (and if posted to socials, can help make your event more memorable), including other activations, such as augmented or virtual reality opportunities, can excite and delight guests while aligning with your theme and event goals.

7. Video streaming and production
Video is essential for events these days. Whether you're streaming to a virtual audience, repackaging content on your website, or repurposing in other ways, ensuring that you have quality video means paying attention to production value. From ensuring the setup goes smoothly (lighting, sound, etc.) to editing and creating post-production value (B-rolls, snippets for your site, teaser videos for repackaging or gated content), your creative team can help you maximize video.

8. Project management
If you've ever worked on a project, you know that keeping a team in alignment with objectives and goals can be difficult. When you add in set design, decor, branding, etc., there are even more moving parts. Someone needs to keep track of all the assets, where they are, and where they need to be. Someone needs to coordinate setup and takedown. Someone needs to ensure that your event looks and feels exactly as it should. Your creative team is that "someone."
Why Creative Event Design Matter
When we think about corporate events, we certainly think about all of the aspects noted above (the places where creative teams shine), but when they do their work well, the results may appear seamless or effortless. Their hands are in nearly every aspect of event planning and execution, though we may never see them, as a large portion of that work happens behind the scenes.

What we do see is a cohesive event with messaging aligned across all channels and design elements that set the tone of the event while keeping your goals in mind as attendees move through spaces and experiences.

No matter the audience, incorporating successful creative elements and designs into your corporate program can enhance your event and take it to the next level. Creative design is what makes your event memorable. How memorable? That depends on your creative team.

If you want to ensure that your next event meets your goals while exciting and delighting your attendees, then you want a planning partner that pays close attention to the creative design details that matter. The Bishop-McCann team is ready to help. Reach out to us today, and let's start planning your next unforgettable corporate event!