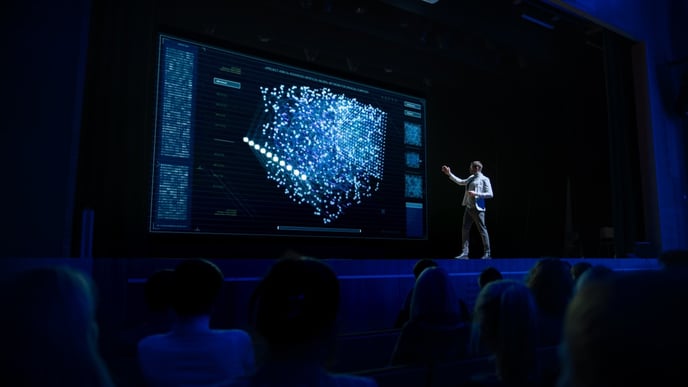 In the last two years, due predominantly to the pandemic, the adoption rate of new technology soared. Nearly every business experienced a digital transformation that ordinarily should have taken much longer. The event planning and events industry is no different. Event technology plays an important role in the industry, and adaptation over the last two years has driven adoption and evolution that will change all events moving forward.

In the events industry, new technology regularly appears and either gets adopted or surpassed. The corporate event industry is constantly changing, and sometimes, incredible technologies we've only dreamed about become commonplace. Some trends, such as virtual reality, continue to evolve, cementing their place in the industry for years to come. And still, some technology gives us a glimpse of what's to come.



Quick Links




What is Event Technology?
Event technology encompasses any electronic devices, tools, or software applications that assist in the events industry. It may help to facilitate registration, check-in, or scheduling. Or it could create advanced and robust presentations, including lighting, music, and staging. But in any instance, technology has the potential to both enable and enhance an event.

However, event technology isn't just for event planners and venues. Event guests can also have their experience elevated by utilizing technologies made available to them through smartphone apps and social media, as well as wearable tech. In the same way that technology has the power to improve our daily lives, it also has the same potential to change an event, simplifying logistics and engaging your guests.
How Can Tech Improve Your Event?
The events industry is poised to grow, even after the rebound from COVID-19, and that growth will reflect not only more events but also more attendees. In order to meet the demands of guests—both virtual and in-person—having up-to-date technology becomes vital.

However, it's not just about speeding your guests through a seamless check-in or registration experience. In fact, recent research shows that event technology can also:
Increase attendance by up to 20%
Increase productivity by 27%
Decrease costs by up to 30%
In addition to assisting event planners, venues, and organizers, event technology has the potential to create an even better guest experience as well. Event technology can:
Facilitate event navigation and scheduling
Foster a sense of community
Enhance experience
Enable networking
Offer personalized experiences and recommendations
Improve follow-up
Connect guests to special offers and amenities
Support guests with specific needs
Encourage and create opportunities for interactions
And more!
In short, staying on top of event technology has the potential to change the event experience for everyone involved.

Top 10 Event Technology Trends in 2021
Given the importance of event technology and changes within the industry—such as the expected increase in hybrid events—knowing what tech is here to stay and what's trending is vital for hosts, organizers, venues, and anyone involved in the events industry.

1. Virtual Reality
Obviously, this technology has been around and in use for some time. Now that the tech is more affordable and participants have been exposed to it in a variety of settings (from museums to amusement parks), it's being used more frequently. VR does not only help increase user engagement on site, but it can also help increase sales while showcasing products and services in a more memorable way. One way to use virtual reality is by connecting remote audiences and allowing them to attend an event online. With a virtual ticket and a "host," guests could experience exclusive tracks for specific interests in a much different way than they have at previous events.
2. Artificial Intelligence
Like VR, artificial intelligence is increasingly becoming the norm behind the attendee experience. Your attendees are already using this technology at home and work with voice searches. One of the ways you can use AI at your next meeting or corporate event is to employ voice tech to perform specific actions. Use voice assistants to execute commands and answer questions, from "sign me up" to "where is my next session?" You can also link the ability to read badges by using a voice assistant. This technology makes attendees feel like VIPs.
3. Clever Flooring
New technology using smart floor mats is being used to gather attendee data without affecting the attendee's event experience in any way. It's making data collection and analysis easier than ever. By employing smart mats on the floor of your venue, you can track attendees' footsteps, obtain accurate traffic numbers, and show sponsors real-time data. This information can help create a better attendee experience at your next event, and it can also help sell sponsorships in the future.
4. Augmented Reality
Although augmented reality has been around for a few years, we are seeing it used more and more at meetings and corporate events. One of the ways you can use augmented reality at your next event is by animating static objects to gain more attention. You can use customized filters and frames to tell a sponsor's story or educate attendees about new products. Attendees can engage with the brand and the venue in a fresh, fun, and exciting way, enhancing their overall experience.
5. Virtual Networking Technologies
One of the biggest challenges to virtual events, and now hybrid events, is how to provide the same networking experience that in-person conferences have offered in the past. Many attendees participate in events specifically for the networking component, which is invaluable to building their brand (both personal and business), exploring new ideas and trends, and even recruiting for business. For that reason, look for technology and applications (such as Shapr, Wonder.me, and Mixalot) to be added to events that help connect participants with people they'd find valuable, regardless of whether they're attending virtually or in person.
6. Facial Recognition
The potential of facial recognition software goes beyond the security implications. One of the clear benefits is the gatekeeping aspect, meaning access points can be controlled and require fewer employees to monitor.
However, facial recognition can also:
Print on demand IDs/badges
Track session attendance
Personalize swag bags
Facilitate check-in/registration
Speed up entrances and prevent bottlenecks in high traffic areas

7. Second Screen
Whether in person or virtual, your attendees likely have a smartphone handy, and second screen (and beyond) leverages technology already in use to augment your guests' experience. Second screen allows your attendees to view slideshows and presentations on their phones, participate in questionnaires and live polling, interact with additional resources or social media/web links, and engage in Q&A sessions, regardless of where they are. Again, this tech really taps into the anticipated increase in hybrid events and virtual attendees.
8. Wearables
Event participants are already used to receiving badges and IDs that enable them to walk freely through conference spaces and participate in event sessions. Additionally, wearables also enable touch-free experiences in a post-COVID world. But, what if that badge did so much more? What if it weren't just badges?

New wearable technology—from badges to wristbands and eyeglasses—have the potential to allow attendees to enjoy other technologies, such as augmented reality, while also seamlessly connecting with others, obtaining digital marketing/session information, receiving event notifications and rewards/perks, making cash-free purchases, and more.
9. Holograms
Fifteen years after his death, Tupac Shakur gave a concert performance. Well, it wasn't Tupac; it was a hologram. The music world and beyond was abuzz with the potential for this technology, and we are finally seeing it come to fruition. The possibilities for its utilization are endless. For example, let's say your company is looking to host an event in multiple cities or locations. While your keynote speaker can appear in one location, his or her hologram can appear in others. Similarly, there's potential for this technology to bring down the cost of expensive speakers who might ordinarily be out of reach for a business but whose hologram can still add a wow factor.


10. Branded/All-In-One Apps
These days, smartphone apps get built pretty quickly. Once the format exists, being able to plug in data while still receiving the same functionality means branded apps can be highly adaptable for events with repeating development costs. Further, apps can create an enhanced guest experience by providing all the relevant information they need in one place. Rather than searching online, an app can help them plan their schedule, identify vendors or sessions they're interested in, store tickets, utilize chatbots and additional resources, as well as keep attendees connected during and after the event.


While many are ready to return to live events, some still feel more comfortable accessing the program digitally from their own home. Regardless of where your attendee is, understanding how to harness the event technology available to improve each experience is key.

This is just a quick overview of what's out there and what's available. If you wish to leverage these technologies for your next corporate event, get in touch with the Bishop-McCann team today. As experts in the field with years of experience, we can give you the guidance and advice you need to get the most out of your tech while providing the best experience for your guests.