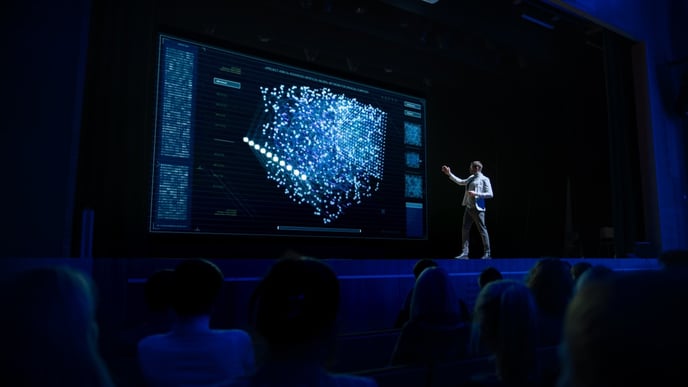 During the pandemic, the adoption rate of new technology soared, and since then, this trend has not slowed down. Nearly every industry is attempting to capitalize on our new-found appreciation for the things tech can do, from automation to analysis. The events industry is no different. In fact, we're used to marking the passage of time by the top tech we see.
Technology has caused a remarkable transformation in events. Gone are the days of manual registration, printed agendas, and static presentations. Event tech has revolutionized the way we conceive, organize, and experience events. From interactive engagement tools to immersive virtual experiences, event technology has become an indispensable asset for organizations seeking to leave a lasting impact on attendees.
Quick Links
What Invest in Event Technology?
Event technology encompasses any electronic devices, tools, or software applications that assist in the events industry. It helps to facilitate various event planning tasks, such as registration, check-in, and scheduling. This tech can also create advanced and robust presentations, including lighting, music, and staging. In any instance, technology has the potential to both enable and enhance an event.

However, event technology isn't just for event planners and venues. Event guests can also have their experience elevated by utilizing technologies made available to them through smartphone apps and social media, as well as wearable tech. In the same way that technology has the power to improve our daily lives, it also has the potential to change an event, simplifying logistics and engaging your guests.
How Can Tech Improve Your Event?
The events industry has nearly fully rebounded from the pandemic with attendees and companies both eager to meet and connect in person. That growth means more events and also more attendees. In order to meet the demands of both organizations and guests, having up-to-date technology becomes vital.

However, it's not just about speeding your guests through a seamless check-in or registration experience. Recent research shows that event technology has a significant impact on the entire event experience. In fact, 78% of planners are relying on tech, and event apps have an 80% adoption rate, which means efforts are paying off when it comes to engaging attendees.
In addition to assisting event planners, venues, and organizers, event technology has the potential to create an even better guest experience as well. Event technology can:
Facilitate event navigation and scheduling

Foster a sense of community

Enhance experience

Enable networking

Offer personalized experiences and recommendations

Improve follow-up

Connect guests to special offers and amenities

Support guests with specific needs

Encourage and create opportunities for interactions

And more!



In short, staying on top of event technology has the potential to change the event experience for everyone involved.

However, one has to remember to strike a balance between leveraging technology and providing the human touch most were craving when events were solely virtual, which can help differentiate your event from others. One thing we learned from the quick bounceback to in-person events is that people are still craving personalization and human interaction, so the use of tech should never come at the expense of a personalized experience.
At Bishop-McCann, we find the perfect balance between staying current with tech trends while giving our clients and attendees the white glove service that sets us apart. Our President and Co-Owner, Rob Adams, often says, "We don't point; we walk," as it relates to helping our guests find something or someplace at our events. But this phrase can be applied to various situations in our industry. As much as attendees are impressed with helpful and easy-to-use tech, they are just as impressed with people who go out of their way to help them find a quick and easy solution.

Top Eight Event Technology Trends in 2023
Given the importance of event technology, knowing what tech is here to stay and what's trending is vital for hosts, organizers, venues, and anyone involved in the industry.

1. Branded/All-In-One Apps
We've all heard, "There's an app for that." But there is truth in those words. At this point, most attendees expect to be able to interact with your event via the web, as well as a smartphone app. For event hosts and planners, branded event apps can be highly adaptable. They're an excellent way to stay in contact with and update your attendees and others about changes, updates, and sessions they might be interested in. Post-event, they help you gather data for future marketing efforts and planning.

For attendees, apps create an enhanced guest experience by providing all the relevant information they need in one place. Rather than searching online, apps help them plan their schedule, identify vendors or sessions they don't want to miss, utilize chatbots and additional resources, and network with others before, during, and after the event.
2. Artificial Intelligence
AI is headline news in nearly any media source you see (we've even blogged about AI). This trending tech is having a huge impact on all industries. Because attendees are already using AI at home and work, one easy way you can use AI at your next meeting or corporate event is to employ voice tech to perform specific actions. Use voice assistants to execute commands and answer questions, from "sign me up" to "where is my next session?" You can also link the ability to read badges by using a voice assistant. This technology makes attendees feel like VIPs.
Another way AI can enhance your event is through personalization. Based on attendees' interests and the information you acquire from them, you can personalize various aspects of their event experience, such as creating session tracks specific to each attendee.

At larger events with non-native speakers in attendance, AI is also being used to offer translations into various languages, and at registration and check-in, the tech can speed up the process. We're just beginning to see how AI will change the events space, and as the technology continues to grow and refine, applications will improve and change. No doubt, this will be an exciting tech space to watch.
3. Clever Flooring and Behavioral Mapping
Another way AI is being leveraged is through data collection and aggregation. Both clever flooring and behavioral mapping enable event planners and hosts to gather significant data regarding attendees and their movements/behaviors as related to event offerings.

Clever flooring gathers attendee data without affecting the attendee's event experience in any way. By employing smart mats on the floor of your venue, you can track attendees' footsteps, obtain accurate traffic numbers, and show sponsors real-time data. This information can help create a better attendee experience at your next event, and it can also help sell sponsorships in the future.

Behavioral mapping is similar but relies on AI "smart" cameras to capture data like dwell time, facial expressions, and movement. Without storing footage (or faces), it delivers real-time info that can help reveal attendee demographics and sentiment, especially when it comes to how attendees are interacting with different aspects of your event or event space.
4. Holograms
Can you imagine a future where even after your favorite musicians have passed, you can still watch them perform a concert? Well with holograms, that is already a reality. The music world and beyond were abuzz with the potential for this technology, and we are beginning to see it come to fruition. The possibilities for its utilization are endless. For example, let's say your company is looking to host an event in multiple cities or locations. While your keynote speaker can appear in one location, his or her hologram can appear in others. Similarly, there's potential for this technology to bring down the cost of expensive speakers that might ordinarily be out of reach for a business but whose hologram can still add a wow factor. Additionally, this kind of 3D technology can immerse attendees more easily than 2D presentations. This tech can even allow holographic speakers to engage with an audience in real time, making this even more of an interactive experience.
5. Augmented and Virtual Reality
AR and VR are often confused, but the technologies offer different applications. Augmented reality simply "augments" a scene that already exists in the real world while virtual reality immerses attendees into an entirely virtual environment. Now that the tech is more affordable and participants have been exposed to it in a variety of settings (from museums to amusement parks), it is being used more frequently. For example, imagine using VR to take attendees on virtual trips or virtual tours all from a convenient lounge at your meeting. You could help tired attendees avoid event fatigue and promote health and wellness by offering a virtual escape to the Greek Isles or other relaxing destinations.
Augmented reality offers different possibilities. You could use AR to animate static objects in order to gain attention or use customized filters and frames to tell a sponsor's story and educate attendees about new products. There are even some AR and VR technologies that are tapping into other senses, such as scent, to further immerse people that are utilizing the technology. AR and VR allow attendees to engage with the brand and the venue in a fresh, fun, and exciting way, enhancing their overall experience.
6. Virtual Networking
Many attendees participate in events specifically for the networking component, which is invaluable to building their brand (both personal and business), exploring new ideas and trends, and even recruiting for business. For that reason, networking applications (such as Shapr and Mixalot) are added to events to help connect participants with people they find valuable, regardless of whether they're attending virtually or in person.
7. Wearables
Event participants are already used to receiving badges and IDs that enable them to walk freely through conference spaces and participate in event sessions. Wearables also enable touch-free experiences in a post-COVID world. But, what if that badge did much more? What if it weren't just badges?

New wearable technology—from badges to wristbands and eyeglasses—have the potential to allow attendees to enjoy other technologies, such as augmented reality, while also seamlessly connecting with others, obtaining digital marketing/session information, receiving event notifications and rewards/perks, making cash-free purchases, and more.
8. Attendee Engagement
A variety of modern tools exist to allow you to track attendee engagement. As we mentioned above, AI is facilitating that, but tracking tools can also include RFID or even QR codes in strategic locations.
These tools provide some of the same data you'll want to analyze to see where attendees are spending their time. This is about more than which sessions, speakers, vendors, or booths are attracting attention because it also can identify bottlenecks and can help you reallocate staff to keep things moving and guests happy.

This same data may be useful to both vendors and venues, as well as to see where and how attendees are spending their time. With a cookieless future, event technology will have to step in and help provide you and your team with the valuable information you need about attendees and their experience.
As we revisit tech in our blog each year, we see some standard technology that we are familiar with that continues to support our efforts; however, we also see new tech and advancements in existing tech (such as AI) that promise to change the business and how we create attendee experiences.
If you wish to leverage these technologies for your next corporate event, get in touch with the Bishop-McCann team today! As experts in the field with years of experience, we can give you the guidance and advice you need to get the most out of your tech while providing the best experience for your guests.