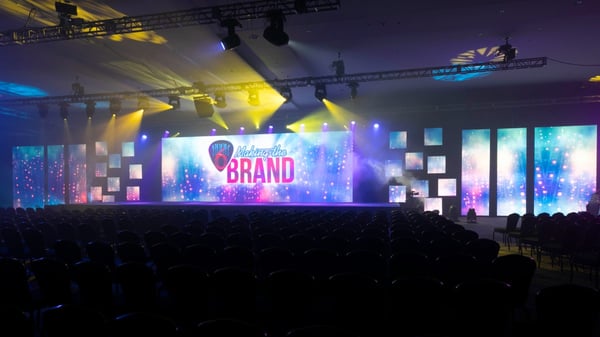 Any corporate event comes with challenges. From varied guests to budget limitations, event planning can be difficult at the best of times. And, the larger your organization and event, the tougher these challenges become.
Whether you're new to event planning or are an experienced expert, it can always help to review the biggest event planning challenges and the solutions to them before starting on your next program.
Quick Links:
Benefits of Hosting a Corporate Event
If hosting a corporate event is so challenging, why hold one in the first place? This is a great question to start with because, without a goal in mind, success will be impossible.
Corporate events can help you meet a variety of objectives and provide numerous benefits aligned with those goals. This is why one of the first things to do when planning an event is to decide on a goal that aligns with the results you want to achieve.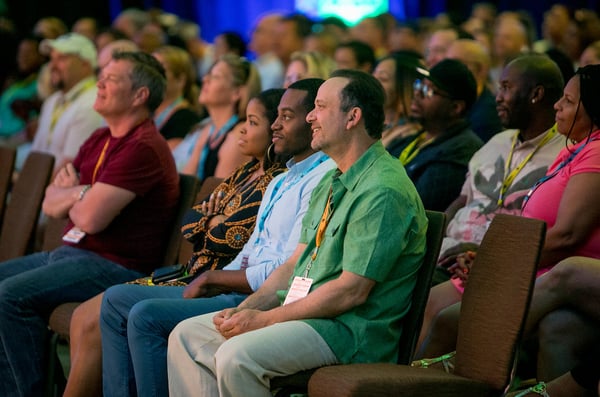 Some examples of the potential goals you could set for a corporate event include:
Dissemination of Information. Corporate events are a great opportunity to share important information with the audience. This can include anything from product updates to new sales strategies or anything else you want to ensure that event attendees know.

Brand Promotion.

An event is a chance to create positive feelings and memories that tie back to your brand when you successfully incorporate your branding from the beginning to end of the program. In addition to acting as an effective tool for generating publicity, a meeting provides multiple branding opportunities that you can take advantage of throughout the program. Simply put, your event is an occasion to coordinate conference elements to create a brand experience for your attendees.
Employee Engagement. Large events can create hype among employees. By inviting associates to an event to receive recognition and share their experiences and insights, you can help drive employee engagement. Allowing your attendees to step out of the work environment into a more relaxed, celebratory atmosphere will reinvigorate them, so they are more engaged once they return to the office. Even if your meeting or event is more educational or focused on the business, your audience may feel more immersed in the content you're providing them with since it is out of their normal environment - thus, making it a more effective way to share information.
Networking Opportunities. When hosting an event, you create an opportunity for your attendees to network face to face. The opportunity to meet in person with others in the same industry and to have personal conversations to sharpen skills or gain insight will be beneficial not just to your employees but also to your business.
Deciding on the goal for your event is an important first step in event planning, as it forms the basis for your event strategy and helps you identify the various challenges you might encounter while planning to meet that goal.
Top Five Challenges of Corporate Event Planning
With planners making hundreds of decisions months before the event ever actually occurs, event planning is incredibly complex. Challenges can vary based on your goal and the type of program you are planning; however, there are a few issues that seem to crop up for nearly every meeting type.
Solving these challenges can help you ensure more consistent success for your next conference.
1. Venue Selection
As real estate agents like to say: "location, location, location." Deciding on a venue for a corporate event is a major challenge for any organization. Finding the right location is a careful balancing act. Some major considerations are:
Ease of Access. Where is the venue? Is the location appealing to your target audience? How easy is it to reach? If travel is too difficult, then attendance will suffer—limiting the efficacy of the event.
Cost. Obviously, different venues have different costs. Make sure your venue selection matches your goal and budget. An incentive trip for your top sales associates might merit a tropical location while your national sales meeting may need a more central location for attendees with a smaller price tag. Balancing venue cost against the benefits the venue provides can be challenging, but it is a necessary consideration.
Features of the Location. Each venue will have unique features, so when researching potential spaces, ask what is included in your fee. You don't want surprises in the final bill. For example, is venue cleanup included in the cost of the rental, or is it an additional charge? What's the fee for event security (if available)? Does the venue require you to use a pre-approved contractor for catering or other services? Make certain you know exactly what you are getting for the price. Additionally, ask what activities or excursions are on site or nearby. Getting a feel for not just the accommodations but the surrounding area will help make your decision easier.
Once you have this information, choosing a location for your event will be a much easier process, especially if you keep your goal in mind.
2. Attendance
Deficits in attendance can be an issue for corporate events if not handled correctly—whether the event is aimed at internal members of the organization or at external clients and prospects. To make a positive impact, you need to ensure you are able to reach your audience and employ all the tools you have to increase engagement .
To maximize attendance, it's important to:
Promote the Event. Creating a website and event app is the first step toward promoting your meeting. Having a central location where you can share dates, times, locations, contact information, goals, and any other pertinent details is one of the best ways to ensure your attendees can easily gather facts. You can also use email and social media to make certain your target audience has the necessary information, along with creating an event app.
Choose a Unique Location. Selecting a location that your attendees have never visited or that offers engaging activities is a definite way to increase attendance. By including information on both the event and the city where the meeting will take place, your potential attendees can get excited not just about the conference but also about the surroundings they will experience.
Give Attendees a Reason to Come. Why should someone attend your event? Event attendees have limited time and resources to spend on corporate events, so it's important to give them a reason to attend yours. This can mean highlighting the benefits of your event (such as networking opportunities, training, or even the location itself). Additionally, you can personalize the event experience–make sure you know what your attendees like as far as food, beverages, activities, and more.
3. Engagement
Even with high attendance, if attendees are disengaged, this can prevent the event from achieving its intended goal. Some tips for combatting event fatigue and driving engagement among attendees to create JOY include the following:
Curate Your Attendee List. Picking the right audience can be just as crucial to event success as picking the right venue. When sending out invitations or creating marketing for an event, it's important to consider who would benefit most from attending and what they would be most interested in.

Utilize the Latest Tech.

For your meeting to be successful, attendees need to be able to navigate all areas with ease. From the registration process to the final feedback survey, your attendees need to be met with a process that makes their experience pleasant. For example, having a dedicated event app that attendees can access from their phones is a major way to drive engagement. Additionally, using AI to help guests select their sessions based on their interests ensures that everyone is getting the most out of the event.
Celebrate Your Team. Recognition and reward are huge drivers of engagement. People love being praised, and an event is a perfect opportunity to tell your top performers that you have noticed their effort. You can reward those top performers, but you can also reward other attendees. These types of recognition can even be tailored to different levels of engagement by rewarding those who attended the most sessions, engaged the most on social media, or provided the most insightful feedback.
4. Budget
One of the biggest limiting factors of any corporate event is the event budget. Setting an appropriate budget (and sticking to it) is often challenging as the cost of hosting an event can change from one event to the next. Even when going back to a familiar venue, costs can vary from year to year as demand for the venue increases, labor costs go up, property values fluctuate, and other common event costs change. From the venue itself to catering, labor, and technology, managing an event budget can be incredibly complicated.
This is why working with an experienced corporate event planning agency can help. By providing a list of goals and your expected budget, the event planner can help you determine the feasibility of your event and provide advice for meeting your goals while sticking to your budget (or revising your strategy as needed). They also have relationships with vendors and venues that can be capitalized on to cut expenses.
5. Staffing Management
Who is responsible for managing the event? Who will clean up during the event or operate the various booths/presentations on display? What happens when event staff call in sick or fail to show up? How can you ensure that your event is properly staffed?
Event staffing can be a huge variable cost for any event as the demand for labor and the cost per hour of labor can change from venue to venue and year to year. Attendance rates can also impact your staffing needs, as higher attendance may require additional labor to keep up with guests. This is why working with an event professional can be so beneficial. If they are as experienced as Bishop-McCann, they have handled thousands of events and have tackled the staffing issues that come with those meetings.
Partner with Bishop-McCann to Solve Your Corporate Event Planning Challenges
Whether you're planning a small corporate event or a huge national product launch, Bishop-McCann is here to help you solve your event challenges.
We provide support by creating a compelling brand story that keeps your audience engaged, selecting the right venue to meet your event goals, staying on budget and being transparent throughout the process, and providing expertise on all other aspects of planning. All of this ensures that your attendees are immersed in your event from start to finish.
Reach out to us today to learn more about how you can maximize the impact of your next event and how we can create JOY for your audience!