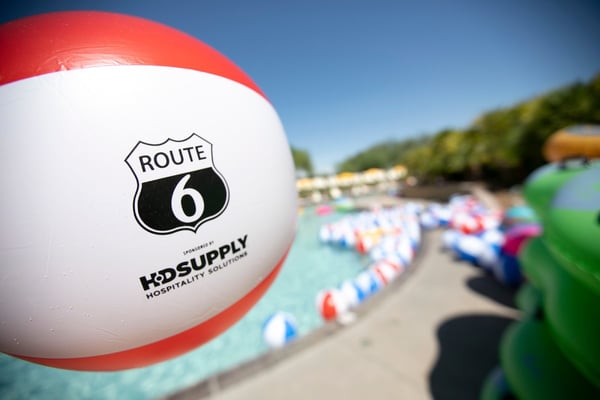 Think of iconic brands, such as Apple, Coke, McDonald's, or Mercedes, and you likely have an image or feeling that comes to mind instantly. That's how effective branding works. It's more than a logo or color scheme. In part, successful branding is visual; it offers a visual reputation that defines the business. For example, Apple's branding is recognized as much for its sleek design as for its Apple logo. Event branding is equally important and functions similarly.

Your event is a huge opportunity to coordinate meeting elements and create a brand experience for guests. Understanding creative event branding and unique opportunities can help you leave a lasting impression on corporate event attendees.
Quick Links

What Is Event Branding?
Much like successful branding of any kind, event branding should seek to capture the essence of your brand or the overarching message of the event itself. From your invitations and initial marketing materials to your social media strategy, every element should reflect the lasting impression you hope to leave with your guests. As a result, understanding your event and its goals is crucial to creating a successful and cohesive event brand.
Why Is Event Branding Important?
Any number of business goals can be met through successful events. Event success may hinge on various factors, but often, the objective is to make an impression on your guests. Whether you wish to build customer loyalty, foster employee satisfaction, or generate brand awareness, nearly all can be achieved through memorable events with successful event branding.
Essentially, the feeling and memories associated with your event will also be associated with your brand. Taking the opportunity to ensure there's not only a positive event experience, but also branding opportunities that are handled expertly, can create lasting impressions that bring event goals to fruition.
Event Branding Opportunities
The good news is that there are amazing opportunities to implement event branding to utilize throughout your event.
Pre- and Post-Event Event Branding Opportunities
Whether you're sending out invites or creating social media channels to promote your event, both are great opportunities to start creating an event brand. Given the opportunity to design a website and leverage both images and video on social media, you can carefully craft the impression you want to make on your guests. While the goal of marketing should be to build excitement for your event, a secondary goal is to create an expectation regarding the experience. What do your attendees want from your event? Tapping into that desire can help you strategize how to market and brand the event before it even starts.

Similarly, your event app, website, and follow-up surveys are ways to continue to deliver the message of your brand following the event. We'd be remiss if we didn't mention that even the content, language, tone, and phrasing you choose can reinforce branding elements.
During the Event
Event branding is more than putting logos on swag; event branding is mindfully designing the event experience. This includes far more than just logos and color schemes.

Event apps - Your event app should be utilized through the entirety of the event, pre-event to post-event. Developing your app (including the design, features, and user experience) should include a branding component. For example, if you want to boost engagement, consider gamification. Or if one of your goals is to create an escape for attendees, consider a relaxation or meditation feature. Even your push notifications have the potential to build the brand through their content and delivery.

Theme - Event themes are an excellent opportunity to feature branding. For example, for G6 Hospitality Bishop-McCann captured the feeling of exploration, the excitement of travel, and the hope of the open road by utilizing a "Route 6" theme (playing on the iconic Route 66). Attendees then associated those feelings with their brand.
Event gifting - While anything can be branded, the goal of corporate event gifting should be to provide value by including items guests will want to keep. Each time attendees use your gifts, they'll be reminded of your brand and event. For example, if your goal is to establish your brand as a tech leader, consider a tech swag bag. If you're a travel brand, you may want to provide gifts that include travel necessities or luxuries. We talk about event gifting often not just because swag excites guests, but also because these gifts are an amazing opportunity to create connections and a lasting impression of your brand.
Set, stage, and decor - Set and stage design are incredible branding opportunities, which often provide the largest canvases to incorporate your brand elements. However, there's an opportunity to do more than just project a logo onto a stage. Through experiential design, you can create an immersive experience that evokes specific feelings or sentiments for your attendees, which then translates to your brand. For an event that emphasized reaching sales goals, event hosts and the event planning team at Bishop-McCann created decor, stages, and more that captured the experience of reaching a goal destination, the beach. The set, stage, and design reinforced the theme as well as the business brand.
Design elements - Every aspect of your event will likely include your event's specific design elements: color schemes, fonts, and your logo, of course. When developing these elements, your primary goal should be to keep a cohesive look and feel. Something as simple as a font can change the tone and meaning of a message. Graphic designers should be able to translate your theme and brand guidelines into color choices, logo designs, websites, and more. Consider all of these elements through the entirety of your event as well. While there are many opportunities to place a logo, this doesn't mean your logo should appear everywhere. Careful and mindful placement will have more impact.

Entertainment, speakers, and more - The final element of your event is entertainment, keynote speakers, and vendors. This is an area where you have an opportunity to create an overall impression and feeling for your brand (that isn't necessarily a visual element). Who you invite to speak and perform reflects on your brand. So, if the tone of your event is serious, maybe a comedian isn't the best entertainment choice.Similarly, consider what your keynote speakers or presenters are known for and be sure these values align with your brand. Doing your due diligence can help create a consistent branding experience as well as an unforgettable event.
Essentially, every element of your event presents an opportunity to include branding that will reflect on your business. As we said, avoid the temptation to brand everything. Instead, be thoughtful but thorough, and most importantly, consider the impact your decisions will have on attendees.
Virtual Event Branding
Given the growth of virtual and hybrid events, many businesses are looking for ways to brand their virtual events beyond logos in the corner of the screen. Even with virtual events, incorporating branding is important—but so is creating a virtual event experience. To positively reflect your brand, you need to work to make your virtual experience as valuable as an in-person event. Below are just a few ways to enhance your virtual event's branding:
Virtual event gifting -

Just because attendees aren't physically present doesn't mean they need to miss out on swag! In fact, taking the time to send branded gifts to virtual attendees can send a clear message about your business, especially if those gifts have practical value.
Branded videos during breaks - During your virtual event's breaks is the perfect opportunity to have your planner's graphics team create an eye-catching, branded video. Showcase your vision, mission, or any targeted messaging that builds awareness for your brand.
Virtual backgrounds - Immersive, virtual backgrounds are a great way to brand your event and create a cohesive experience for your attendees. Not only can these serve as branding opportunities, but they can also make your virtual event more visually appealing.
Gamification - Virtual events provide a multitude of opportunities to incorporate branded graphics throughout its entirety, and your program's gamification is no exception. Brand your gamification to create even more consistency across your event. Customize your game to match your brand, voice, and culture.
You don't have to limit your virtual branding to traditional elements. If there's one thing virtual and hybrid events have taught us, it's that creativity can help us think outside the box and develop new and exciting opportunities for event attendees.
Creative Event Branding Ideas
One of our favorite tasks at Bishop-McCann is to find new and exciting ways to deliver unforgettable experiences for your business and guests—and yes, this includes branding opportunities.
When it comes to event branding opportunities, the more creative, the better (bonus if it's unobtrusive). Let's take a look at a few of our favorite creative event branding solutions:
Environmental branding - Simply put, environmental branding determines ways to incorporate your branding elements into the environment itself. From pools to stairs, we've done it all, and working with space and interesting canvases can create exciting opportunities for designers while delighting your guests.

Unexpected branding opportunities -

From logos branded on burger buns or carved into coconuts filled with cocktails to branded beach balls and towels surrounding a pool, the possibilities are endless when it comes to creating memorable ways to include branding at your next corporate event. Working with your event planner can help you find the best out of the box and unexpected ways to promote your brand.

Virtual or augmented reality -

Virtual or augmented experiences can transport attendees anywhere to bolster your brand's message or provide important information that illustrates who your brand is and the values of your business. Utilizing event technology and its flexibility, power, and agility can provide opportunities you may not have even imagined possible.
Interactive kiosks, photo booths, and more - From photo booths in VW buses to interactive gaming kiosks with branded rewards, giving event attendees short, engaging activities not only creates entertaining breaks, but they can also be a wonderful chance to incorporate your brand into an experience.
Our team is constantly looking for new and exciting ways to include your brand in unexpected ways that delight and entertain your audience. Often that means searching and seeking outside the branding box.
If you're ready to talk about your next corporate event and how the Bishop-McCann team can create a branded experience your guests won't soon forget, get in touch with our team today!