At Bishop-McCann, we love to search for exciting, on-site branding opportunities that our attendees are able to experience at their programs. Environmental branding can be utilized as a method to drive home messages from a keynote session or excite attendees for the conference. We believe this is also a perfect chance to provide brand exposure for program sponsors. It's a bonus if these spaces can double as a space for clings or for a photo opportunity for attendees to then post to their social accounts.
Below I've outlined some of our favorite environmental branding opportunities.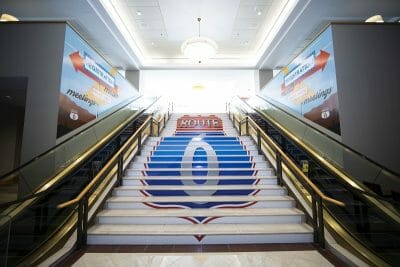 Stair Step Wraps: Branded stair steps become an attendee favorite, especially for photo ops or selfies. Most attendees aren't expecting stair steps to be branded so they are pleasantly surprised when they discover it.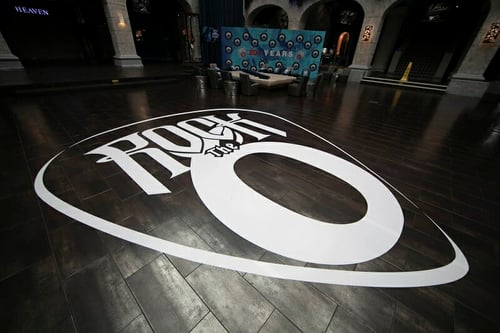 Over-Sized Floor Clings: These large clings occupy a greater space, helping to promote your brand. The bigger the brand the better. You can even utilize floor clings to direct traffic for an evening event by incorporating arrows. Try adding floor clings in an elevator, so attendees start thinking about your event before they even arrive in the event space.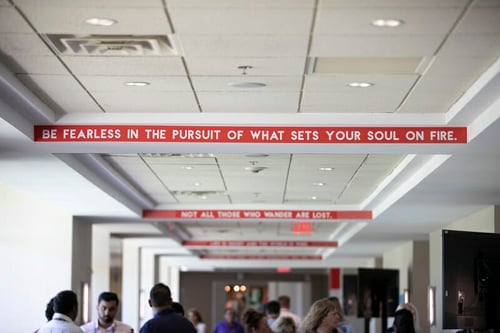 Ceiling Soffit Clings: If there are multiple soffits in a row, this is a perfect opportunity to incorporate some messaging to support your corporate event, since attendees will be able to read this verbiage while walking to their destination. Be purposeful—make sure your message ties in with the event theme to help drive home your desired communication.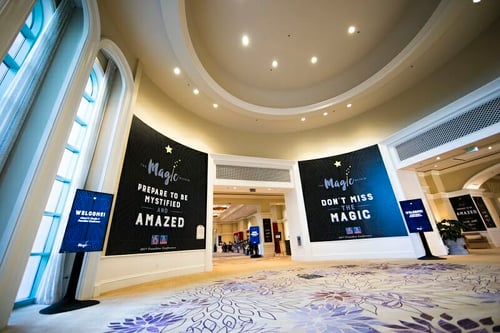 Wall Clings: This particular space allowed for larger than life, branded wall clings, which made a huge statement as attendees flowed through this space on their way to registration. If the space has lots of columns, wrap them in clings. By hanging elevated banners in a space, attendees are able to read them from a distance. Plus, they can still view them when a large crowd is gathering in the space below.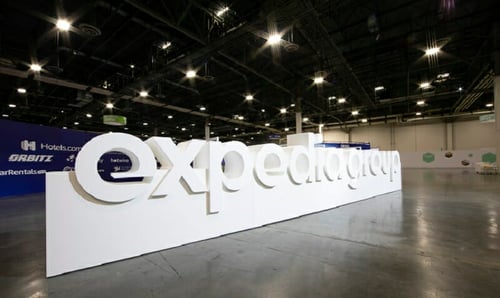 Giant 3D Letters/Event Logo: Who doesn't love a giant installation that lends itself for photo opportunities? It could be a 3D event logo or a larger than life guitar that fits with the overall rock and roll meeting theme to welcome guests onto the property (pictured below). This can be the perfect interactive activity to bring out the creative, fun side of attendees.
The key when reviewing hotel and venue environmental branding opportunities is to find areas to brand that will stop attendees in their tracks to take in the graphics because they aren't expecting it. Also, look for areas that will assist an attendee with their on-site experience, whether that be directing them to the registration desk or allowing them to quickly reference the event agenda. Put yourself in the attendee's shoes when walking around the space to determine the best verbiage and graphics to use.
What are some of your favorite on-site locations for incorporating event environmental branding? Share with us!