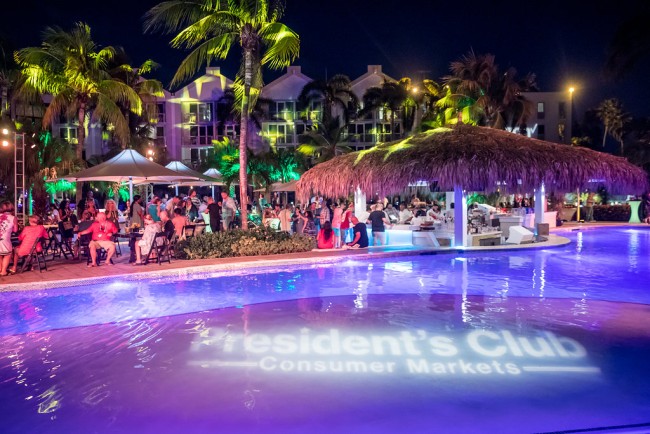 Imagine your attendees walking into your event and being blown away by the creative, eye-catching designs you've implemented while instantly noticing your branding in every touchpoint. That's what environmental branding can do for your meeting or event. Environmental branding opportunities present an amazing way to not only showcase your brand but to also create lasting impressions.
Quick Links
What Is Event Branding?
Much of what companies focus on is about branding and marketing. The goal is to connect your brand to values, feelings, and your audience, including your employees. Event branding is no different.

Obviously, event branding should reflect your brand and its values. However, it's not just about your brand. You should also reinforce the message of the event itself. Every aspect of your event, from invitations and initial marketing materials to the event environment, is an opportunity to make an impression on your guests. As a result, understanding your event and its goals is crucial to creating a successful and cohesive event brand.
What Are the Elements of Branding?
There are multiple components that go into your overall branding, from your logo to the tone you choose to take on. So when we look at the elements that make up your brand, we're looking for ways these aspects can be included in your event.

The elements of branding to consider for your event include:

1. Logo - Many brands are recognized by their logo alone. When your customers immediately know your business just by viewing your logo, you've reached the pinnacle of successful branding.

2. Colors - Consider some of your favorite brands, and you'll likely recognize their color palette. These hues often become synonymous with the logo and company.

3. Shapes - Perhaps slightly less recognized than logo and color palette, shapes are an equally fundamental element of brand design and visual appeal. Certain shapes lend themselves to certain products, and even a silhouette can convey a clear message about a product or brand.

4. Fonts - Fonts are an essential design element of a brand. Much like shapes, font elements convey tone and feeling. It's the reason no one sends business emails in Comic Sans. Your font reflects your brand's personality, which can then be showcased at your event.

5. Imagery - The final piece needed to build your brand is imagery. Remember you want to communicate the right message to your target audience, so select your visuals carefully. For example, when Bishop-McCann produced a "Reach the Beach" event and a "Route 6" (a play on Route 66 for Motel 6) conference, imagery was key. Visuals that reflected tropical destinations were used throughout "Reach the Beach" while iconic roadside attractions and signs were utilized in "Route 6." Having well-defined brand imagery will ensure your brand (or event) is memorable.

6. Tone/Voice/Language - Once your brand has considered the visual appeal of your brand, it's important to also consider the language you choose and the tone. There are a few iconic examples that brands have carefully chosen. "Just do it" implies grit and tenacity, a perspective Nike intentionally chose to reflect their brand. Remember words, not just visual elements, set the tone and represent your brand's unique perspective.

7. Tagline - From "Just do it" to "The happiest place on earth," brands with strong taglines are often recognized by these words. If your brand has such a tagline, consider how it might play into your event theme. Perhaps, a slight change could create something new and creative for your event while still leveraging the familiarity of the tagline.

8. Positioning - Positioning refers to how you appear in the market, the value proposition you want to present to customers or clients. Brands who successfully position themselves in their ideal market see increased customer loyalty and revenue. Because this is so important, ensure you focus on your differentiating aspects. Set your brand apart from your competitors.
Similarly, your event branding should be focused on how you want to position your event in the eyes of attendees. From the name of your event to how you creatively use existing elements of your branding, your event has the potential to shape how your attendees feel about and perceive your brand moving forward. That's why event branding is such an important element of the overall design and execution.


What Is Environmental Branding?
Environmental branding provides a unique and interesting way to incorporate branding into an event. Mixing elements of visual branding with both architectural aspects of existing structures and interior design, environmental branding can drive home messages from a keynote session or even excite attendees for an activity. It's also a perfect chance to provide brand exposure for program sponsors.

Often, environmental branding provides photo opportunities for attendees who can then post to their social media accounts, creating additional exposure for your brand and event.
Five Creative Environmental Branding Examples
At Bishop-McCann, we love when a venue provides unique opportunities for environmental branding, and it's something our designers note when considering venues for a corporate event. Here's a look at some of our favorites: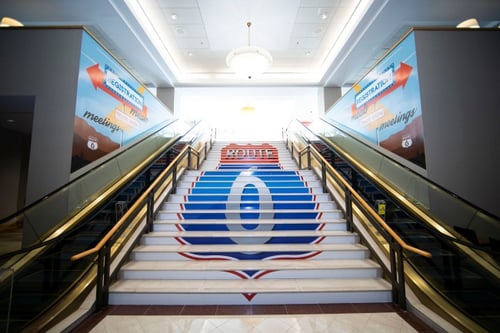 Stair Wraps: Branded steps are an attendee favorite. Whether it's the entrance to the event or deeper within the venue itself, stair wraps immediately set a tone and highlight your brand.

Further, they're an eye-catching visual from several angles, which means they're perfect for photo opportunities and selfies. Most attendees aren't expecting steps to be branded, so they are pleasantly surprised when they discover it.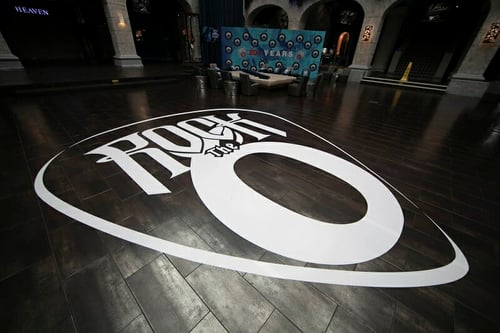 Oversized Floor Clings: One of the best parts of environmental branding is how visually striking these elements are and how they circumvent traditional space constraints. Take floor clings for example. These clings can occupy a large space, promoting your brand and creating unique photo opportunities – the bigger the branding the better.

Additionally, floor clings can be functional as well. By incorporating arrows, they can help direct traffic. Another creative use is to add floor clings in an elevator, so attendees begin thinking about your event before they even arrive.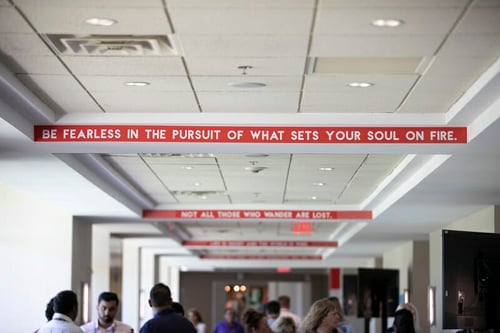 Ceiling Soffit Clings: Looking for a way to enhance your event theme while your attendees are on the go? If there are multiple soffits in a row at your venue, this is a perfect opportunity to present messaging to support your theme, since attendees will be able to read your messaging while walking to their destination (whether that is a keynote session, entertainment, or simply discussion spaces).
Be purposeful—make sure your message ties in with the event theme to help drive home your desired communication.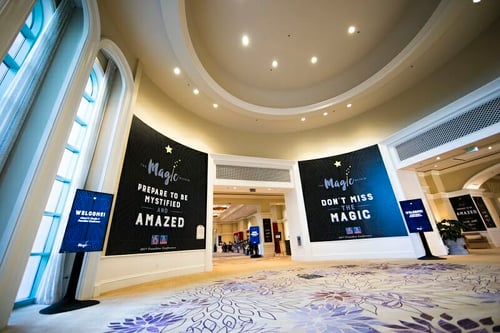 Wall Clings: Picture attendees walking through this entrance, enhanced by larger than life wall clings. This gateway to registration truly suggests that attendees have arrived at your corporate event and helps to immediately immerse them in the event experience.

Columns also present a great opportunity for wall clings. You can also hang elevated banners in a space that enables attendees to read messaging from a distance. Plus, these can be viewed even when a large crowd is gathering in the space below.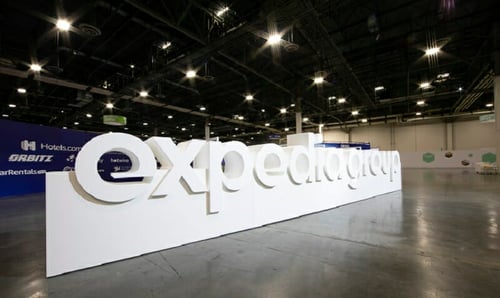 Giant 3D Letters/Event Logo: Installation pieces, especially those that wisely use or enhance a space, make a lasting impression. Similarly, giant installations (such as 3D logos, taglines, or single words that capture your event theme) also lend themselves to amazing photo opportunities.

For example, a larger than life guitar that fits with an overall rock and roll meeting theme could welcome guests onto your property. This might be the perfect opportunity to bring out the creative, fun side of attendees.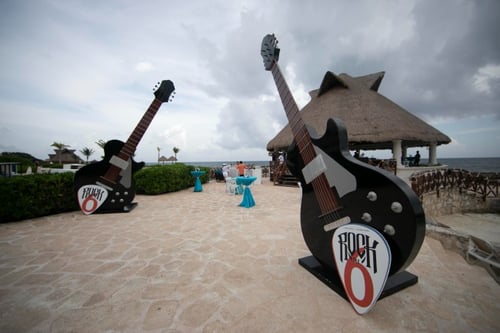 When reviewing environmental branding opportunities, the goal is to find hotels or venues that provide branding situations that will stop attendees in their tracks. Locations that make guests pause to take in the graphics because they didn't expect them or because they are visually appealing are perfect photo ops for your audience.

Also, look for areas where your attendees might need assistance. Then use your branding to create visuals to provide needed direction, whether that be signage that points out the registration desk or floor clings that direct traffic. Put yourself in the attendee's shoes when walking around the space to determine where these types of visuals might be used.

At Bishop-McCann, we love looking at spaces through a creative lens and finding ways to utilize unique branding opportunities to enhance an attendee's event experience. While it starts at the event planning stage, venue selection and environmental branding is an essential part of this process. If you're looking for help with creative branding at your next event, let's talk today!