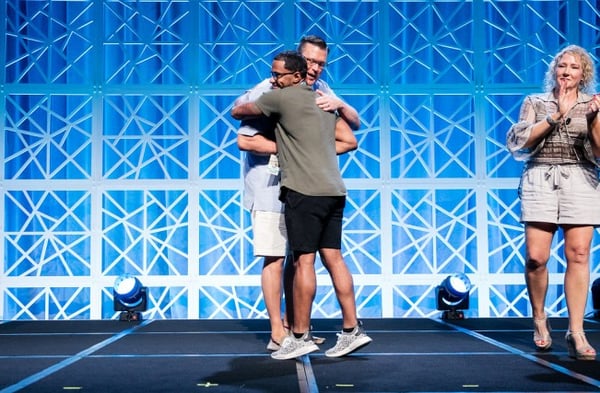 Imagine receiving a watch with someone else's name on it. How about an expired gift card? A toothbrush? There's no shortage of stories out there of corporate gifts given in recognition to loyal employees that, to put it kindly, fall short. When someone dedicates years to your company, goes above and beyond, or delivers work that exceeds expectations, rewarding that person should reflect the value of their time and effort.
For that reason, how you plan an employee recognition event matters. Much like the recipient's labor, it takes time and thought. More than that, it often takes some recognition event planning experience.
Quick Links
What Is an Employee Recognition Event?
Many businesses include some level of employee recognition on a monthly or even weekly basis. From shout outs during meetings to a "thank you" in an internal newsletter, acknowledging employee wins and milestones is a key part of keeping employees motivated and happy.

Random recognition opportunities may present themselves that deserve to be celebrated on the spot, but recognition events allow you to plan in advance in order to acknowledge larger achievements, such as:
Important milestones
Project completion or achievement of a set goal
Top performances
Team efforts and collaboration
Major contributions, efforts, or lengths of service
Employee recognition events typically fall into two categories: informal and formal. Informal events can be planned on short notice and may mark less significant moments, such as a quarterly goal. In contrast, formal events are typically larger, pre-planned, and mark major milestones, such as yearly performance achievements or even the retirement of a prominent team member.

Benefits of Employee Recognition Programs
Even when our efforts are small, we still like to hear "Nice job!" or "We appreciate your efforts." In fact, simple words of praise can do wonders for someone's mood, morale, and motivation. Imagine what an office filled with people who regularly feel appreciated could accomplish!

Employee recognition programs can help cultivate this kind of atmosphere and offer other major benefits.

Employee recognition events can:
While those benefits are measurable, they also translate into far more tangible rewards for the business. Consider the following:
Retention means cost savings on employee training/recruitment
Happy and engaged employees mean decreased absenteeism
Engaged and motivated employees mean better quality of work
Recognition also means enhanced creativity, collaboration, and innovation, which can help generate new ideas, products, services, and more
Four Considerations for Great Employee Recognition Events
While some bad recognition gifts might make you laugh or cringe, what they demonstrate is that thought and effort matter, often more than the monetary value of any gift. It's one reason why recognition events can be so impactful. Events take planning; they suggest both thought and effort. So, right from the start, a recognition event tells your team they matter. However, there are several aspects you'll want to consider to ensure successful execution.
1. The Recipient
One of the most important elements of an employee recognition event is understanding who is being recognized. It seems obvious, but a retirement party that also includes recognition of other achievements may not give retirees the special feeling that they deserve. Because recognition events can include different groups of people, understanding who is being recognized is crucial.

Similarly, if you have entertainment or activities planned, they should be of interest to the recipients. For example, if you have a team receiving a reward for team effort, consider a team competition, such as the beach olympics Bishop-McCann put on for one of our clients. It not only provided an opportunity for everyone to be involved and for the team to work together, but it also allowed the celebration to continue during the activity.
2. The Attendees
One consideration that can change the tone (and cost) of an event is who you invite, in addition to the recipient. Will you invite their spouses? Families? Their entire department? The whole company? Again, alignment is necessary for the nature of the recognition. If the entire company will reap the rewards of someone's work or has done so over their tenure, then it's appropriate to have everyone attend. For larger companies, it may be more suitable to invite a team or department. While you'll want to take into consideration your budget, you'll also want to be sure you have the appropriate people there in addition to the people the recipient would appreciate having there.
3. The Achievement
Much like considering the honoree, the event theme, venue, and more should take into account the specific milestone or achievement. The event you throw for your top sales performer likely won't have the same tone as an event for a C-suite executive's retirement. Some of this will depend upon your budget, and you may have to be mindful about where you spend and how you spend. Also, bear in mind that for something like retirement, a single-night event is likely adequate. Team recognition, like a successful product or service launch, may be more suitable for a small destination event. For example, a weekend away at a spa or resort.
4. The Budget
Let's be honest; you don't want to end up being gifted leftover corporate swag because the rest of the event went over budget. When determining your budget, be sure to include the most important elements from venue to menu. As with everything else, this should match the significance of the achievement as well as the recipient. Casual and informal may be great for smaller milestones, but honoring your top sales performer may warrant more formality. Remember you may also want to commemorate the event with a gift or award, so consider including that as well.

You'll want to keep in mind all of the factors noted above as any one of them may significantly impact your budget. However, how the recipients will feel should be paramount.

Six Steps to Planning an Employee Recognition Event
The above factors are key to planning your event, but beyond that, there are other steps you'll want to take in order to make the most out of your employee recognition program.
1. Utilize or create your recognition program
Since many businesses have an established recognition program, the first step is identifying how many recognition events you might have in a given year. If you have yearly events, as well as some major retirements or product launches, following a set program may be the answer. Setting your recognition calendar for a full year will also help you plan ahead, so you can stretch your event budget to include all events for that year. And, if there isn't a recognition program in place, you'll want to understand that your first event will set the expectation and precedent for future events.
2. Choose your venue
After setting your calendar, you'll want to ensure the venue fits within your budget and can accommodate all your attendees. Further, you'll want to make sure the venue is appropriate for the tone of your event. For example, a light-hearted pool party might be great for a team achievement but not a retirement (of course, that depends on the retiree, right?).
3. Find entertainment or activities
Much like the venue, you'll want to match the entertainment to the tone of the event and the honoree(s). Keeping your attendees in mind is especially key for this step. Activities may suffice, but remember, this should still be a celebration!
4. Work with the venue or caterer to design a menu
Even if your event doesn't include a sit-down meal, hor d'oeuvres should be given consideration. But when planning a menu, consider those attending (once again). Imagine you're throwing an event for a top sales performer, but they have dietary restrictions that weren't considered when menu planning. The event might be memorable for the honoree but not in the way you hoped!
5. Ensure you focus on the honoree
No doubt there will be a slate of speakers to talk about the honoree(s), but be sure to remind them to keep the focus on the person, not work. Even if the recognition is part of a larger conference, the celebration itself should not be seen as an opportunity to push initiatives, discuss upcoming projects, or in general, turn it into an impromptu team meeting. Truly honor those you wish to recognize and make them feel appreciated.
6. Send out invites and market your event
Determine early if the event is limited to employees only or if guests are to be included. For a major event, you may want to consider allowing the honoree to invite close friends and family (obviously within budgetary and space constraints). With an understanding of who is invited, you need to advertise and encourage your team to attend. Social media is a great way to do so, especially if you have employee groups or hashtags.

If you've already created a culture of recognition within your organization, your team will want to participate in events that show appreciation for others. However, there are few things more disheartening than a recognition event lacking attendees, so marketing or incentivizing the event is important.
Any event is a large undertaking with many moving parts and elements to consider. That's why hiring an event planner with expertise and experience in handling all of the logistics may be your safest bet. If you plan an unforgettable event, you want it to be remembered as an amazing reflection of a project, year, or even career.

If you're ready to talk about planning your next recognition event, get in touch with the Bishop-McCann team today, and let us create an event to remember!