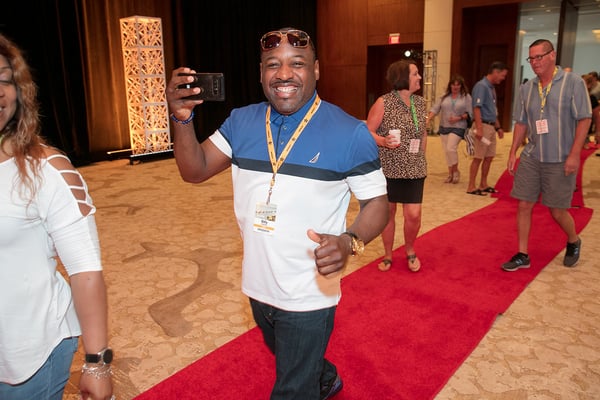 Social media has evolved quickly. From a way to get to know classmates to a worldwide phenomenon for connection, retail shopping, news dissemination, and marketing, it can be difficult to stay ahead of the curve. With new platforms emerging almost yearly and new features changing almost daily, social media continues to grow, and that growth is exactly why businesses need to be tapping into its power, especially when it comes to corporate events.
Quick Links
Why Social Media Matters for Your Corporate Event
With social media's mission to help us make and maintain connections, it's a natural tool for your corporate event. From marketing to post-event communication, social media can extend the impact of your event.
More specifically, social media can:
Create buzz
Build event awareness
Refine your audience and tailor your messaging
Encourage attendee communication and build connections
Create viral opportunities for your business, brand, and more
Engage those who cannot attend and expand your reach
Receive immediate feedback from attendees about their event experiences
For a fairly low financial investment, you can leverage the power of social media to boost all aspects of your corporate event.
Why Capturing Event Experiences Matters for Your Corporate Event
From Facebook Live to video clips delivered instantly to audiences, there are few tools more effective than social media at capturing the energy and excitement of an event as it's happening. By nature, events are immersive, but when telling friends about an event after the fact, many of us rely on tired adjectives that don't do it justice. While an event may be awesome or amazing, exactly what does that mean?
But when audiences see a video of the conference, they can get a true sense of what the event was like. Take our Verizon "Destination" event, for example. With tons of outdoor experiences like concerts and celebrity meet and greets, event attendees can easily share their experience via social media. Capturing those experiences on a live feed or video is invaluable in helping share the experience with others not in attendance.
Staying on Top of Social Media
But how do you know which social media channel to leverage? It seems that every year, something new hits the scene and pulls attention away from the old guard. First, there was Facebook, then Instagram, then Snapchat, then TikTok. It's a lot. To be honest, flooding every channel with your videos may not be the best strategy, especially if a platform has gone out of style or favor with your intended audience.
Understanding Social Media Audiences
With so many platforms out there, understanding audiences is vital, especially when it comes to the video space. For example, Snapchat used to dominate the video-sharing space, but over the past year or more, TikTok has eclipsed Snapchat. TikTok boasts 600 million more daily users than the 210 million claimed by Snapchat. Still, research suggests that even more videos are watched on Facebook.

However, who is watching the videos on each platform is important information. Both time spent on the platform and the user demographics play a huge role in the platform you choose. For now, Facebook and Instagram remain twice the size of TikTok, but TikTok is exploding and growing exponentially, especially among Gen Z. Facebook and Instagram both tend to skew a bit older. Finally, algorithms and sharing mechanisms on Facebook and Instagram may limit your audience; TikTok, on the other hand, can extend your reach far beyond your typical audience.

Depending on the goals of your event, whether you're trying to attract new talent, reward top employees, or celebrate a milestone, you'll want to tailor your social media strategy (and your video use) to the right network. Still, understanding TikTok and how to take advantage of its growing popularity is a great place to start!
TikTok Tips for Your Corporate Events
Much like other social media platforms, knowing what to pay attention to on TikTok can make the difference in how successful your efforts are. Here are a few tips to get you started.

1. Hashtags
Like every other social media platform, hashtags need to be utilized. For finding TikTok challenges and viral trends, hashtags are important. You can opt to hone in on existing hashtag trends that fit your brand or corporate event, or you can create one of your own, working with influencers and others to get it trending.

Further, the subcommunities on TikTok are often connected to specific hashtags, so you can tailor and find your audience (or rather, help them find you).

2. Influencers
Influencers have the followers you want to connect with. These individuals are already producing high-quality content, so why not tap into them? Finding influencers who are already fans of your brand or have a connection to your event is a great way for you to reach a wider audience and gain traction.

3. Natural vs Overproduced
Many social media platforms rely on polished videos, staged or scripted content, or videos that are clearly edited and produced. TikTok, on the other hand, thrives on the natural and organic. The audiences there want what's real. This means more candid videos, edited together, that capture the real event and experience with limited post-production. That means it's a great option to maintain a low budget.

4. Go Live
Like other platforms, you can go live on TikTok and invite your audience into the event via social media. It's a great way to share a clip of any number of offerings at your event, from performances and speakers to off-site activities and informal gatherings. Live events translate very well to live video.
5. Be You
One of the best things about TikTok is that putting your own touch on a trend is welcome and encouraged. That means your brand and your business can really show who you are and how your event captures your essence. You're also far more likely to attract genuine interest and get quick buy-in on your brand's personality.

Social media is an ever-changing landscape, and staying up to date on the latest trends – let alone the trends on each platform – is a full-time job. You can save yourself time and effort by understanding your brand, your event, and your goals.

We know there are many options out there when it comes to social media channels and event planning companies. When you're looking at both, you want a platform and partner that truly understands you, your business, your audience, and your goals. Like social media influencers who provide top-quality content, at Bishop-McCann, our primary mission is delivering the best event for you and your organization. If you're ready to start planning, we're ready to help. Get in touch today!