When you're setting event goals, your initial thoughts are likely related to the outcomes you'd like to see. But you can't forget about the importance of the attendee experience. Of course, human-centered design can help, but focusing on attendee needs is a great way to create an open and welcoming atmosphere – one that quickly makes attendees feel comfortable. That comfort can translate into attendee engagement, ultimately helping you meet your goals.

One great way to instantly make attendees feel comfortable is by considering accessibility options, such as ADA compliance. When spaces are designed with everyone in mind, you create an inclusive environment that benefits everyone.

Quick Links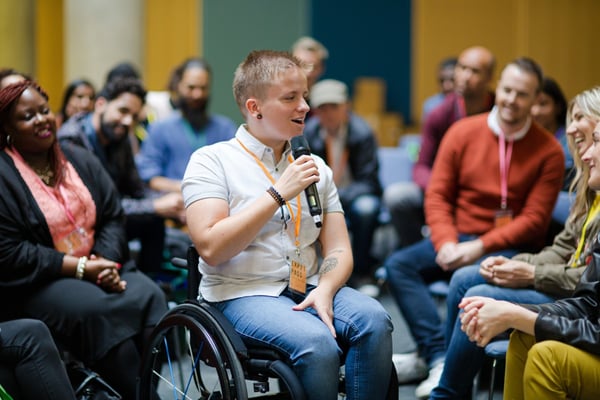 What Is ADA Compliance?
ADA compliance refers to the legal requirements an organization or business must meet to comply with the Americans with Disabilities Act and is designed to prevent discrimination against individuals who are disabled. As such, it requires that individuals with disabilities have equal access to all facilities and includes accommodations for those individuals.

ADA compliance is required for any business of 15 people or more, public buildings and transportation, communications, and commercial facilities. When it comes to events, conferences, and facilities, Title III of the ADA Act references four primary priorities, including accessible entrances, access to all goods/services and restrooms, and appropriate effort made to accommodate other needs.

More specifically, this means wheelchair or mobility access to all facilities, the admittance of service animals, and communication accommodations, including interpreters, closed captioning, or similar tools. As an event planner, this often means considering venues that are accessible rather than facilities that are simply compliant because your guests' experience will be much different.
ADA Accessible vs ADA Compliant
ADA accessibility means much more than compliance alone. ADA-compliant facilities and events only meet the minimum legal requirements. Accessibility, however, takes far more into consideration.

Whereas ADA compliance may require a specific number of bathroom stalls with wider doors, more space, and hand bars, accessible bathrooms will include facilities and accommodations for people of all ages, sizes, and abilities. This might include non-slip floors, enhanced lighting, signage with braille, lower sinks, wider doors, and more.

Similarly, accessibility also takes into account a wider range of disabilities and potential needs, such as those who are sensitive to light, sound, crowds, and more.
Why Is ADA Compliance Essential for Corporate Events?
One goal of your corporate event is to bring a group of people together to create an unforgettable experience. It's unlikely that you want the unforgettable experience to be due to the fact that someone felt uncomfortable or unwelcome because the event was not accessible to their needs.

While the venues you select will be required to be ADA compliant, making your event accessible should be a priority. Not only could a lack of attention on accessibility affect the individuals who need accommodations, but it could also impact the perception of other attendees, dampening engagement.

ADA accessibility can be implemented easily with the right forethought and preparation, so there's little reason not to make your next corporate event accessible and welcoming to all attendees. Including everyone and making it clear that you prioritize this inclusion can make your event even more of a success.
What Are ADA Requirements for Events?
Are all events required to be ADA compliant? Not necessarily, but if you're working to keep both your business and events diverse and inclusive, it's a smart move. More specifically, events held at a private location with no public access are not required to adhere to ADA compliance laws. However, if the venue or your event is open to the public, then it is legally required to adhere to ADA. This is why venue sourcing and selection is such a crucial part of the event planning process.

If your venue/facility is public (dependent upon its age), the ADA requires at a minimum to provide:
Access to approaches (walkways), entrances, and exits – free from obstruction
Access to goods and services
Access to restrooms
Access to public amenities, such as water fountains
At Bishop-McCann, we consider inclusivity a primary value and work to make the events we plan accessible to all who may want or need to attend. For that reason, we think it's important to mention that what's required by law doesn't encompass what we would consider best practices.
How to Be ADA Compliant (and Accessible) at Your Corporate Event
Most of the steps you take to ensure accessibility won't drastically change your plans, but the alternative may significantly impact your attendees. For that reason, we suggest one event goal should be event accessibility.

1. Choose the right venue
We've mentioned this a few times throughout this blog because your venue is an essential component to ensuring accessibility. When making your venue choice, be prepared with a list of questions regarding what the space is doing to make it a welcoming location for all your attendees.

You should also make sure that all activities and events are easily accessible to any and all attendees, who wish to participate. For example, multi-story venues should be equipped with elevators and escalators to accommodate varying needs. Outdoor spaces, similarly, must be able to accommodate all attendees. While beach events are exciting and fun, they need to be made accessible for all.

Similarly, make sure your venue has ample parking for those with limited mobility or other accessibility needs.
2. Include accessibility for a variety of needs
Very often when people consider accessibility, their primary concern is for attendees who use wheelchairs. However, accessible events should include accommodations for those with vision, hearing, speech, or other sensory impairments. Consider offering closed captioning, large-print reading materials, advanced copies of materials, interpreters, signage with braille, and sessions designed to accommodate sensory needs.

Additionally, if you hire an interpreter, consider designating a seating section for those who need those services. Otherwise, seats closer to your speakers may be occupied, not allowing those who need to be near the interpreter access.
3. Ensure your event website and app are accessible
Because your event app and website are primary methods of communication – and because these help set the stage for your event by creating excitement and anticipation – be sure they're accessible to attendees. In fact, there are a whole set of design principles and accessibility measures you can take to ensure your website is accessible, including services like accessiBe.
4. Accommodate support animals
Allowing support animals is required by ADA compliance, but that doesn't always mean spaces are designed to accommodate them. More specifically, leave space between tables and chairs to allow a guide dog or other service animal to navigate the space.

Also, you'll want to consider walk breaks and water dishes, especially if it's hot. Considering the service animal, along with attendees who need them, can go a long way toward creating community.
5. Consider other needs as well
While the focus here is on accessibility for those with disabilities, you can also demonstrate awareness of the diverse needs of your attendees. Making accommodations for other needs (such as food allergies/dietary restrictions, off-site activities for a variety of abilities, and more) should be prioritized as well.
Other needs may also include making your event a hybrid program by providing a virtual event option in addition to the in-person option to allow individuals with specific needs to experience or attend the event without travel or discomfort.
The more inclusive your event, the more memorable it will be for a wide range of attendees, leaving a positive, lasting impression on those individuals. But when it comes to event planning and preparation, ADA accessibility is just one factor that can significantly impact your event. Working with expert event planners can help you manage not only accessibility but all of the other components that make your meeting or event a success.
If you're ready to start planning but the process seems daunting, get in touch with our team today! We pride ourselves on our own diversity, equity, and inclusion and always look for ways to improve event experiences for everyone. We'd like to help you make your next event as inclusive and accessible as possible while creating an unforgettable experience for all attendees.