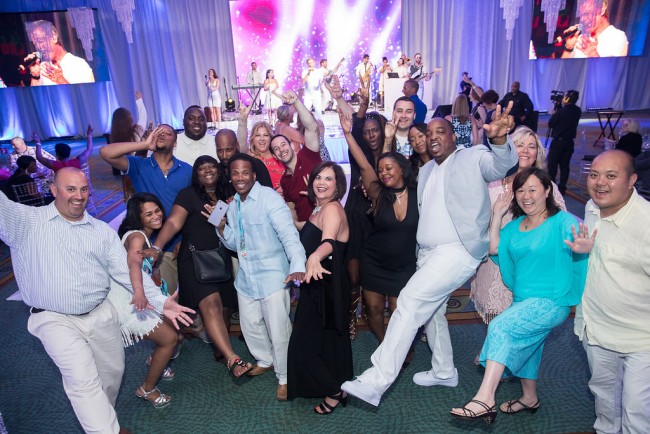 Even though Pride Month is coming to an end, we celebrate our core value of inclusion year round. And while diversity and inclusion (D&I) efforts have increased over the last decade, there's still much for organizations to learn. Marginalized communities and minorities are rightfully demanding more from allies and expecting more from their workplace. In response, businesses and organizations are making strides to be more inclusive within their workspace. When it comes to corporate events, there's an incredible opportunity to demonstrate your dedication to D&I initiatives to your attendees.
Quick Links
What Is Diversity and Inclusion?
Diversity and inclusion efforts have been around since the 1960s with the arrival of both affirmative action and equal employment opportunity laws. Diversity training was then introduced to organizations to help corporate America navigate the changes this brought to the workplace. However, as many soon realized, it isn't enough to raise levels of awareness and educate employees. In fact, many of the early programs didn't achieve the desired result.
Without concerted efforts from leadership and businesses to actively include diverse individuals in leadership teams, business planning, employee opportunities, and more, the impact of diversity training often lasted a few days and was forgotten. This resulted in the introduction of the diversity and inclusion push in the workforce.
Diversity and Inclusion in the Workplace: Four Notable Resources for Businesses
Over the last 60 years, significant strides have been made when it comes to diversity and inclusion. From awards to grants, businesses seeking to create diverse and inclusive workplaces have a variety of opportunities to leverage.

At Bishop-McCann, inclusion is one of our core values. As such, when we have the opportunity to work with organizations that promote that core value, we're excited and eager to be a part of it. Over the past few years, we've had the opportunity to work with and connect with some amazing organizations that demonstrate and embody diversity and inclusion in the workplace.
Here are a few important resources that businesses can utilize to increase D&I efforts and learn more about it:
Certified LGBT Business Enterprise
The LGBT Business Enterprise (LGBTBE) is a diversification certification that verifies that a business is majority-owned by an LGBT individual. Bishop-McCann is proudly certified as an LGBT Business Enterprise.
Not only were we named a Top 20 LBGTQ-Owned B2B Service Provider by Clutch.co, but we also initiated major efforts with our local chapter in Kansas City to certify our business as well, and many of our employees are active within the chapter and community. Our LGBT certification has provided access to an incredible community of other business owners and employees who share our values. These connections have enabled us to work with others who are just as passionate about supporting diversity and inclusion in their own workplace.
The National LGBT Chamber of Commerce (NGLCC)
The National LGBT Chamber of Commerce (NGLCC) started in November 2002 when co-founders, Justin Nelson and Chance Mitchell, realized that the impact of LGBT people on the American economy had gone largely unnoticed, despite economic equality being an important component of the LGBT equality movement.
Their goal was to create an organization that supported LGBT business owners, and they have succeeded in large part due to an amazing team and board. In early 2004, NGLCC created a best-in-class diversity certification program, making the organization the exclusive national third-party certifying body for LGBT-owned businesses.
The Billion Dollar Round Table
The Billion Dollar Roundtable (BDR) was created in 2001 to recognize and celebrate corporations that achieved spending at least $1 billion with minority and women-owned suppliers. The BDR promotes and shares best practices in supply chain diversity excellence through the production of white papers, along with providing a resource center to increase education.
The BDR encourages corporate entities to continue growing their supplier diversity programs by increasing commitment and spending levels each year.
Harvard Business Review
A great place to start your education on D&I issues is the Harvard Business Review. The Review was founded in 1994 with a mission "to improve the practice of management in a changing world." This not-for-profit entity reports to Harvard Business School, so all articles are reviewed extensively. On the website, you will find an entire section dedicated to diversity in the workplace. Trends, practical advice, important issues, and researched strategies are all found on HBR as it seeks to provide current information on D&I in business.
Diversity and Inclusion Strategies for Your Corporate Events
Diversity and inclusion should be prioritized not just in the workplace but also at corporate events. In fact, a failure to incorporate D&I concepts and initiatives into your corporate events can set your business or organization's existing efforts back.

Obviously, the goal of any corporate event is to make attendees feel welcomed and appreciated. Ensuring you've considered the way all attendees may feel while attending your event can go a long way in solidifying D&I's importance in your corporate culture.
1. Embrace Inclusion From the Start
One of the most important strategies you can employ is embracing inclusion. That means if you have an events committee or any kind of team that helps plan, prepare, or volunteer at events, ensure that your team is diverse. If you don't have a committee, you should still solicit advice and input from diverse groups regarding all event elements.
2. Diversify Your Event
From speakers and entertainers to vendors, consider who you're giving access to your audience whether on stage, at a trade show, or as a service. Even if you diversify in the workplace, if your corporate event doesn't reflect the diversity you embrace or if it does not feel inclusive, your team will notice.

Of course you want speakers who reflect your goals for the event, but don't miss out on speakers like Maysoon Zayid, who challenged assumptions, engaged audiences, and provided an amazing (now famous) TED Talk on overcoming adversity. Finding speakers and entertainers, such as Zayid, who can help your team grow may be far more effective than traditional diversity seminars.
3. Understand Your Attendees' Perspectives
When evaluating all aspects of your event, you must have a good sense of what will make attendees feel welcome and seen. Now take a few more steps to ensure all attendees are considered. For example, determine whether venues and accommodations are wheelchair accessible. Discuss how comfortable LGBTQ+ members of your team will feel in specific destinations and situations, such as bathroom accessibility and pronouns on name tags. Aim to include parents who may need a place to care for young children (if an event is family friendly) or quiet private spaces to feed or change infants.

Further, the language and images used in marketing or any materials distributed at your event should aim to be fully inclusive and avoid language that may further marginalize or alienate any group.
4. Ask for Feedback in Real Time and Post Event
Post-event surveys are a fantastic way to gauge the success of an event, and the data gathered can be used to prepare for your next event. However, your ability to address concerns related to diversity and inclusion as they are happening is vital.
You may not get the opportunity to demonstrate your commitment at another event, but if you can handle an issue and make corrections or improve accessibility while an event is occurring, attendees will see your dedication and willingness to both rectify and grow.
5. Take "Small" Steps to Make a Big Impact
There are touches you can add that may seem small, but for individuals who have long felt ignored, unseen, or even discounted, your efforts will be noticed. Here are a few examples of "little" things that can make a big difference:
Give guests the opportunity to choose and display their pronouns on name tags and anywhere their name appears in print
Allow guests the option to include a phonetic spelling on their name tag
Ensure that your materials, including your website, are accessible
Consider the immunocompromised who may still be navigating concerns related to the pandemic
Utilize inclusive language throughout all sessions and event materials
Have sign language interpreters and translators available when needed (bilingual team members can be a huge asset here)
Make accommodations for service animals who may be in attendance
If offering off-site activities, be mindful of accessibility at those locations and offer alternatives
Offer hybrid events to increase accessibility
To make the most impact, diversity and inclusion efforts need to be holistic.That means in addition to initiatives in the workplace, your corporate events should also be mindful of D&I efforts.

If you're ready to work with a corporate event planning team that embraces diversity and inclusion in our own workplace, then get in touch with our team today. With inclusion at our core and events as our expertise, we look forward to helping you create a memorable experience that makes all your attendees feel welcome and included!