Certified LGBT Business Enterprise
As corporate event professionals, we're usually so wrapped up in planning other people's incredible experiences and special events, so it's nice to get the chance to attend some every once in a while. As a proud certified LGBT Business Enterprise and supplier diversity partner, this month we were excited to meet with a myriad of companies at the National LGBT Chamber of Commerce, or NGLCC (which supports the LGBT, disabled, and veteran communities), Platinum Circle & Billion Dollar Roundtable Matchmaking Event.
As the NGLCC represents the LGBT community in the business world, the Billion Dollar Round Table now ensures that LGBT, disability owned, service-disabled veteran disability-owned and veteran-disability owned business enterprises are included in the evaluation of a corporation's billion-dollar supply chain spend on diverse-owned businesses.
In a press release, NGLCC Co-founder and President Justin Nelson said, "The inclusion of LGBT-, disability-, and veteran-owned businesses into the Billion Dollar Roundtable reflects the national best practice in supplier diversity of including all communities at the table of opportunity."
While at the event celebrating upward success in these organizations and the business world, we had the opportunity to meet with IBM, Bank of America, Verizon, AT&T, Johnson & Johnson, PG & E, CVS Health and Microsoft.
It's always a treat to celebrate wins in the world like this and to share it with so many incredible people. While we are a proud certified LGBT Business Enterprise (LGBTBE, Certification Number 10126), we're still doing our part to keep up the conversation and move more businesses to get their certifications as well.
At the Bishop-McCann Headquarters in Kansas City, we've had major efforts with our local chapter, the Mid-America GLCC to certify our business as well, and many of our employees are active within the chapter and community.
What are you waiting for? Join us and other companies in this positive act…get certified today!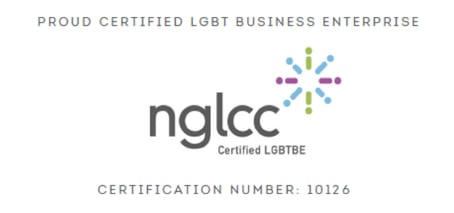 The National LGBT Chamber of Commerce (NGLCC) started in November 2002 when co-founders Justin Nelson and Chance Mitchell realized that the impact of LGBT people on the American economy had gone largely unnoticed despite economic equality being an important component of the LGBT equality movement. The two co-founders sought to showcase that as in addition to being LGBT, many LGBT people were also business owners, employers, taxpayers, providers of healthcare and a vibrant, essential part of the small business engine that makes the U.S. economy run.
Their goal was to create an organization that could support LGBT business owners and showcase the diversity of talent in the lesbian, gay, bisexual, and transgender communities. NGLCC has succeeded in large part due to an amazing team and board combined with the caliber of businesses, corporate partners, and individuals that have become involved over the years. In early 2004, NGLCC created a best-in-class diversity certification program, making the organization the exclusive national third-party certifying body for LGBT-owned businesses.
The Billion Dollar Roundtable was created in 2001 to recognize and celebrate corporations that achieved spending of at least $1 billion with minority and woman-owned suppliers. The BDR promotes and shares best practices in supply chain diversity excellence through the production of white papers. In discussions, the members review common issues, opportunities and strategies. The BDR encourages corporate entities to continue growing their supplier diversity programs by increasing commitment and spending levels each year. The BDR inducts new members bi-annually.