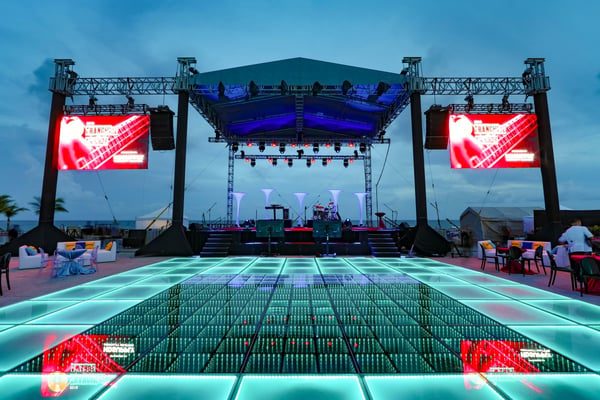 Any project with multiple moving parts involving coordinated efforts can be complex. For example, most people wouldn't dream of building a home on their own. They hire a contractor who coordinates all the necessary elements. When your organization needs to host an event, a corporate event planner isn't much different.

Still, asking for help can be difficult. It's even harder when what we need assistance with has the potential to impact our career or career growth. Still, when the task includes inviting colleagues, co-workers, supervisors, board members, and other VIPs, handing over responsibilities and oversight can be remarkably difficult. But when you find the right professionals and experts, trust replaces stress, allowing you to focus on creating the best event possible.


Quick Links
What Is a Corporate Event Planner?
A corporate event planner is a professional whose expertise lies in the logistics of hosting corporate events of all sizes. Corporate event planners play an essential role in all aspects of event planning from preparation to the actual event and follow-up with your guests/attendees.
Their role is to guide and assist in the hosting of a successful event, regardless of the event objective.
What Does a Corporate Event Planner Do?
Given that their role is to assist in all stages of your corporate event, planners are doing many different tasks. And when they do it well, you barely know they're there.
Their ultimate goal is to deliver an event that can seamlessly move between scheduled activities and provide your guests with an unforgettable experience. Think of them as project managers for your event.
Planning and Preparation
Prior to an event, a corporate event planner will help you:
Select a date
Establish a timeline
Plan the scope of the event
Help create a budget
Assist in identifying a theme
Recommend and help select venues/locations
Identify, negotiate, and help select various vendors
Coordinate travel and accommodations for guests
Ensure adherence to budget
Report on pricing and costs of various contracts
Oversee the planning and logistics of client-approved activities

During the Event
Corporate events can be hectic. There are many moving parts, including the potential of multiple spaces, hundreds of guests, multiple speakers, and food/beverages while acting as a point of contact for vendors and managing technology and/or staff.
During an event, a corporate event planner will help you:
Assist with event registration
Ensure event vendors are on time
Test equipment and technology
Coordinate and manage event staff
Keep planned activities on schedule
Ensure spaces are prepared
Coordinate vendors as needed
Oversee ongoing preparation of spaces and make changes
Help greet and welcome attendees
Assist with gifting and guest appreciation
Act as your point of contact for event concerns
Manage vendors for billing and coordinate payment
Assist with guest problems and concerns
Post-Event
As attendees, we leave an event and tend to think it's over. As a host and as a planner, the work is not done. After the event, your event planner should:
Ensure all vendor agreements are met and payment handled
Coordinate thank you emails, cards, or notes to attendees, speakers, VIPs, and more
Collect guest/attendee feedback
Help identify and coordinate additional follow-up opportunities
Provide event reports regarding attendance, activities, costs, and other data to evaluate ROI
Assist with event analysis based on reporting and feedback
Help identify additional virtual or live event opportunities
While not an exhaustive list of the ways in which an event planner should be assisting you during all stages of your event, this gives you an idea of how much time, energy, and expertise are required for corporate event planning. In fact, several items on these lists include multiple moving parts (and in hands less adept than a qualified event planner, these aspects can cause unnecessary issues).
Benefits of Hiring an Event Planner
After reading the list above, some of the benefits may already be clear, such as taking stress off of you and your team. Another benefit is that there is a multitude of details involved in event production, and with an event planner, you have someone who's not going to let any aspect be overlooked.

Some additional, and perhaps less clear, benefits include:

Saving money - An established event planner has relationships and connections with entertainment and speaker bureaus as well as vendors and venues. They can leverage those relationships to help you save.
Creating cohesion - Great events have cohesion. While you may start with an idea, a purpose, and a goal, an event planner can weave the most important elements together.

Providing professional execution - Staging events is no easy task. It takes hard work and attention to detail. Making sure your event looks flawless leaves an amazing impression on attendees.

Managing logistics - When it comes time for the actual event, don't underestimate how invaluable having logistical support can be, especially from someone who's likely seen it all (or almost all) when it comes to corporate events.

From the practical to the creative, an expert to advise, guide, and assist is invaluable.
Common Event Planning Challenges
If you've ever tried to plan an event, you know there are challenges. Some of those, such as staffing shortages and travel complications, are beyond your control. However, this is one of the best reasons to hire a planner. Not only have they likely handled these issues before, but they're steps ahead when it comes to being proactively prepared to handle them.

As for the challenges within your control, planners are well-versed in handling those as well. Some common event planning challenges include:
Many obstacles can be overcome through trial and error, but when it comes to your brand or business, that's probably not the best plan.
Questions to Ask Before Hiring an Event Planner
Hiring an event planner is an important process, which requires trust. From your personal and your company's reputation to overall guest experience, ensuring success is obviously important to you. But, success should be important to your planner as well. For that reason, your screening and selection process should be rigorous.
Whether it's your first time hiring a corporate event planner or you'd simply like to ensure you're getting the best, here are a few questions you'll want to ask:
What type of events have you helped plan?
Is there a type of event you specialize in?
How do you create an overall tone or feeling for an event?
What size events have you assisted with?
What specific services do you offer? Are there any aspects of the event for which you are hands-off?
In what ways do you stay up-to-date with event trends?
What event technologies do you provide or assist with?
What type of venues do you work with?
What is your experience with food and beverage services?
What is your experience with travel coordination and accommodations?
Who are your references? What other events have you planned?
What would you consider your most successful event and why?
How do you gauge an event's success?
What types of communication do you use with our team? With vendors?
What types of reports do you provide before and after the event?
Again, this is not an exhaustive list, but it may help you identify the ways an event planner can assist with the type of event you have in mind. In part, the answers to these questions will provide you with some concrete information about their experience, expertise, and attitude. However, there's more to consider than logistics and experience.
Top Five Tips to Find the Right Event Planner for Your Corporate Event
1. Find a Good Listener
While your event planner should have expertise in the industry, one of their top skills should be listening. You've hopefully already established that they have an ear to the ground on industry trends, so you'll want to make sure they're also listening to you and your needs.
You have a vision for your event. A planner's role is to help you bring that vision to life. Certainly, their expertise should help you refine that vision to ensure the event delivers, but you want to know that you're being heard about everything from theme and entertainment to guest experiences and speakers.
2. Look for Positivity and Confidence
Anyone who's been in the industry knows that nearly every event presents challenges and sometimes complications arise. You'll want a planner who sees a resolution and remains calm and confident in what can be a high-stress environment.
Similarly, this is the kind of leadership you want from others participating in planning the event, and the right planner will keep the mood upbeat and positive. That translates directly to your guests. Your event planner can set the tone, so choose one who creates JOY.

3. Evaluate Credentials and References
Don't just give this step lip service. Taking a careful look at an event planner's previous corporate events and listening to their references can help you identify whether they're a good match. If the events they've held in the past don't seem to capture the feeling, tone, or energy you're hoping to create, it may not be in their wheelhouse.
This goes for a variety of event aspects, including venue selection, speakers, entertainment, lodging and accommodations, guest gifts, and more. Do your due diligence beforehand, so you won't regret it later.
4. Establish Budgetary Boundaries
It's important that you find a team to work with who can produce your vision within your budgetary limits. First, find out if they require a minimum budget, as that may help weed out some planners from the start.
But you'll also want to find a planner who has experience staying within a budget and keeping costs low. Find out if they have partners or vendors with whom they can leverage their relationship for deals. You can either save your money or reallocate it for other expenses.
5. Check Culture and Personality
Don't underestimate the importance of finding an event planner with the traits your company values. Often, these are the qualities that will make them stand out. You'll be working closely with this person over the next few months (or longer), so personality clashes can make what should be an amazing experience more stressful.
Similarly, you want someone who can match your energy. If you're excited about your industry, product, and event, you want someone who meets you there. You want to work with someone who can harness that energy and be creative about its expression. Think about the characteristics you value in anyone you'd hire for your company, and seek out those high-value characteristics in your event planner.
Planning a corporate event isn't easy, and often, there's a lot riding on its success. A great event can have a significant impact on your employees, customers, products, and brand. It can change the way people see, think, and feel about your business, so it's important to think of it as an investment. You wouldn't hand an investment over to just anyone, so why do that with your event?
If you're ready to talk to the experienced team at Bishop-McCann about how we can plan your next corporate event, get in touch with us today. We're ready to help you and your team bring your event vision to life!