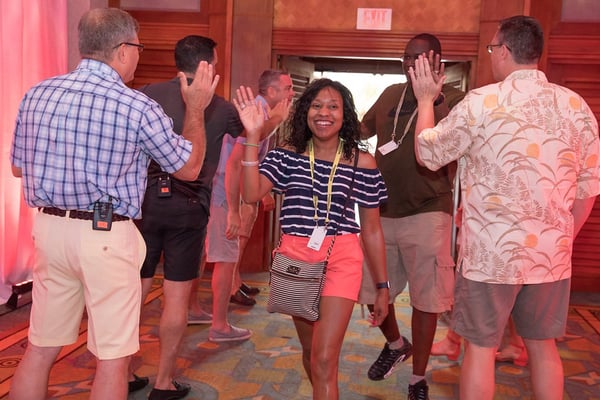 Think about your social media feed for a moment. How often do you remember what you see? This morning? Yesterday? Last week? Technology can be amazing when it helps us stay connected with friends and family, but if you've ever found yourself scrolling Instagram in silence while sitting in a room with someone else, then you understand how technology can sometimes keep us from having in-person, in-the-moment interactions that are the cornerstone of human experience.

It's no different for corporate events. For many programs, one of the primary goals is bringing people together. And while technology helps enhance those events, we have to be mindful of balancing attendee experience and event technology. That's where human-centered (sometimes called human-centric) design comes in.
Quick Links
What Is Human-Centered Design?
The goal of human-centered design is to focus on people and the environments they're in. What do they hope to achieve, and what obstacles are in their way? Rather than focusing on friction points, human-centered design determines how an organization or environment is interconnected and how small changes in one area can impact the whole. But above all, it puts humans and their experiences at the forefront.
Why Does Human-Centered Design Matter for Corporate Events?
For many event planners, it's easy to focus on the meeting's goal while working to alleviate any issues or problems. Too often, event planners find themselves caught up in the process of collecting data to identify challenges like addressing bottlenecks or ensuring there is adequate seating. The events industry is focused on ways technology can enhance corporate events, but when improving efficiency and creating live productions (especially if event tech is involved), planners sometimes find themselves in the technology weeds.

There's no doubt that it's an exciting time for AI, VR, AR, and all the other fun and rapidly evolving technologies. However, the danger here is losing sight of what events are really about – the attendees. That's why human-centered design matters so much for corporate events. Even with all the bells and whistles, events have been and will continue to be about how humans experience those events. When planning a program, you need to consider how it will be experienced and perceived by attendees.
How Does Event Tech Impact Corporate Events?
At Bishop-McCann, we're as enamored with event technology as anyone. After all, it does improve efficiency, and when used correctly, it can improve the attendee experience. In fact, event technology allowed our business to continue during the pandemic.

From hybrid events and live streaming to display capabilities, event tech makes dynamic presentations possible. It can simplify and expedite the event registration and check-in process. It can also provide attendees with quick answers to questions via a chatbot while sharing schedules and information through event apps. Put simply, event communications rely heavily on technology and recent advancements in AI.

Additionally, corporate event entertainment, keynotes, and virtually all sessions would be nearly impossible without technology. Speakers and entertainers have come to rely on not just audio tech, but also visual tech, such as slide presentations for deeper understanding, broadcast-quality videos, special effects lighting for performers, etc. Plus, with the inclusion of advanced tech like AR and VR, technology can provide a welcome escape for attendees while delivering the kind of experience they'll remember for a long time.


Obviously, there are several practical applications for technology. But the real impact comes from the way tech improves planning, execution, communication, and experience. When used effectively, event technology can:

Improve efficiency - help your team stay organized and move people or resources where you need them, when you need them
Lower costs - automate processes to free up resources or save on travel via streaming opportunities for both presenters and attendees
Improve communication - from on-the-fly changes to updates and reminders, stay in touch with attendees from pre- to post-event
Create impactful presentations - video, lighting, holograms, AR, and VR all create memorable and powerful presentations
Collect data - everything from registration and RFID to behavior mapping and surveys can help you gather the data you need to gauge success or improve future events

And that's just a short list. If we removed technology from corporate events, it'd be easy to see the myriad of ways it adds value. In fact, most events would come to a screeching confused halt without it. However, it's also easy to become so focused on technology, efficiency, and systems that one loses sight of the real value of corporate events.
Strategies for Human-Centered Design in the Age of AI
One of the most amazing aspects of events that we've seen in the last two years is how eager everyone has been to return to the live space. That excitement alone demonstrates the value of human connection at corporate events. There simply was something missing when events were entirely online. How many of us watched concerts from home and longed for filled stadiums and venues? Brené Brown has done extensive research on collective experience, and as one would expect, the primary value of those types of gatherings is sharing experiences with people, not technology. Prioritizing human-centered design for your corporate event is vital for that very reason.

But what does that look like? How can we balance the ways technology improves event experiences while providing a human-centered design that also honors the reason we hold events – to connect people?

1. Above all, prioritize the attendee experience
As we mentioned, it's easy to get caught up in efficiency and numbers. But ultimately, events are so much more than that. First and foremost, corporate events are about bringing people together for a common purpose, whether it's celebrating, learning, or strategizing. When attendees return home, they might remember a cool tech feature. But more than that, they will remember how they felt, and feelings aren't created by AI – they're created by human interactions. As event planners and hosts, we should always be asking ourselves, "How will guests experience this?"
2. Allow humans and tech to work together
One of the primary focuses of AI is its ability to make choices based on predetermined factors. Essentially, it allows for a specific set of variables. If A is true, then B. This is what makes it so amazing at performing repetitive tasks. But any time that kind of black-and-white thinking may negatively impact the attendee experience, pair your tech with human help. When understanding and nuance are involved, when there are complicated questions, or when troubleshooting is required, having a person on hand is the best choice. In short, AI and people need to work together when it comes to human-centered design.

For example, take registration and check-in. This is a place where we tout the value and importance of event technology. However, there are two important things to consider here. First, this is the first impression you will make on attendees, and that demands a human touch. A friendly smile and warm welcome can do wonders for setting the stage for an event. When that's missing, things seem a bit cold, and guests may feel disconnected from the start.

Next, when event technology is working well, people move through the registration process effortlessly, especially if there's been a pre-check-in via the event website. However, what if the tech fails, or there are questions? In addition to a friendly greeting, having a person on hand to help resolve issues can be invaluable. No one wants to begin their event with frustrated attendees.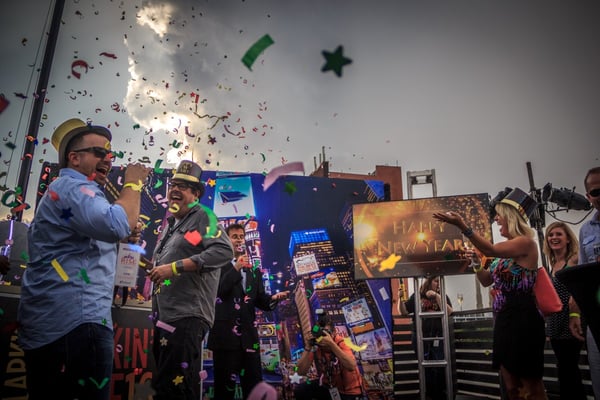 3. Utilize technology to improve experiences
As we've discussed here and in the past, one of technology's strong suits is the ability to collect and organize information, especially at volume. However, technology has yet to exceed human intelligence in analyzing data when determining a reason for the numbers is required. Across the board, when it comes to finding meaning, humans excel at the job. We can apply context while reviewing the data in order to make informed decisions to improve experiences.

For example, when looking at your event website to make a determination about marketing efforts, technology can provide you with traffic numbers, but it may not be able to provide you with the best strategy to drive more traffic. Instead, artificial intelligence can list several strategies, but a human should determine which strategy is the best fit for a specific situation.

Similarly, technology can tell you where there are bottlenecks in a venue and where people are having trouble finding locations or moving through spaces (based on RFID), but it may not be able to redesign that experience for you. Ultimately, people will need to take the considerations of technology into account to make more knowledgeable decisions about the environment attendees are experiencing.

4. Consider the impact of technology on attendees and the event experience
If you've been out to dinner in the last decade, you've inevitably seen a table of diners engrossed in their phones rather than one another. When the primary focus of your event is gathering people, creating tech-free space is essential.

Online opportunities for networking abound. However, opportunities for in-person engagement are, sadly, less frequent. And even though research points to the fact that over engagement with technology has a detrimental impact on our psychological well-being, too many people are not capitalizing on time spent in person. So when live events take place, we need to ensure that attendees are using this "face time" to their best advantage.
The task of balancing technology and human interaction is a complicated one. On one hand, research states that tech isolate us, but we also know event tech can improve attendee's experiences. So how do we find the perfect level for technology use while keeping the experience human centered?
The answer is people. People need to make this determination while using technology's input. No algorithm or chatbot will ever change that. Humans bring a unique set of skills and qualities that tech cannot replicate. Because they can anticipate and fulfill guests needs, they can create personalized experiences that technology alone cannot achieve. The human element is what ultimately elevates events to unforgettable experiences.

If you're ready to talk to us about how to maintain that balancing act while reaching all the goals of your event, get in touch today, and let's leverage tech while creating memorable human experiences.