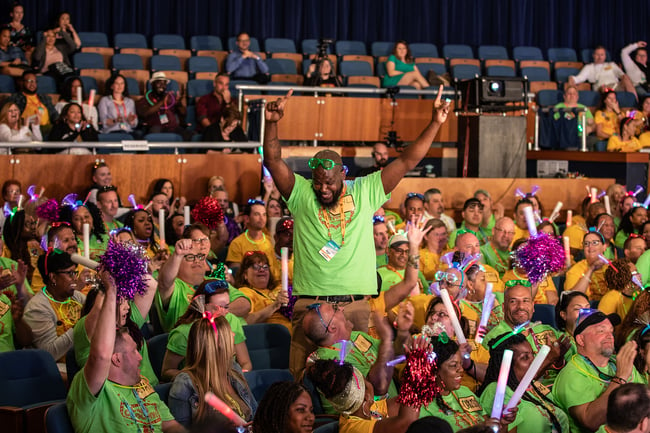 The great resignation. Remote work opportunities. The gig economy. A rise in entrepreneurship. For many companies, these are all factors contributing to a growing loyalty problem. In 2019, a study found a 20% increase in employees who would willingly leave an existing employer for even a 10% pay increase. If you're looking for a solution to this issue, employee loyalty programs are an amazing way not just to increase engagement but to also build company culture and reward employees.
Quick Links
What Are Employee Loyalty Programs?
Sometimes loyalty programs are also called reward or recognition programs. By any name, they function similarly to customer loyalty programs. Employee loyalty programs are designed to reward and motivate your associates for milestones or achievements as individuals or groups. Some include financial rewards, but most often, they include a variety of reward options from incentive trips to massages and parking spots.

For several years, there has been growing demand for experiences and emotional impact when it comes to creating a loyalty incentive program for employees. Companies have been looking for strategies to design employee experiences in a way that resonated and made them feel valued.
For some of Bishop-McCann's clients that has meant creating incentive programs that include tailored attention from the executive level. Examples include providing employees who have worked for a company for five years with a personalized luncheon or cocktail reception with the CEO, along with an extra week of paid vacation. For every 10 years, workers are offered an exotic incentive trip hosted by executives of the company. During this time, employees receive one-one-one attention and recognition that makes them feel like a valued part of their team.

In short, employers who utilize employee loyalty and recognition programs have employees who feel seen, valued, and appreciated. Feeling fulfilled at work benefits everyone.

What Employee Loyalty Programs Can Do for You
With so much competition for top talent, employers are looking for ways not just to retain employees but to attract them as well. Employee loyalty programs do both. Whether it's social media or review sites like Glassdoor, word gets out quickly when an employer treats their employees well. Many workers are looking for not only a job but also a workplace that values them. Additionally, there are several other benefits for employers who reward their employees, including:
Improving productivity
Creating a positive company culture
Boosting and fostering teamwork
Assisting with goal setting and achievement
Improving employee morale
Increasing employee engagement
These are just a few examples of the advantages that come from celebrating employee loyalty. No matter your company's circumstances, importance must always be placed on making your employees feel valued. As many businesses can attest, employee loyalty programs can offer significant ROI.
How Corporate Events and Incentive Trips Can Improve Employee Loyalty Programs
While few of us would turn down cash, research suggests that it's not what makes us feel valued. In fact, studies show that non-tangible gifts, such as trips, have a greater return on investment than money. Not only do non-cash gifts have better results for employers, but employees are also found to be happier. Current research suggests that people mentally include cash rewards in their salary whereas trips and events are seen as extra.

Research has also found that the best way to motivate your team (especially the middle of the pack) is trips with a variety of incentives, including rewards, gifts, and points they can "spend." However, travel remains the top motivator according to 80% of research participants.

So, if your loyalty program is floundering, or not delivering the return you expect, it may be time to look into corporate events and incentive trips that are extraordinary.

Examples of Engaging Events and Exciting Trips
Now that you're considering the value of incorporating trips into your incentive and employee loyalty programs, how do you make your event memorable? It's an important question as some factors will limit your options—though it should not limit your imagination.
So now is the time to plan trips or events that have staying power in everyone's memory, like the time Bishop-McCann planned a private concert on Alcatraz! Below are a few other examples of incentive trips that our agency planned that may spark some ideas.
Reach the Beach

: For this award-winning incentive trip, we flew 250 associates to Miami, Florida, to celebrate our client's team. Even before the trip began, we were generating excitement for the program by sending out mailers and gifts prior to attending. Once there, attendees received more gifts, ensuring a great start to their trip. A multitude of engaging experiences unfolded throughout the entirety of the event, including a "Neon Nights" welcome reception, a Price is Right touring game show, free days for activities of their choosing (such as catamaran cruises or spa days), and so much more. To end the event, the evening reception was truly unforgettable. Utilizing a projection mapping technique, the previously all-white room was transformed into a European journey with each course reflecting the cities that they virtually traveled to. This truly memorable trip was sure to increase the client's employee loyalty.

20-Year Celebration

: We couldn't give examples of these trips without including our own 20-year celebration. Bishop-McCann's ultimate tropical getaway not only celebrated the company's anniversary, but it also celebrated those who helped make that milestone a reality. Taking place at Secrets Resort in Cancun's Playa Mujeras, this trip was extraordinary. The theme "The Secret of Our Success" was created by our team, and various gifts were given to build anticipation. From relaxing at the pool or spa to beach olympics, this program had something for everyone. The final night included a white party on the beach, ending with fireworks. Everyone who attended still has fond memories from the trip, which translates to a successful experience for everyone.

Simply Spectacular Incentive

: "It was unbelievably amazing. We felt like we were royalty." This is just one of many incredible attendee comments about this incentive program. With over 400 guests, our team planned this "simply spectacular" incentive program on a private, white-sand beach on Marco Island, Florida. Every day had an immersive experience for attendees, including a dolphin watch, an Everglades airboat excursion, wine tasting, and a spa day. At the end of the trip, the guests were sent off with a farewell dinner on the Seafair Yacht, complete with a DJ and fireworks.
If you're ready to start planning your next incentive trip for your employee loyalty program, then let us help. Not only is the Bishop-McCann team prepared to help you plan your event, but our experience and expertise mean we can help select venues, book your travel, and more. Get in touch today, and let's get started!