When it comes to understanding what your attendees thought about your corporate event, all you have to do is ask. Yes, it really is that simple, and if done right, those answers can help you build an even better experience next time. Part of the reason we're successful in corporate event planning is because we use a technological survey solution based on over 13 years of field and lab-based neuroscience, Ofactor.
We utilize Ofactor technology in surveys that allows us to tell you how much trust your attendees feel toward your company. The "O" in "Ofactor" stands for oxytocin, a powerful hormone that acts as a neurotransmitter in the brain. The release of oxytocin creates higher levels of trust and improves organizational performance. Based on Ofactor technology, Trust x Purpose = JOY. When we measure trust levels, we ultimately design your experience to increase trust and, overall, create joy during your corporate events. This technology helps businesses increase employee and company performance through survey solutions that engineer high-trust and high-performance cultures. Since trust is the best way to measure success, by using Ofactor surveys, we can measure organizational trust levels before and after meetings and events.
While this technology works wonders for us, we understand everyone has a different method. Whether you're interested in Ofactor or a different survey method, surveys should be on your radar, since they're one of the best ways to receive feedback and improve your meetings and events.
So, why are surveys the best method to help guide you to future success?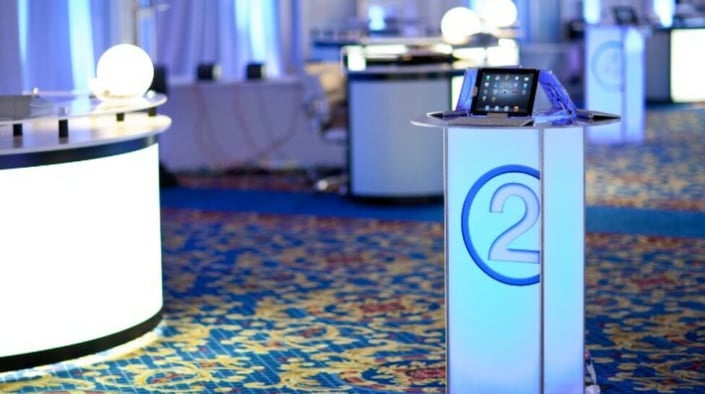 First of all, using surveys is one of the easiest and most cost-effective way to understand your attendees' thoughts about your event. By sending the survey out in an email, having kiosks set up around your event, or using other technology like chatbots to measure real-time experiences, it doesn't take an army to understand what your attendees are feeling and thinking.
This idea of using technology, such as chatbots and kiosks, also provides an opportunity to address any problems or concerns your attendees are having during your corporate event. By understanding and fixing any problem or concern in real time, you're boosting attendee enjoyment and event success before everything ends.
While pre-event and intra-event surveys could work wonders for the success of your event, don't rule out post-event surveys just yet. Engaging with your attendees after your event and getting them to recall what they experienced can help them retain a memory of the event and your organization for a longer period of time.
Another reason to use surveys is to understand who your attendees are. By using a few questions on a survey to gather information about the demographics of your attendees—average age, gender, class, etc.—you'll learn not only how to better tailor their experiences but also how to make your next event as inclusive as possible.
If you're looking for the best way to know your attendee's thoughts about your event, use surveys. Not only are they cost effective, but they're also quick. Combine those qualities with the survey method of your choice, and you have the key to unlocking the door to success for all of your future corporate events.