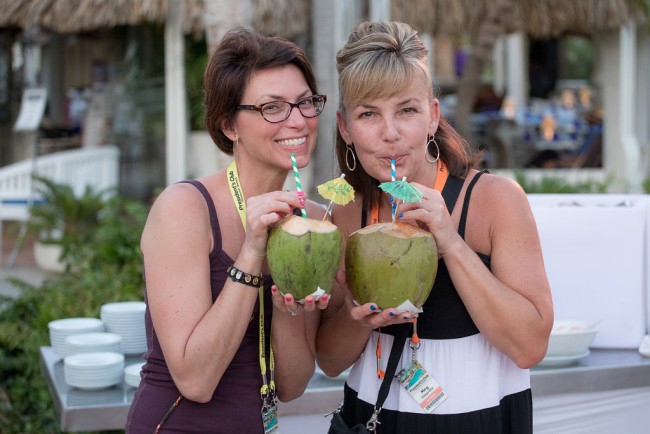 Summertime. As kids, summer break means no school and fewer responsibilities. As adults, we relish the opportunity to recapture that feeling at barbecues, festivals, and even corporate events. Still, many companies shy away from outdoor corporate events because weather and soaring temperatures can quickly dampen excitement. That doesn't have to be the case though; there are ways to keep your guests cool and engaged while attending your summer corporate event.

Quick Links
What Makes Summer Corporate Events Special
Beach days. Barbecues. Outdoor festivals. Pool parties. Camping and park visits. Carnivals and fairs. Cool treats and frozen drinks. By its nature, summer is special, and most of the things we associate with summer are relaxing and fun.

For large swaths of the country, the sunshine is welcome after a long winter and sometimes wet spring. For many, it means returning to outdoor activities. Outdoor corporate events can capitalize on all those feelings by incorporating fun outdoor activities or venues for employees to celebrate achievements, milestones, and more.
Top Considerations of Summer Corporate Events
With all the promise of the season, there are still some considerations that must be addressed when planning an outdoor corporate event during the summer months. While some of these issues are regional, some are simply a part of any summer event. For those planning outdoor corporate events, the top aspects to consider are:

1. Weather - Across the board, regardless of region, weather is the top factor for any outdoor event. From rain to heat, summer weather must be taken into account when planning your event. Obviously, guest comfort should be your top priority, so backup plans are essential. Know where your attendees will go in the event of rain by selecting a venue with both indoor and outdoor locations. You should also have alternative entertainment options if some of your outside activities are affected by weather. Tents with misting systems, hydration stations, wind blockers, plentiful restrooms, and any other essential amenities should be a part of any solid outdoor event plan, so make certain you have planned for all possibilities.
2. Safety - Summer events often include physical activities, so make sure you also have first aid available for any mishaps. Don't let an errant softball result in an event-stopping moment; instead, prepare for incidents that might require treatment by creating general safety procedures and precautions that will be utilized during your event.
3. Security - Outdoor events can be a bit more difficult to control in terms of attendees. If the event is in a park, on a beach, or in another public venue, it's often easier for the uninvited to invite themselves, and those are not the people you want to worry about or be responsible for (particularly if they're not invested in the event or attendees). Make sure you have guidelines for how security will manage crowd control to ensure that your guests safely enjoy the event.
As you can see, with the right systems in place, your outdoor event will be enjoyable, safe, and secure. In addition, with the right event planning company by your side, navigating the unique considerations of an outdoor event will be effortless . Whether it's a backup venue, alternative entertainment, or gated entry points, proper planning and significant experience with outdoor events means that you can be prepared for just about anything.
Ways to Keep Cool at Summer Outdoor Events
One of the biggest concerns for outdoor corporate events during summer months is heat, especially if people are participating in outdoor activities. Finding creative ways to keep your guests cool is not just a necessity, but some options can even enhance your event!
1. Choose your venue wisely
One of the most obvious solutions to keep attendees comfortable is to throw a pool party or host your event at the beach, including swimming or water sports as an option. Even if you don't choose a venue with a water feature, choose your location wisely. From shady trees to cabanas (which offer a great branding opportunity), offering a way for guests to stay out of the sun is a must.
While summer cocktails and frozen drinks are delicious and refreshing, you may want to go light on alcohol as it can be dehydrating and exacerbate heat-related issues. Similarly, lighter foods high in water content, such as fruits and vegetables, can have a cooling effect for attendees. Many chefs can find ways to get creative with salad, gazpacho, and even frozen desserts, such as sorbet served in fruit bowls.
4. Help with hydration
Keep plenty of drinking water on hand and make it easily accessible. You can fill creative containers with water bottles and ice, or go eco-friendly and sustainable by providing branded water bottles for swag. Additionally, many events add in misters and fans to create a significant cooling effect.
5. Give relevant gifts
If you know you're hosting an outdoor corporate event during the summer months, consider appropriate swag your attendees will use and love. Everything from beach towels and sunscreen to cooling towels and handheld fans can be fun, practical gifts for guests. Plus, you can always include branding on these gifts as well.
6. Skip the sun
There's no rule about hosting a summer event in the heat of the day. In fact, a sunset event can add a beautiful backdrop and lower temps to make your evening outdoor corporate event pleasant and cool. At night, consider options for fireworks, tiki torches, fire dancers, and more to make for an unforgettable evening for your guests.
While summertime can make planning outdoor events more complex, there's no reason why it should put a halt to your plans. In fact, summer events can be among the most memorable, tapping into your guests desire to celebrate the season and enjoy the outdoors.
If you're ready to plan your summer event, let's talk today. The Bishop-McCann team has the expertise and experience to help make your summer event one your attendees talk about for seasons to come!