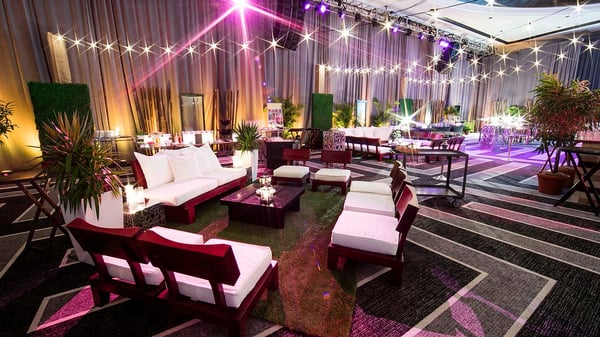 If there's been one consistent buzzword across nearly every industry (but especially in the events industry), it's personalization. Even before the forced isolation due to the pandemic, people were craving personalized service and a more "human" touch. Now, with the return to in-person corporate events, attendees are expecting personal interactions with hosts and staff alike.

One way Bishop-McCann provides these interactions is by consciously making the check-in process as seamless and high touch as possible. Avoiding impersonal check-ins by providing exceptional event staff and implementing trends like attendee services lounges at corporate meetings can cause a huge shift in the way your next event is viewed by employees and leadership alike.
Quick Links
What Is a Corporate Meeting Check-In Area?
Check-ins are required at nearly all corporate events. Typically, there's a hospitality desk or counter that is utilized by meeting staff. Though this setup can be effective, there are alternatives. For example, a check-in area set up as a lounge provides even more opportunities to cater to your attendees.
In true lounge style, you can remove the hospitality desk and bring in communal tables and soft seating. Instead of standing, corporate meeting and event attendees can have a seat, a drink, and even a conversation. Not only is the counter removed between attendees and meeting staff, but you can also provide a more personal and comfortable experience for attendees, allowing them to unwind, obtain information, and visit with coworkers.

From the start, this creates a different atmosphere—one more at ease, more communal, and more personal. When creating event experiences, it starts with personalized touches, such as the attendee services lounge.

What Are Attendee Services at a Corporate Meeting?
From the moment your event guest enters the attendee services lounge, a staff greeter approaches and works with that person one-on-one, answering questions and registering them for your meeting. This is the first point of contact for each attendee, so they should be given the highest personal attention. As the corporate meeting or event continues, the attendee services lounge remains intact and delivers that same personalized attention by handling any question or concerns your guests may have.

For example, at a past corporate meeting, we created a lounge we called "The Village." This area included comfortable seating, chair massages, manicures, snacks, and a host of other interesting features for attendees to experience when they were not in sessions. As a result, The Village became a popular destination for guests during down time. Some of our attendees told us that the area gave their annual meeting an entirely different feel from years past and said it was a welcomed change.

Most meeting areas tend to be formal, but removing that formality allows attendees to be more relaxed and comfortable in the space. The casual atmosphere encourages guests to take a minute to sit down and talk with coworkers. In addition to atmosphere, another key to a successful services lounge is to anticipate the attendees' needs. Stocking your area with everything a guest may want or need is part of a satisfying lounge experience, and this contributes to providing the highest customer service possible.

An effective way to promote your attendee services lounge is to utilize your event app to direct attendees to the space during free time for snacks, networking, massages, or any other activity your lounge features.
How Attendee Services Can Improve Your Corporate Meeting
As mentioned, personalization is imperative, and making attendees feel welcome and comfortable is equally essential. Creating a space that facilitates these goals while providing unique features within the lounge allows you to truly cater to your guests.

We've seen firsthand that attendees enjoy the lounge approach because it's friendly and engaging. Guests enter the area and are greeted immediately, so that check-in, questions, or concerns can be facilitated. Once guest issues are taken care of, the attendee is free to relax or participate in any of the activities the lounge provides.

In short, having an attendee services lounge at your corporate meeting can improve:
Service level
Attendee comfort
Attendee experience
Check-in efficiency
Overall atmosphere
However, to realize those benefits, it takes more than a couch and some snacks.

What to Include at Corporate Meeting Check-Ins to Improve Attendee Experience
Certainly the couch and snacks help, but there's more to a services lounge than that. First and foremost, as a meeting planner, you need to make sure you are fully staffed. This ensures that each attendee receives the same personal attention without wait time. Our experience has found that hiring a local destination management company's (DMC) staff for arrival day eliminates being overstaffed for the rest of the week.

Next, you should consider design elements, such as branding and theme. A check-in area shouldn't be sterile. It's important to remember this is the first touchpoint you have with attendees. The lounge is an opportunity to set the stage for the rest of the event, from atmosphere and tone to delivering the message and values you hope to showcase at your event.

Consider attendee comfort as well. For some, arriving at your corporate event or meeting may come after travel or a stressful work day. Addressing attendee needs immediately suggests you've planned with your guests in mind. That means your check-in area should include:
Comfortable, plentiful, and varied seating
A variety of drinks (coffee, tea, water, etc.)
Light snacks
Outlets to charge electronics
Self-help information (programs, brochures, maps, etc.)
The goal of a successful guest services lounge is to check in guests efficiently while also serving as a relaxing refuge during your event. In addition, it should provide useful, relevant information throughout the meeting for those with questions or concerns.

Planning an event that meets your goals, as well as the various needs of your attendees, can be complicated and overwhelming, but it doesn't have to be. With the right team on your side—one with experience and expertise in the event planning industry—the process can be stress free and more enjoyable. Much like an attendee services lounge enhances your event, reach out to let us elevate your entire program!