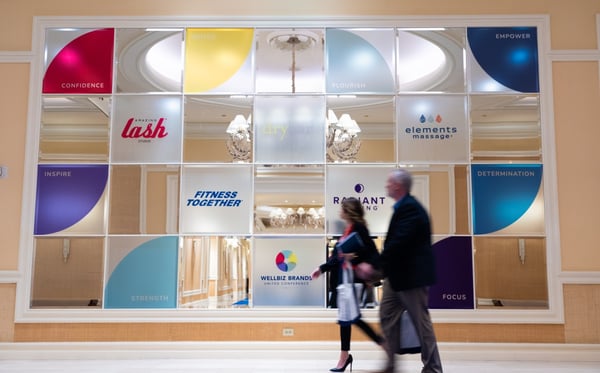 Remember that party no one attended? Of course not. But you do remember the one that people are still talking about – the one that everyone couldn't wait to attend – so obviously, you want to host the kind of franchise convention that everyone wants to attend. Build the best event possible, and you automatically create momentum for subsequent events. But doing this takes careful planning and a few key considerations.
Quick Links
Why Host a Franchise Convention
Hosting a franchise convention is not just about throwing a great event for your franchisees, though that's part of it. Another component is the goals you set and achieve when you get everyone together.

With so many franchisees in one place, you can make a huge impact on your franchise culture. From championing your values to building a strong network with a team mentality, franchise conventions provide a significant opportunity to build your brand. Additionally, you have the chance to:
Create space for conversation and collaboration among franchisees in similar markets
Offer sessions that assist franchisees in growing through every stage of business
Introduce new products, offers, and initiatives
Energize and motivate franchisees
Build brand engagement and excitement
When you create excitement for franchisees, you also reap significant rewards. You receive brand buy-in and strengthen relationships with not just your franchisees but also your vendors and suppliers.
Why Franchisees Attend Franchise Conventions
If increasing attendance at your franchise convention is your goal, then understanding why your franchisees attend is important. To boost the number of your guests, you want to deliver more of what they want. Franchisees attend franchise conventions to:
Engage with franchise leaders
Meet other franchisees
Discover business strategies
Learn about products and initiatives before they hit the market
Connect with vendors and suppliers
Immerse themselves in the franchise brand
Collaborate with like-minded entrepreneurs
Enjoy activities and the destination
Four Tips to Boost Franchise Convention Attendance
In addition to offering value to your franchisees, there are a few tips you should note when planning your franchise conference. You want to make sure you employ strategies that will increase attendance and your ROI. The more franchisees who attend your event, the more your initiatives, education, and best practices can be deployed at franchise locations across the country. Obviously, this can lead to increased business and market share.
1. Choose a strategic venue
One of the incentives for attendance should be the venue or location. However, making the decision on where to hold your convention can be a balancing act. You want to choose a destination that's accessible but also exciting. It doesn't have to be someplace exotic or extravagant; it just has to offer the right amenities and be highly accessible. You need a venue that has the appropriate meeting space and close proximity to any off-site activities that may entice your audience.
2. Engaging and valuable sessions
Sessions that speak to a large cross-section of your franchisees will draw more attendees, so spend some time selecting what you will offer at your event. Instructional sessions should speak to the real challenges and goals of your franchisees. Further, you can offer engaging and valuable sessions led by a variety of individuals. Speakers you should consider include:
Successful franchisees
Moderators who facilitate discussions among franchisees of varying experiences
Mentors who pair with novice franchisees
Vendors and suppliers who discuss new products or development cycles
Designers, engineers, chefs, and others responsible for product histories and futures
3. Find a great keynote speaker
The right keynote speaker, coupled with the right franchise convention marketing, can really build excitement and drive participation. Obviously, working within your budget is essential, along with finding a keynote speaker who represents your brand and the values of your organization. But finding someone who fits that criteria and can draw a crowd should be your goal. In fact, some events have multiple "keynote" speakers, offering special sessions at more than one point of the multi-day event. This means you can choose someone from your brand who can appeal to those who like to hear from franchise leadership, and you can also choose someone motivational and inspirational to drive attendance.
4. Entertainment and activities
Let's be honest – attendees want an escape. When executed well, business conferences can provide an amazing opportunity to combine business and pleasure. From on-site entertainment and activities to off-site opportunities, planning interactive and creative excursions can truly excite your attendees. It doesn't have to be expensive, but it should be an experience that attendees may not have the chance to participate in at home. From ziplining to ATV excursions, something novel can build buzz and drive attendance. Or, if you know your audience is not interested in outdoor activities, you might consider other forms of entertainment, such as a private concert with a performer who will resonate with your guests.
Simply hosting a franchise convention doesn't mean franchisees will attend. Instead, the best strategy is to make your franchise convention a "can't miss" event. This means ensuring that you're offering attendees what they want and more. The most successful conferences give guests something they didn't expect.

One of the best ways you can make the most of your franchise convention is by working with an experienced event planning company that is prepared to help you create a memorable event. The Bishop-McCann team has the expertise you're looking for and is experienced at helping franchise owners create conferences that delight their attendees. Reach out to our team today, and let's start planning!