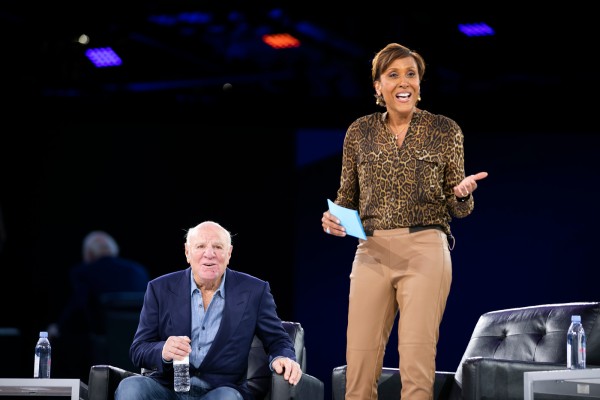 TED and TEDx conferences around the world truly put a spotlight on how a dynamic and engaging speaker can impact audiences. In fact, some of the most popular TED talks exceed 70 million views. They're the speakers and topics you want to share with others because they're informative and entertaining, leaving audiences feeling excited about ideas and concepts. While a franchise audience may be looking for different information, you still want your speakers to have the same effect on your attendees.

Quick Links
Why Your Franchise Convention Needs Speakers
One of the primary goals of a franchise event is to get your franchisees excited about new products, initiatives, and services. You want your attendees to go back to their individual businesses feeling good about your brand and ready to implement what they've learned regarding best practices.

Similarly, you want new franchisees to feel good about being a part of your team, to understand organizational values, and to leave motivated to succeed. Additionally, they should leave focused on the goal you've identified for the conference.

One of the best ways to create that energy, to deliver and reinforce messaging, and to have attendees excited about the franchise convention itself is to include a dynamic and exciting speaker.
What Kind of Speakers Should Your Franchise Conference Have?
Though most people initially think of top talent or motivational speakers for their conference, you will need more than an engaging keynote for your event. Breakout sessions and meetings will also need presenters, so it's essential for your franchise organization to identify team members who best represent the values of your business. You also need to consider presenters who will captivate your audience and drive attendance. Striking a balance between educational and entertaining is essential.

First, utilizing speakers from within the organization can be a great opportunity (for you and those in the franchise), including both executives with names your attendees recognize and successful franchisees who embody your brand. These members of your team provide the opportunity to show who you are. They're aspirational.

In addition, they're also an amazing opportunity to show who your franchisees are. Attendees of your franchise convention want to see themselves reflected in your organization. They want to see speakers and leaders who look like them and understand the path they're on, so remember to keep your speakers diverse and representative.
What to Look for in a Franchise Convention Keynote Speaker
While all of your speakers should be focused on the same thematic ideas (innovation, exploration, rejuvenation, etc.), your keynote should be someone that not only excites your franchisees but also captures the essence of your brand. In addition, you want to choose a speaker who understands your goals and your audience. It can be exciting to choose someone impressive and noteworthy, but if they fail to connect with your attendees, then the impression they make won't be lasting.

So as you begin searching, consider who you would want to be your brand's spokesperson. The right person should inspire your audience but also give them direction to turn that inspiration into concrete steps that accelerate their franchise.
Five Tips to Finding a Keynote Speaker for Your Franchise Conference
While it's great to start with a list of your ideal speakers, it's just as important to consider practical matters. Choosing an effective keynote speaker for your franchise conference requires balancing both high aspirations and realistic expectations.
1. Consider your budget
Your budget will put limitations on your keynote speakers. It's that simple. While there's a temptation to spend more than you should to get a bigger name, you can find the right speaker for your brand without blowing your budget. Look for someone who will engage attendees, whose topics align with your goals, and who is passionate about inspiring audiences. You'll know the right fit when you find them. Once you find your speaker, your marketing should build excitement about their message.
2. Consider the takeaway
What's the goal of your event? What would you consider success? Without first having explored those two very important questions, it'll be hard to figure out who can help you deliver. What do you hope your franchisees will take away from your event as a whole and from the speaker? How will the speaker reinforce the messages your sessions and leaders are presenting?
3. Consider experience
Experience matters, and that concept will likely echo throughout your conference. From the experience of long-time franchise owners to the experience of leadership, your attendees are coming to learn, and they expect speakers to be polished. Every aspect of your franchise convention reflects your brand, so lean into presenters with a history of success. Further, see if you can find a speaker who has delivered keynotes to a franchise crowd as they'll have a better understanding of how to make real connections with this type of audience.
4. Consider timing
The speaker you have to open your event does not necessarily need to be the same speaker you use to close. Make sure you select the right speaker for the right time slot. Some speakers will do a great job of energizing your attendees and setting the tone for your event while others are perfect for a highly informative, midday session. Considering how to schedule the speakers you choose is important. It's not just about what day in your franchise conference you have them present but also what time.
5. Consider assistance
The job of finding the right speaker is difficult, and there are many elements to consider. Researching, interviewing, and determining the right speakers can be a full-time job. Working with a bureau is great, but there's still a lot of details to sort through. Working with an event planning agency with experience in the franchise space provides you with expertise you may not have with a bureau. A planner will already have knowledge and audience feedback regarding the effectiveness of speakers from previous conferences, so selecting the right one specifically for your type of event will be much easier.
Planning a franchise event and choosing your speakers should be an exciting time, but much like your franchisees navigating a new business, it can feel overwhelming. That's where the Bishop-McCann team comes in.

You wouldn't leave new franchisees to figure it all out on their own. You provide guidance, support, expertise, and connect them with the vendors and people they need to know. At Bishop-McCann, our franchise event experts do the same. If you're ready to talk about how we can help you create an amazing franchise convention that will wow your attendees, get in touch today!