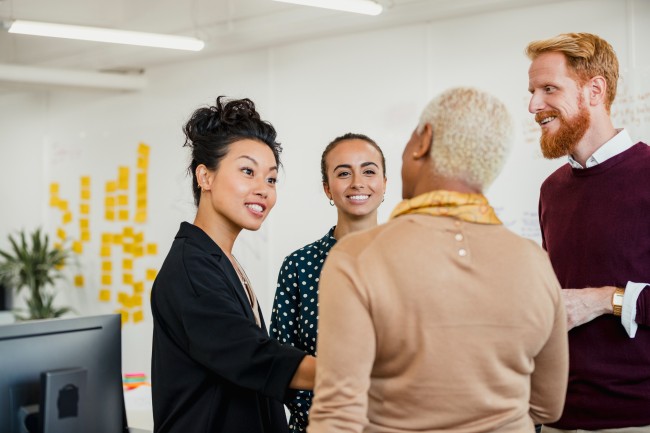 In countries across the world in nearly every city, you'll run into recognizable storefronts and familiar brands. For consumers, there is a comfort in visiting these establishments. Because of the familiarity, you know what to expect, where to find items, or what to order. As a franchisor, you're aware of this customer loyalty, so you're selling not just the product, but also your brand's reputation and name recognition. Likewise, there is trust in that brand from your franchisees.
But with nearly two million franchises globally, how do you, as a franchisor, differentiate your brand in order for potential franchisees to see the benefits? Franchise conferences are an excellent opportunity to gather current and potential franchisees to demonstrate what your franchise has to offer.
Quick Links
What Is a Franchise Conference?
The world of franchising offers various opportunities for entrepreneurs and individuals who want to invest in a business. However, a drive down any main thoroughfare in any American city proves that there is ample competition. Showcasing how your business stands out from that competition, a franchise conference can be utilized to explain exactly what your brand offers that makes it unique.
Franchise conventions or conferences allow franchisors to meet face-to-face with existing and potential franchisees to discuss opportunities while differentiating your brand from competitors. An event allows you to show your attendees how the uniqueness of your franchise benefits them.
How Franchise Conferences Benefit Franchisors
While the primary benefit for franchisors is likely clear (the acquisition of additional franchisees), both franchisees and franchisors reap other rewards through these events. Conferences also:
Build a community of franchise owners, strengthening brand buy-in and engagement
Create opportunities for collaboration and shared successes
Enable the sharing of best practices
Announce or introduce new products, concepts, or other offers
Motivate franchisees and enhance productivity
Increase franchisee engagement
Boost brand reputation
Build excitement for the brand
As you can see, the benefits are similar to other corporate events. The opportunity to connect with others with a similar mission (and likely similar challenges) in a relaxed environment opens the doors for communication and solutions. Further, those connections, which can be continued throughout the year, have benefits that lead to positive changes in multiple franchise locations.

Franchise Conference Goals for Franchisors
Obviously, one of the goals of a franchise conference is to meet many of the franchisees in person to begin to build more personal relationships. Those relationships will be beneficial in achieving larger franchise and business goals. Still, there are several other goals franchisors should be mindful of:
Introducing and getting buy-in on new products or services
Boosting morale and building passion for the brand
Collaborating with and receiving feedback from regional stores
Creating cohesion and building a team mindset among franchisees
Introducing key partners and suppliers to the network
Creating word-of-mouth interest in franchise events and franchisee opportunities
With those goals in mind, one of the most effective ways to accomplish these goals is by hosting a memorable conference. That means:
Being mindful of franchisee goals for the conference
Wowing your guests with service and care that reflects your brand
Creating spaces open to communication and creativity
Taking opportunities to educate and train on all aspects of managing a franchise
Executing and delivering an event that meets brand standards and expectations
Given the benefits and potential outcomes of achieving these goals, including increased productivity and profitability, franchisors want to plan the best franchise conference possible. For growing franchises, this is more important than ever. As the market is competitive, and there are some heavy hitters out there, a franchise conference can leave a lasting impression on owners and general managers.
Top Tips for Franchisors Planning Their Next Franchise Conference
Franchisors have goals, the franchisees have goals, and the franchise itself has additional goals. Creating an event that meets all of these needs can be difficult and getting assistance from an event planning company with experience working with franchises is invaluable, but let's take a look at a few tips to help further.
1. Have a cohesive theme that represents your brand and goals
Nearly every aspect of your event can and should reflect your theme. Identify the message, vision, and ideas you'd like to convey, and then allow that to guide all of your decisions from venue and keynote speakers to decor and entertainment.
2. Consider a destination that entices but doesn't tax
Exotic locations may be nice and a week-long stay may sound amazing. However, remember that your franchisees have needs, and as enticing as a week in Hawaii might sound, that's a lot of time for them to be away from a business, family, and more. Instead, choose a location that's centralized (based on franchisee locations) with easy access and plentiful transportation.
3. Offer plenty of networking opportunities
From both organized team-building exercises to casual meals, provide plenty of time and space for franchisees to meet one another, discuss challenges and successes, and make the kinds of connections that strengthen your franchise. A great way to create informal networking opportunities is by including more snack breaks, coffee and cocktail mixers, and small meals in your agenda.
4. Segment your sessions
General sessions are great, but remember that the needs of new franchisees are different from those of business owners or general managers who are more experienced. Individuals with ten years in the business will be seeking different education, information, and connections than those who are new.
5. Create a mentor program
While you do want to segment some sessions, you don't want to keep attendees separated. In fact, your veteran franchisees are some of your most valuable teachers, especially for those who are new to the franchise world. Consider creating a mentor program or partnering long-time franchisees with new attendees.

6. Tap into existing resources
You build your team by lifting your team. Not every presenter needs to be from outside your organization. Have a franchisee who has excelled at a specific aspect of the business? Invite them to speak. Have a franchisee who's innovative and creative? Let them lead a session. Not only does this elevate successful owners or GMs, but it also demonstrates to new franchisees that you value the input and expertise of your owners.
7. Invite outside speakers for general sessions
Keynote speakers and outside educators are still valuable and can attract many attendees. Finding someone who has something new to offer your audience while honing in on your theme or vision can be the highlight of a franchise conference for many. Remember to make room in your budget for the right speakers to open and close your event.
8. Plan enough time for an expo or trade show
By enough time, we don't mean packing it in on Sunday when guests may have left Saturday night or may just be plain exhausted from a week of activities and networking. Encourage your suppliers to be prepared with special offers for attendees, and be prepared to give your franchisees time to meet, greet, and talk with your suppliers and vendors. These relationships are worth investing time in, especially when you have so much of your team together.
9. Vary your offerings
Even if the focus of your franchise expo is customer service, having every session cover the same topic will become tiresome, and you'll start to notice attendees skipping. Be sure to offer sessions of value but also ones that discuss diverse topics, including business skills, management seminars, training the trainer, and more.
10. Have a clear agenda and the tech to support it
As we mentioned earlier, you have goals for your franchise conference. Your schedule and agenda should reflect those objectives. In addition to having a clear schedule, be sure to present in a way that makes it easy for your attendees to follow and learn more about the sessions and speakers. Event apps, especially branded event apps, are a great way to achieve clarity and understanding. They can also reinforce your branding, leave a lasting impression, and continue to engage your attendees after the event has ended.
Being a franchisor means being a leader and a visionary. It means not only envisioning your franchise on every corner but also having the strategy to get you there. One of the tools at your disposal is a franchise conference, and an event that is memorable and successful has the potential to shape your growth for years to come.

If you're ready to host a franchise conference that reflects the excellence of your brand and the passion of your team, get in touch with us, Bishop-McCann. Not only do we have years of experience in event planning, but we're also passionate about assisting franchisors with creating the best event possible.