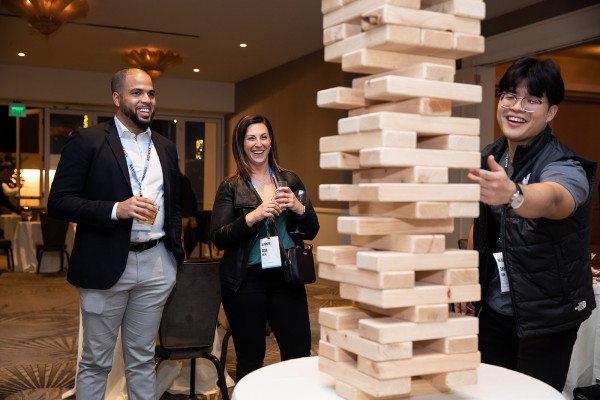 What if you planned an event that presented such an incredible opportunity for attendees that they were counting down the days? That's what we all want for our guests. Remember that the goal for any franchise conference isn't simply to host one, but instead to create one that excites your potential attendees. That desire – to be a part of your franchise, to be a part of something bigger, and to make the most out of the experience – is how you know your franchise conference is a success.

However, the success isn't all about whether attendees have a good time and learn about the franchise, brand, new products, best practices, or more. Instead, the goal of a successful franchise event is to build a team that embraces and embodies your brand and each other.
Quick Links
What Is a Franchise Conference?
Franchises are growing. After a difficult 2020 for most businesses and a stabilization in 2021, franchise businesses are set to grow even more. Due to this, it becomes more important than ever to demonstrate how your franchise stands out and to build a strong, loyal franchise team.
Franchise conferences or conventions allow franchisors to gather with existing and potential franchisees to showcase opportunities, introduce new products and initiatives, share successes, align organizations, and more.
Why Are Franchise Conferences Important for Franchisors?
As franchisors, gathering franchisees in one place is essential for a number of reasons, all of which directly tie to strengthening your franchise and their individual businesses.

First and foremost, franchise conferences provide the opportunity to create a community among individual owners. Owning a business can be difficult, and knowing and connecting with a community can be invaluable to franchise owners. Who better to share wins, losses, challenges, and ideas with than individuals who are having the same experiences?

In addition to community building, franchise conferences also allow an optimal time to:
Introduce new products/services
Convey any changes or updates coming to the franchise
Share and educate franchise owners on best practices
Establish valuable connections between vendors and franchise owners
Build mentor programs to help new franchisees be successful
Celebrate franchise owners' milestones and achievements
Boost and build excitement and loyalty to the franchise
Certainly, franchise conferences are not only for the franchisor to reap benefits though. One of the great advantages of these corporate events is that they create a win/win situation for franchisors and franchisees.
Why Are Franchise Conferences Important for Franchisees?
Starting a business is never easy. In fact, it can be overwhelming and is an ongoing learning experience. Franchisees need to be able to implement strategies, embrace and champion existing and new products, promote the franchise and its values, ensure a consistent customer experience, and run a business.

It also means being part of a larger community and business while functioning independently. Learning to balance those demands is likely new for many people.

That's where franchise conferences come in. Conferences allow time to:
Connect with vendors, other franchisees, and franchise leaders
Share ideas and best practices
Learn more about the franchise from products to values and goals
Network in both formal and informal settings
Discuss challenges and strategies
Share concerns, wins, and excitement about the future of the brand
How Franchise Conferences Help Franchisors Build Their Organizations
While there's certainly practical reasons to attend a franchise conference (including plenty of information to absorb and a significant amount of networking to do), one of the biggest impacts is intangible. While you can't see team building happening, you can see the results.

The first step to build your organization is getting attendees to your events. Ideally, your franchise conference should be one that guests look forward to attending. For many, that means great planning and a memorable experience. You may even want to incentivize attendance, utilize local franchises to help host, and make it a team effort. The more people involved in hosting, the more you emphasize the connections within your organization.

Be sure to include team building experiences and be careful not to overschedule your event. You want to leave time for off-site activities, informal conversations, relaxing, and relationship building among your franchisees. In addition, focus some of your sessions or off-site activities on team building specifically.

Overall, the more successful your event, the more buzz it will build. The more buzz you can build, the better it reflects on your franchise and the more people will want to attend. All of this helps create community and establishes your franchise business as a club where franchisees belong and feel comfortable.

To make this happen, the primary component to hosting a successful franchise event is planning. Hiring a planning partner like Bishop-McCann is one of the best ways to ensure you create the kind of program that franchisees talk about throughout the year. The excitement and energy they take away from your program and bring to their franchise will fuel the success of your business.

If you're ready to get planning today, let's talk! We're looking forward to building your franchise with you.