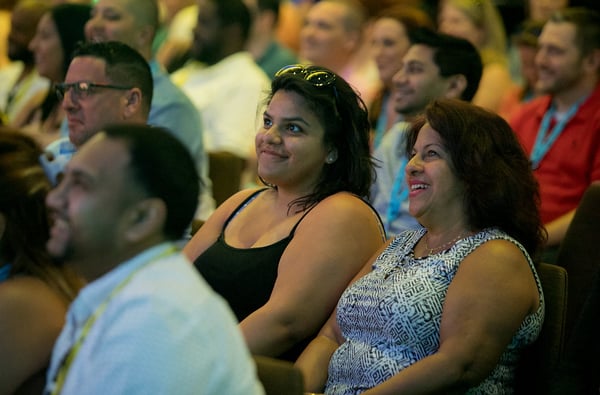 In a post-pandemic world after having faced relative isolation, everyone was ready to jump in with both feet when it came to in-person events. From concerts and trips to corporate events, we've been saying yes to everything and have been eager to have the connection that was so missed. The challenge became attending all of these events while still being able to enjoy them and get what we needed from them.

As event planners and hosts, that means planning in such a way to allow our event to meet goals while also taking into account the need for rest and breaks, so we don't overtax and overwhelm our attendees.
Quick Links:
What Is Event Fatigue?
Event fatigue is the feeling of being overwhelmed or distracted while attending an event. This typically occurs when events are overscheduled with little time for attendees to breathe.

Event fatigue eats away at an attendee's enthusiasm for the program until, ultimately, they spend less time focused on the event and more time being sidetracked by other options like their phones or the people near them. Sadly, distraction is a best-case scenario. Some truly fatigued attendees will simply skip sessions or activities, which may impact your event goals (as well as any data you're collecting for future events).
Why Attendees May Experience Event Fatigue
There is little doubt that everyone has been eager to return to in-person events, and frankly, event planners and organizers have been equally eager to return to planning. Eager is good, but overeager can cause missteps, especially when it comes to the planning process.
To avoid these missteps, we need to understand why attendees may experience event fatigue. Let's take a look at some of the top concerns.
Lack of Connection Between Event Goers and Event Goals.

For any event, it's important to establish "Why?" Why should attendees care about the event? That means aligning your event goals with their personal and professional goals. When the event's apparent objectives are completely divorced from the attendees' own goals and needs, they're more likely to be disengaged from the event before the first keynote. As a result, they become detached from all programming since attendee engagement is low.
Lack of Variety at the Event. Keeping session types and formats consistent can help make event planning a bit easier, but does it truly engage the audience? If every session at an event follows the same format, it can become unengaging. A lack of variety in types of events can be an issue on a holistic level, but it's also an issue when it comes to smaller aspects of your event.
No Breaks or Opportunities for Rest. An overpacked schedule doesn't work in our daily lives, and it doesn't work for events. Fatigue is both physical and mental, and failing to create space, time, or activities that allow attendees to recuperate can actually limit the positive impacts of your event.
Events Scheduled Too Close Together. Remember the saying "Variety is the spice of life?" The same is true when it comes to event planning. Consistently exposing your attendees to the same type of event, the same size, and the same goals while being stacked too closely together may contribute to fatigue.
These are just a few of the potential reasons why attendees might feel fatigued at an event. The consequences, as we noted briefly above, range from inconvenient (such as distracted attendees) to counterproductive (such as those guests who skip or even take a quick nap during an event).
Given how event fatigue can impact your program's outcomes, as well as your attendees, taking steps to mitigate this issue is important. The added bonus is that many of these strategies improve your event overall.
Six Strategies to Prevent Corporate Event Fatigue
Regardless of your industry, if you're planning a corporate event, you want it to be as impactful as possible. Preventing fatigue during your meeting helps keep your audience engaged, so that you can better meet your event goals—whether that's building excitement for a new product or service launch, driving employee engagement, or creating connections with new prospects.
Keeping your attendees engaged and excited for your corporate event can be a tall order. However, there are some general tips you can apply to help drive engagement to prevent guests from becoming disengaged:
1. Clearly Demonstrate the Value of the Event
Put yourself in the shoes of your event attendees. What is their biggest concern in their day-to-day? Why would they be willing to take a day, or several days, out of their busy schedule to attend your event? Establishing a clear value for guests is crucial for capturing and holding attention for the duration of the event.
One way to do this is to poll your intended audience—collecting feedback from them about what their biggest concerns are, what goals they're trying to meet, and what they want from a corporate event in terms of sessions and activities. Similarly, polling post-event can also help you plan as you move forward with future events.
This helps you discover what your attendees' biggest concerns and needs are, so you can better address them. Linking the "why" of your event to the attendees' goals and motivations helps keep them engaged, so your meeting is more impactful and effective.
2. Maintain Variety at Your Event
How many different kinds of sessions and booths are going to be at your event? How long is each session? What kind of format do they follow? Providing a sense of variety can limit event fatigue by giving your audience new and interesting sessions and activities.
Another tip is to vary the length and format of your in-event presentations. For example, you could make some presentations 30 minutes, some 15 minutes, and some 45+ minutes. One session could be a panel discussion with lively debate from several experts, another could be a presentation with a slideshow or video, and a third might be a question-and-answer session in which the audience gets to ask their own questions.
Consulting with an expert in creative event strategy and execution can also provide unique insights. They can provide information on experiential design and other trends that can help create a sense of variety while maintaining thematic cohesion.
3. Ensure Engaging Speakers
When looking at who you want to speak and present at your event, be sure to choose speakers who are engaging and interesting to listen to. Keep in mind that while some keynote speakers will be comfortable on stage, others may not be. Corporate events can include speakers from your company who don't spend much time speaking to large groups, and that can create problems. From lack of voice regulation (think monotone) to actual content, a person's ability (or failure) to hold an audience can contribute to an energizing environment.

In fact, some organizations will do brief training sessions with speech coaches before events to help leadership refine their skills. This can be extremely beneficial since you want your message to come across as polished, and you want your audience to gain insight rather than turn to their phones for a distraction.
4. Consider the Timing of Your Event
When planning your corporate event, consider the timing for your industry. What other major events are taking place around the date of your event? Planning an event to take place at or near the same time as several others can have a negative impact on attendance, as your audience may be too busy with other programs.
On the other hand, ideal potential venues for your corporate meeting may not be available at convenient times. Here, conducting thorough research and considering the timing of industry events that your target audience might attend, as well as the availability of your "top-choice" venues, is critical to your event planning. Picking a time and date that yields a highly-engaged audience is well worth researching the industry's calendar of competing events and activities.
5. Use Event Technology Wisely
One of the biggest event distractions will be smartphones and other mobile devices your audience carries. Instead of competing for your audience's attention, leverage event technology to make their device a part of the event experience.
Event apps can and should feature schedules, live feeds, activities, sessions, live polls, and more to turn one of the biggest obstacles to engagement into a tool for driving interactions and interest. This is when working with a dedicated event technology partner can help. From custom websites to mobile apps, having a partner to manage your tech stack can streamline your promotion, planning, and management to save you time and frustration on technology integration.
6. Build in Breaks or Opportunities for Rest
Finally, when it comes to scheduling, build in time for your attendees to relax. Not every minute of your event should be filled. Over scheduling can act as a huge contributor to event fatigue. Build in coffee breaks or just include time for attendees to catch up on emails to ensure they don't feel overwhelmed by your meeting.
Not only can you easily add in breaks, but you can also include activities that act as a reprise from content overload. This can come in the form of engaging team building or fun networking opportunities, such as a themed happy hour. Additionally, put an emphasis on your attendees' mental health. From including a guided meditation class to creating designated spaces for your audience to unwind, these small touches can show that you care about your attendees and want to make this event enjoyable for them.
Need help creating JOY and excitement for your next corporate event? Reach out to the experts at Bishop-McCann! From planning to execution, we have the experience and tools to help you make the most of your corporate events.