Even the best corporate event planner can't be everywhere at once, and that's why at Bishop-McCann, we engage travel directors (TDs) to help us manage the details of each event we plan. Travel directors are of the utmost importance in our business, and a great TD is not only part of a corporate event planner's support team, but they are also a true partner helping to make any corporate event impeccable!
Travel directors can even help save meeting costs that would normally be passed on to the client. They will work with the hotel to find the best solutions to challenges that may arise, and they will also work with food and beverage managers to ensure guarantees are met and food preferences are taken into account. Additionally, they know the names of attendees and work with other staff members to make sure everyone has everything they need. Having a partner with these types of skills makes the corporate event planner's job easier and, ultimately, results in time and cost savings.
At Bishop-McCann we are always looking for the best travel directors, and it all starts with expert recruiting and interviews. Twice a year, and sometimes more if needed, we interview prospective TDs. After the initial interview, we send our favorites to meet with our program managers to determine if they are a good fit with the team. Our goal is to get the most experienced, skilled, and multi-talented travel directors out there. Each new TD we bring on goes through a highly specialized orientation explaining how Bishop-McCann works with clients, along with confidentiality, team introductions, and other on-site protocols.
We also survey all new TDs after their first program to make certain that our onboarding was effective. If not, we'll make changes as we go, all the while making sure our TDs know exactly what is expected!
Currently, we have over 145 active travel directors located across the United States that speak multiple languages. Take a look at the breakdown.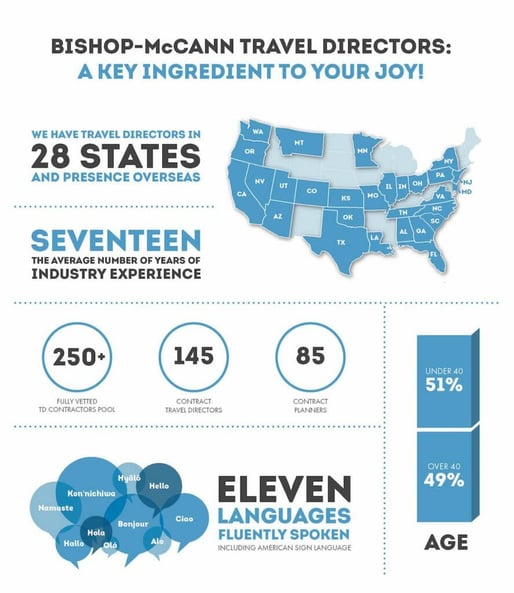 What sets Bishop-McCann's travel directors apart? Well, we only hire experienced people, we train them well, and we treat them like family. Paula Cuisinier, one of our long-time travel directors, describes Bishop-McCann this way:
"BMC as a company produces and provides on-site staff with the best of specs, working agendas, and information, so we can complement the planner's efforts versus trying to figure out things on site—on the fly. Working for BMC, I feel valued and appreciated. I feel like part of the bigger picture to meet client exceptions, exceed them, and preserve relationships. I guess that describes a family."
Our goal now, as it has always been, is to keep finding these multi-talented, skilled individuals to add to our growing team as we work together to make each corporate event we plan a success.