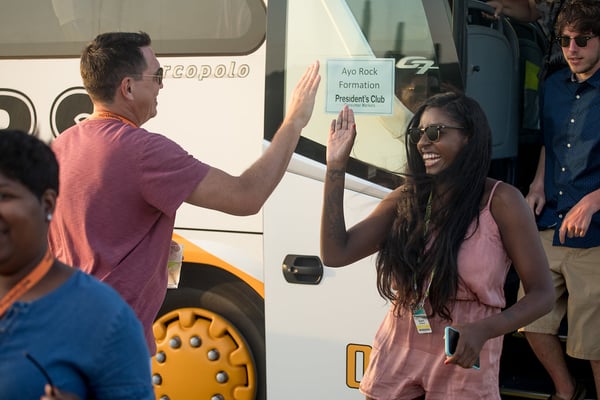 Even the best corporate event planner can't be everywhere at once. That's why at Bishop-McCann, we engage travel directors (TDs) to help us manage the details of each event we plan, and they are incredibly important in our business. A great TD is not only part of a corporate event planner's support team, but they are also a true partner, helping make any corporate event memorable in all the best ways!
Quick Links
What Is a Travel Director?
Contrary to their title, travel directors don't just handle travel, though that can be a part of what they do. As you can imagine, when events involve air travel, the logistics surrounding moving your attendees to their destination (and handling any travel issues that may arise) is a full-time job in itself. However, travel directors are also on site at your event to help provide personal touches and interactions with your guests while assisting with everything from the venue and food and beverage to off-site activities and meeting logistics.

Given the complexities of travel, travel directors are particularly adept at handling logistical issues, as well as creatively solving problems. In fact, one of their best assets is seeing potential problems before they happen and ensuring your event runs seamlessly. It's easy to see why event planners (and event hosts) consider them essential team members.
How a Travel Director Can Improve Your Corporate Event
In addition to ensuring your attendees move easily from arrival at your scheduled event and from venue to venue (if needed), travel directors add significant value to your event planning team. Whether you're planning an incentive trip or any kind of program that requires on-site assistance, having a travel director on your team is a smart move!

First, travel directors can help save corporate meeting costs that would normally be passed on to the client. They work with hotel staff to find the best solutions to challenges, including tasks like guest accommodations and conference room needs. They also work with food and beverage managers to ensure guarantees are met and food preferences or dietary restrictions are taken into account.

Additionally, travel directors add an amazing personal touch to your event that can help differentiate you and make attendees feel special. As we just touched on, ensuring dietary restrictions is important for making guests feel seen and respected. Taking it a step further, some travel directors even work to know the attendees' names and assist other staff members to make sure everyone has everything they need. In fact, having an extra point of contact means your guests know exactly whom to seek out if they have a concern.

Having a partner with exemplary customer service skills makes the event experience memorable for your guests while making the corporate event planner's job easier. Ultimately, a travel director improves everyone's experience, offering excellent results and saving everyone time, money, and stress.
How Bishop-McCann's Travel Director Team Adds Value
At Bishop-McCann, our goal is to get the most experienced, skilled, and multi-talented travel directors out there. Each new TD we bring on goes through a rigorous interview process and a highly specialized orientation that explains how we work with clients, along with confidentiality, team introductions, and other on-site protocols.
We also survey all new TDs after their first program to ensure that our onboarding was effective. If not, we make changes as we go, all while making sure our TDs know exactly what is expected and how they can best assist our clients and us.
Currently, we have 200 active travel directors located across the United States that speak multiple languages. Take a look at the breakdown.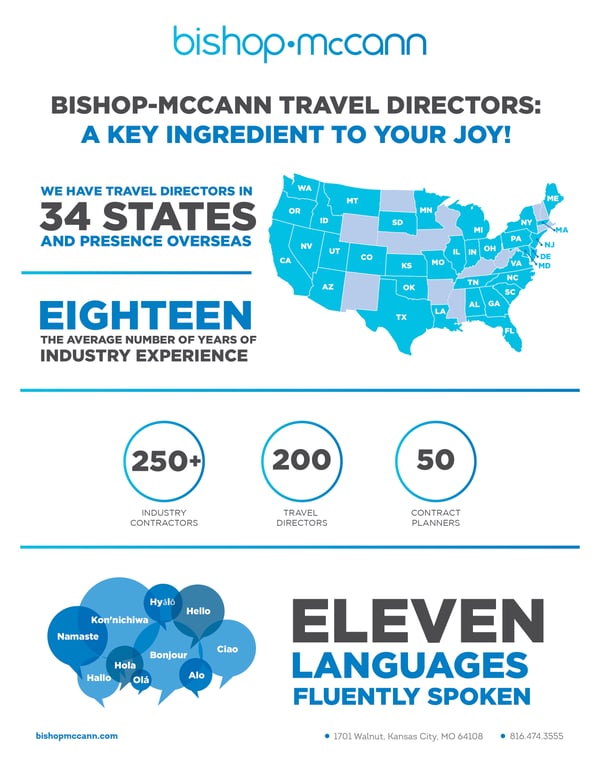 To understand what truly sets Bishop-McCann's travel directors apart, it's key to understand that we start with expert recruiting and interviews. At least twice a year, we interview prospective TDs and send our favorites to meet with our program managers to determine if they're a good fit with our team.

We only hire those with experience. Then we train them well, and we treat them like family. As Paula Cuisinier, one of our long-time travel directors, notes, "BMC, as a company, provides on-site staff with the best of specs, working agendas, and information. We complement the planner's efforts. Working for BMC, I feel valued and appreciated. I feel like part of the bigger picture to meet client expectations, exceed them, and nurture relationships. I guess that describes a family."

Of course, those mirror our core values, and as a result, those same values are translated to our event hosts and their attendees. It's the Bishop-McCann difference and how we ensure your event stands out among all others. Our goal now, as it has always been, is to keep finding these multi-talented, skilled individuals to add to our growing team as we work to make each corporate event a success.

If you're ready to talk about how Bishop-McCann and our team of travel directors can help you plan your next big corporate event and leave a lasting impression on your guests, reach out to us today. We're ready to talk, plan, and bring you and your attendees JOY!