Several of our associates love and use Adobe Creative Cloud literally every day. It's an amazing platform that provides software tools for graphic design, video editing, web development, and photography, along with a set of mobile applications and some optional cloud services. And if you didn't already know, Adobe MAX is their annual conference (free when attending virtually) designed to help Adobe present new developments in its suite of applications and to build a community of creative professionals. However, Adobe MAX isn't just a tech conference, and it's not just for professional creatives and Adobe Creative Cloud users. It's by and large a creative conference. There's something for everyone who attends Adobe MAX, and it is an open invitation to anyone who wants to explore their creativity.

Bishop-McCann sent two associates from our creative and production department: myself (Julie Hynek, lead graphic designer) and Adam Kaleikau, graphic designer. Interestingly enough, when you send two graphic designers from the world of event planning, they look at a software conference from a very different creative lens. Learning not only creative tips like photo editing, graphic design tips, and video editing skills – and even the future of 3D content – but also picking up unique perspectives on large, imaginative, and innovative conferences.

Being a creative conference, Adobe MAX is full of creative content and creative event planning. We're here to dive into some of our favorite elements, including activations and installations, and how to apply them to your corporate event.
Quick Links
Event Activations and Installations at Adobe MAX
If you haven't incorporated what the events world considers an "activation" at your corporate event, then it's time to suit up. We define activations as a marketing initiative that promotes your event and creates the WOW factor that leaves your attendees inspired and excited while remembering what occurred at the program.
Have you ever been to Disney World (you either love it or you hate it – we get it) and been asked to take a picture at an established photo spot? This is, for all intents and purposes, a very basic marketing activation. It not only gets you to stop and capture a memory, but likely you will later post to social media, which consequently, promotes Disney World (and in your case, hopefully your corporate event).
However, event activations should go far beyond a simple photo opportunity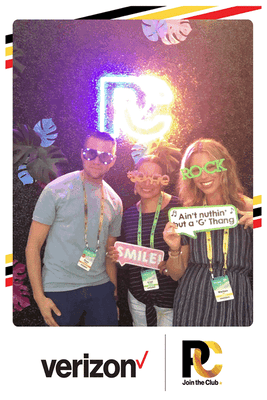 (though those are always fun – check out this GIF opportunity at one of the past President's Clubs we created). Take time to think about the demographic of your audience and what they may enjoy. For Adobe MAX, attendees are artistic individuals who likely create every day in both their personal and professional lives. They are also typically very hands-on individuals, being able to see both the big picture while capturing minute details. So in order to captivate their audience, MAX focused on immersive, interactive activations that left an impression and allowed event attendees to express themselves.

MAX really maxed their creativity game by installing:
Interactive sequin walls
An express yourself opportunity through glow-in-the-dark paint on a sculpture
An interactive installation where attendees pulled the drawer, twisted the knob, and opened the box to obtain a flashy, blinky prize
An immersive confetti room (talk about posting to social media!)

But event activations don't have to be limited to fun, hands-on activities and Instagrammable moments. Consider activations existing during food and beverage service as well.

MAX really served food by incorporating:
Various dessert bites and bars scattered throughout the MAX Bash
A build-your-own ice cream treat station
A cookie bar food truck (sign me up!)
Popsicle pop-up station during a conference break
Something you may or may not think is considered an event activation but shouldn't be dismissed as an opportunity is event speakers and entertainment. There's a reason the concert and event promotion industry is expected to be $55.9 billion in 2023 and why speakers and entertainment are vital to tying your event messaging and theme together. Listening to the spoken word or immersing yourself in music can be an event in and of itself.
Considering their audience demographic, MAX incorporated several speakers and entertainers, including:
Concert with 21 Pilots on the top of a parking garage to end MAX Bash

Steve Aoki performance; it was interesting to hear from him during the keynote session earlier that day, then see him in his element performing that evening

Jeff Koons (inspirational keynote speaker who showcased his iconic Balloon Dog sculpture and monumental floral sculpture puppy during the inspirational keynote)

Pastry artists worked to combine two aspects of Jeff's iconic works (Balloon Dog structure plus the florals from the sculpture puppy) into their final piece as attendees watched them create florals out of icing on a dog mural. While subtle, it was a nice way of tying an activation at MAX Bash back to a speaker's concept discussed earlier.

A wide range of speakers from painters, movie directors, photographers, and music artists shared their industry passion and insights during the inspirational keynote to connect with the various creatives in attendance

Lastly, consider the flow – feng shui, if you will. Seating and arrangements can play a huge part in achieving the right feel for your activations and program. At MAX, they incorporated:
A variety of soft seating throughout the activation spaces (neon chairs, glow chairs, ice-cream-themed seating, grass-covered seating, etc.)

A great use of space with multiple locations in the same area, making each space feel like a new event experience

Spinning neon lights over a seating area to attract attendees to engage in that space

Bean bags scattered throughout the session and breakout areas for soft seating lounge areas

Extra padding under carpet in the creative park, in lounge areas, and at the MAX store (in areas where they wanted attendees to spend time).
How to Create Immersive Event Activations for Your Audience
So now that we've seen what MAX has done, let's take a little dive to see how these immersive activations look at your corporate event. Check out what Bishop-McCann has done for our corporate event clients to boost the wow factor and create event experiences like none other.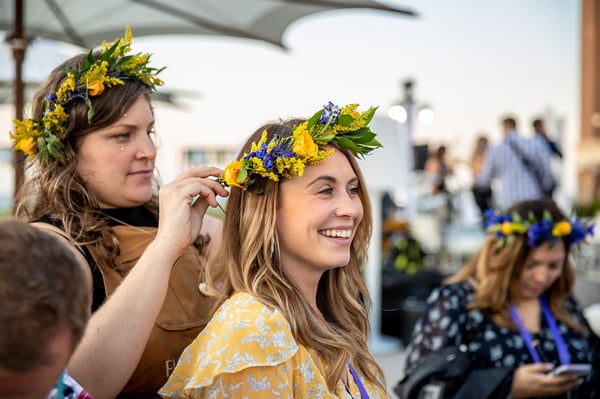 Event Activations
As you probably have already realized from reading how Adobe incorporated activations, there are a multitude of ways to create these kinds of experiences at your event. One way that we've accomplished this was through gifting activations. For example, we created a "Get your Kicks on Route 6 Choose Your Sneakers Stand" at one of G6 Hospitality's conferences. At this station, attendees picked up their own pair of Converse that could be worn throughout the rest of the event.
On a smaller scale, one fun activation we've included in the past was a flower crown station. Here, attendees could build their own personal flower crown, which created a fabulous photo opportunity (as you can see from the image above). At Blaze Pizza's franchise conference, our team incorporated a number of event activations, such as interactive food stations, a custom t-shirt press station, and a live DJ with a graffiti backdrop.
For even more opportunities to snap your picture, one of our events incorporated a photo station where attendees posed in a photo station that appeared to put them on the cover of a magazine. One unique activation we've done in the past at Expedia's explore event was an experience called body marbling, where attendees got to color their bodies in bright, mesmerizing patterns by dipping their arms in swirled paint to create bright, mesmerizing patterns. Just look at how mind blown the attendee below was by the process!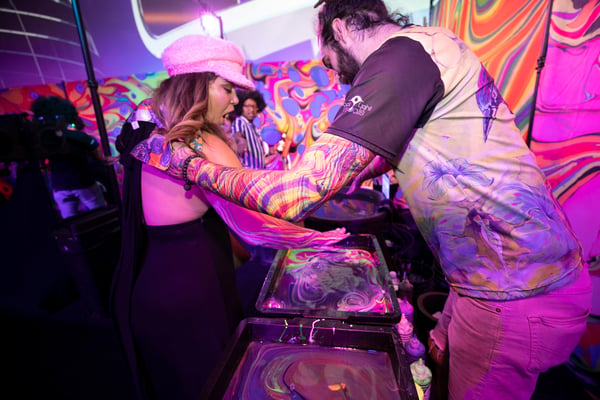 Event Speakers and Entertainment
While activations are one way to ensure guests are engaging with your event, speakers and entertainment are another key to ensuring they are immersed in the event experience. Take one of our past Verizon events for example. We had Katy Perry perform, adding to the WOW factor. But these kinds of experiences aren't limited only to in-person events. We put on a virtual Verizon incentive program that had big name speakers, such as Daymond John, an investor on Shark Tank, and José Andrés, a world-renowned chef. With both of these speakers, participants were able to attend a master class led by each industry powerhouse.
Another one of our favorite ways we incorporated immersive entertainment was by having a Price is Right game night at Verizon's President's Club. Utilizing the Price is Right touring game show, attendees were able to participate in their very own Price is Right game, winning trips and other prizes along the way. The attendees loved it, and we had a blast creating so much JOY!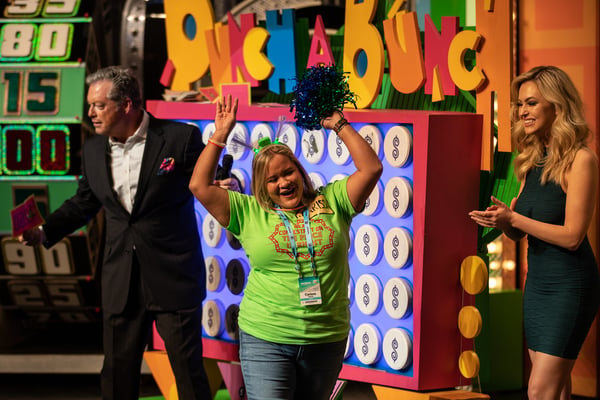 Food and Beverage
Something you may not have even considered elevating is your attendee's food and beverage experience. There are a multitude of ways to up your game when it comes to what you serve your guests, but one of our favorites from our past was our "around the world" themed dinner. By utilizing projection mapping and food from various countries, we were able to create a once-in-a-lifetime experience for attendees, making them feel as if they journeyed across the globe while dining. We created this event experience by projecting different cities on the walls of the all-white room in which the dinner took place, and as the projected scenes changed, the courses from the corresponding cities were served. First, attendees "arrived" in Spain for tapas, then entrees in Italy, and finally, France where an Eiffel-Tower-inspired dessert was served. This immersive dining experience is one that the attendees won't soon forget (which is always the goal).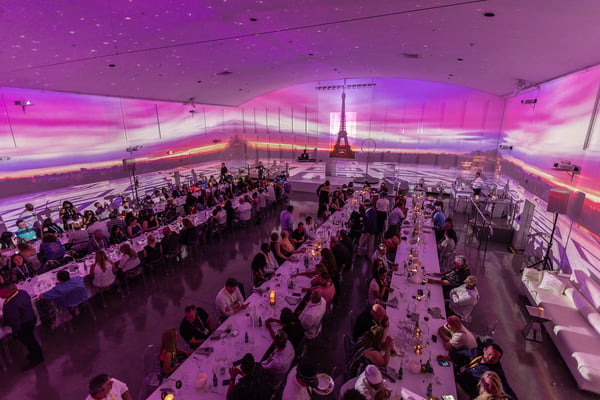 Top Activation Tips to Consider for Your Corporate Event
Consider your demographic.

Take a deep dive into your demographic, and consider things that might excite them. For example, are the majority of your attendees 55+? Consider entertainment that will resonate (80's bands, 70's disco night, etc.). In addition, consider the activity level of your average attendance. MAX recognized the need for hands-on creativity at each of their events and activations. Consider the same for your audience!

Think through where you want your attendees to spend their time at your conference.

Do you have a trade show that needs high traffic volumes? Bring event activation stations into the trade show or encourage vendors to create exciting booths to engage the audience. The Creative Park at Adobe MAX featured vendor booths, but it also had key attractions to help bring attendees through the space. For instance, one day you could snuggle with puppies, and another day featured artwork in the pop-up gallery.

Consider branded moments – for both you and your sponsors.

Take a minute to consider the Instagrammable and Tweetable moments. What do you want your attendees to remember when they look back at photos from the conference?

Take time to envision room flow.

Hygge

is real. The elements of your conference need to flow from room to room, speaker to entertainment, and from food stations to seating arrangements. Don't forget to consider signage. Extra large conference? You need extra signage. No one has ever complained about overcommunication!

Don't forget the inconspicuous.

Think through some of the elements in your program where there may be opportunities to surprise and delight. Think about aspects like food and beverage, registration and attendee lounges, or even areas like restrooms. These are things your attendees know will be at your program but could be elevated to a completely different level. Adobe MAX considered this when they downsized the registration area after the day-one rush and flipped the space into a lounge area where attendees could express themselves through colorful doodles in between sessions.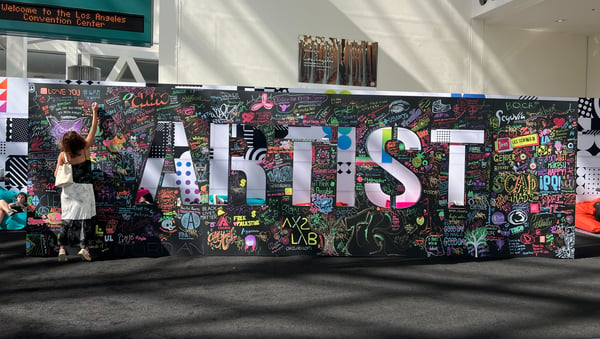 Stepping away from this event as graphic designers for an event planning agency, we realize that creating these kinds of captivating experiences for attendees is becoming increasingly important for experience-first events. That's why we took the time to break down some of our favorite activations and installations at Adobe MAX, along with sharing tips to create immersive activations for your attendees. We hope this blog acts as a way to spark ideas for event activations, and if you want help from experienced event professionals, reach out to Bishop-McCann, so we can make your next event unforgettable!