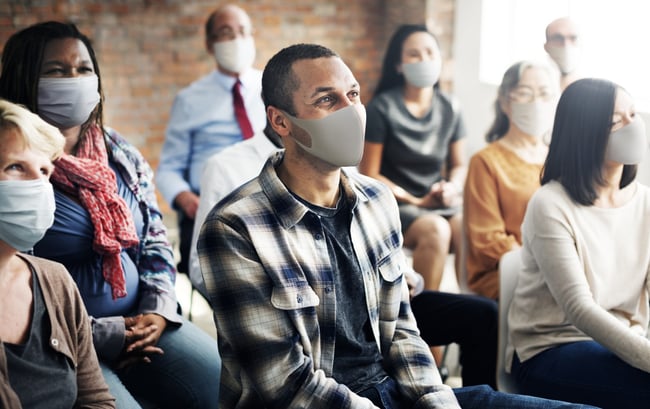 One thing we know in the events industry is to expect the unexpected. While we prepare and plan, we are also keenly aware of the potential for something to throw the proverbial wrench in the works.
Often it's a single challenge at an event that requires fast-thinking and agile problem-solving, but what does one do when the entire industry comes to a halt as it did during the early weeks and months of the COVID-19 pandemic? We do what we do best — we adapt. And, moving forward, that's what we continue doing.
Quick Links
The Events Industry During COVID
In March of 2020, the WHO declared COVID-19 a global pandemic, which triggered a slow but steady trickle of cancellations that turned into an avalanche as the pandemic spread. Large events from concerts and sporting events to trade shows and conferences were canceled, and even families began to cancel major gatherings.

However, as sports showed us first, the show must go on. With fake crowds and piped in applause, sporting events were among the first large events to return and much was learned during that period (from "bubbles" and quarantining to testing protocols). While these workarounds meant fans could still watch from home, in-person events were still not occurring. Many businesses and industries were not able to return to in-person meetings or gatherings.

Ready or not, the pandemic didn't stop the need to meet, share, interact, and celebrate. In response, many events moved to virtual spaces. With the use of technology and applications like Zoom, virtual events began popping up in every arena. From regularly scheduled business meetings to concerts, conferences, workshops, and weddings virtual was a reality by mid to late 2020.

The rise of the virtual event opened the door for event planners, inviting them to reimagine events. For the latter half of 2020, virtual events dominated the space and revealed new ways for businesses to create the shared experiences that make in-person meetings and events so valuable.

In fact, virtual meetings and events have been so popular (enabling wider audiences and greater accessibility) that hybrid events will now be a major part of the event planning industry. Still, nothing can replace the benefits and impact of an in-person meeting or event.
Virtual vs. In-Person Meetings
While virtual events have the potential to expand audiences, facilitate interactions and connections, enable data collection, and save money for attendees and hosts alike (among other benefits), in-person meetings and events can leave a huge impression on attendees that can be difficult to replicate in a virtual world.

First, in-person meetings and events open the door for casual interactions and engagements that don't always occur online. When people are actually in an event space, enjoying a snack or coffee, impromptu conversations often happen. Similarly, at a convention or expo, presenters have access to individual attendees who may only seek out the companies they know well in a virtual space.

While both virtual and in-person meetings run the risk of incurring technical difficulties, for a virtual event, those tech issues must be monitored carefully. Staying on top of tech trends to assist and facilitate your event is essential.
Finally, though virtual events create audience opportunities, B2B business events contribute $101 billion to the U.S. economy and are often a boon to a variety of businesses, not just the host. From food and transportation to venue rental and entertainment, in-person events generate revenue in a way that virtual events typically do not (the virtual event industry worldwide was valued at $94 billion).

Of course, the future is looking a bit different. Hybrid events promise the best of both worlds and will clearly be a part of the event industry's future. And while many people (not just in the events industry) are eager to return to in-person events and meetings, there are still safety factors that must considered.
Why Event Safety Matters
Once the COVID-19 vaccine became widely available, hybrid events increased in popularity. However, in-person events still cause hesitation for some. However, we've seen the return of live sports, Broadway, movie theaters, and concerts, and that has many people hopeful.
Still, for attendees, safety is important. For people to return to in-person events, COVID precautions are necessary. While many are eager to get back to live, some have suggested that they would do so only under certain conditions. For example, respondents in the UK have said they would only travel or attend events in their home country. Still, others suggested they would need further protocols in place.

While the arrival of the Delta variant slowed attendance, many events are continuing and audiences are returning. However, venues and promoters are taking COVID precautions seriously, and many are doing so very successfully.

How to Safely Return to In-Person Meetings and Events
The CDC has regularly updated its guidelines for events and gatherings with the intent of reducing the chances of COVID spreading easily. While outdoor events have an added advantage, concerts and the entertainment industry seem to be leading the way in terms of safety and mitigation.

For example, both Live Nation and AEG are requiring proof of vaccination or a negative COVID test for entry into their venues and events. Recently, Chicago hosted a crowd of over 350,000 attendees at Lollapalooza, which many suspected would be a superspreader event. However, a reported 90% of attendees were vaccinated with just a .04% positivity rate among attendees. Further, 12% of attendees reported the concert as the reason for their vaccination.

Of course, outdoor events (where transmission is rare, according to research) may make guests feel more comfortable. However, it will be necessary to make guests and attendees feel safe, particularly when events are held indoors.

In short, with mitigation and preventative measures in place, event planners can keep attendees safe while people return to in-person events. In fact, Americans have suggested they'd feel comfortable with in-person events and gatherings if the following precautionary measures are in place:
Limiting guests or expanding space/room
Proof of vaccination or negative COVID test result
Mandatory masks
Ticket insurance for full refunds (in case of illness or a COVID hot spot)
Temperature check prior to entrance
Among those protocols, experts agree that masking, social distancing, limiting numbers (especially indoors), and requiring proof of vaccination are all effective measures. However, they caution that a negative test isn't enough and masking should reinforce all efforts. Additionally, both indoors or outdoors, offering hand washing and sanitizing stations also contribute to creating a space that prioritizes safety.
However, plans for a live event should be a bit more comprehensive than those measures. Hosts and venues must fully understand the risks of COVID transmission and the responsibility to mitigate those risks. Every effort must be made to proactively control those risks. That means event planners, venues, hosts, and all parties involved in planning must consider space, crowd control and movement (for larger events), number of attendees, PPE, enforcement of policies, and employees/staff training.
Additionally, those risks and safety efforts should be clearly communicated to attendees, vendors, staff, and anyone present at the event. Similarly, protocols should be posted.
While all of these factors must be considered when planning a live event, in-person events are definitely possible in 2021 and beyond, and as more planners become familiarized with the necessary mitigation and safety efforts necessary, these type of events will continue to become more prevalent. People miss connecting, so if you are able to create a safe space for them to meet face to face, many will jump at the opportunity.

If you're planning an event, whether virtual, hybrid, or live, the team at Bishop-McCann is ready to bring your program to life. Our existing partnerships, as well as our planning and logistics expertise, mean we're uniquely positioned and prepared to assist you in your event planning needs. Get in touch with us today, and let's start planning!