At the onset of work from home during COVID-19, many companies expressed concerns about drops in productivity. In most cases, those concerns never came to fruition, and workers continued to work remotely. In fact, many companies reported increased worker productivity and satisfaction. However, research demonstrates a noticeable gap in employee engagement, especially as measured by employee loyalty. For many, this is deeply concerning, as by all other measures, remote work has been successful and is here to stay.

So how can you improve employee engagement? Thankfully, corporate event planners are masters of engagement. We can take boring, basic ballrooms and turn them into exciting attendee experiences that leave lasting impacts. So let's take a look at what you can do to captivate remote workers and boost employee engagement through engaging events.
Quick Links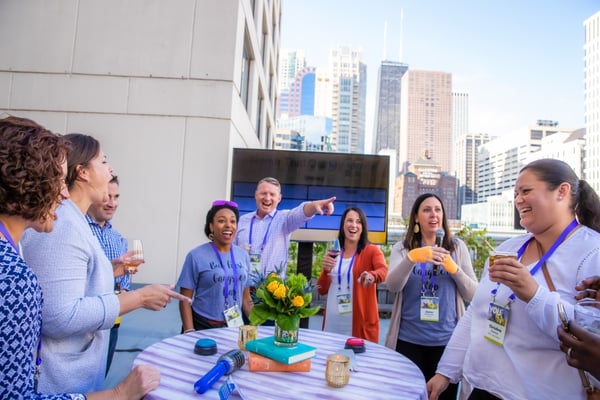 Work From Home: From COVID-19 Measure to Lasting Practice
Due to our response to business needs during the pandemic, many began to work from home with the expectation that we would, eventually, return to the office. Complications, delays, and employee expectations changed that, and we soon heralded remote work as part of the new working world.

Now the labor landscape has changed a bit; 58% of Americans report that hybrid work is an option for them with just over a third of respondents saying fully remote work is an option. It's worth noting that 87% of respondents to McKinsey's American Opportunity Survey stated that, despite the type of job they performed, they appreciate remote work opportunities.

As job seekers and top talent start to demand flexibility in where and when they work, remote opportunities will continue to grow. And while there are significant benefits for remote workers, employee engagement remains an issue.
Why Engaging Remote Employees Is Important
Millennials and Gen Z now make up a majority of the modern workforce, so finding ways to both attract and retain these workers is vital, especially in a competitive marketplace. Because they are looking for greater flexibility and a better work-life balance, 70% are considering leaving their current positions. With this in mind, remote work is often considered a way to attract members of these generations. But is this benefit alone retaining them? Not necessarily.
There's a gap between how satisfied employees are and how long they stay with a company, and Gen Z and millennials are known for job-hopping. One reason often given for changing employers is that they want to be "part of something bigger," and understanding one's role within an organization in order to feel part of it is intricately tied to engagement. Focusing on employee engagement strategies can help you keep your talent while your employees' job satisfaction can help you attract even more. In addition, employee engagement impacts loyalty, creativity, productivity, and customer service.

The good news is that corporate events that utilize carefully considered strategies can radically change the employee experience and help you grow.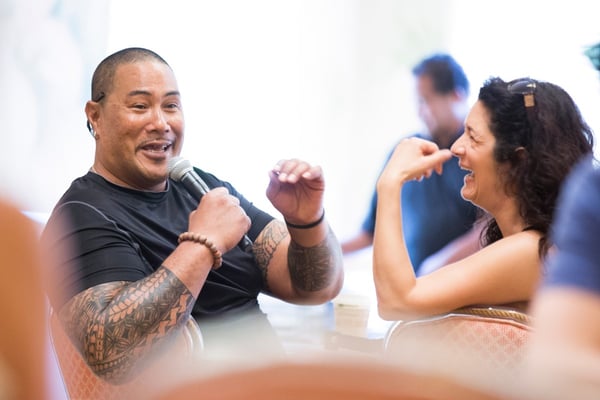 Challenges to Remote Employee Engagement
Employee engagement is not an easy endeavor, and there are numerous approaches available to increase participation in the workplace. However, some strategies are simply more effective than others.
One of the most significant challenges is working with a multi-generational workforce. While Gen Z and millennials readily embrace digital engagement, older workers may be more reluctant to do so. Another issue becomes apparent when attempting to find activities that resonate with a diverse range of employees.

Overcoming these challenges is often hindered by other issues, such as:
Poor communication from management, which can make employees feel isolated and disconnected.
Failure of management to connect one-on-one with employees can make them feel invisible or insignificant.
Organizational barriers to engagement opportunities like drawn-out approval and review processes.
Insufficient growth opportunities for employees, leaving them without clear career goals and little motivation to engage in their roles.
Lack of

employee recognition

and rewards programs

,

which can demoralize employees and contribute to feelings of isolation.
Thankfully, a corporate event that implements targeted strategies aimed at bridging the engagement gaps and fostering a more connected remote workforce can help you overcome these challenges.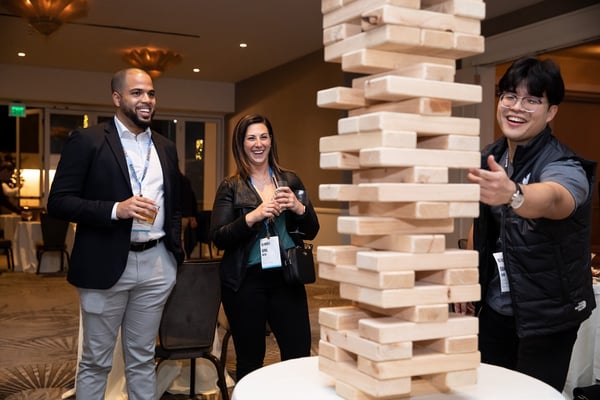 Corporate Event Strategies to Engage Remote Employees
Corporate events serve as an excellent platform for fostering engagement, boosting employee morale, and encouraging collaboration among colleagues. This can be especially important if a portion of your employees work from home. While events create a memorable experience for participants, the true value lies in the lasting impact they can have on team dynamics and overall culture.
A good event planner's bag of tricks includes a wide variety of tools, tips, and strategies to engage attendees. However, when the goal is to engage remote workers beyond the conference, thoughtful consideration should be given to selecting approaches that last beyond the event dates.
Incorporate Team Building
Integrating team-building activities into a program requires thoughtful planning and consideration. Begin by identifying the specific goals you want to achieve. Then choose activities that align with those desired outcomes. For example, if you want to enhance communication, opt for activities that encourage effective listening and clear expression of ideas. Make sure you consider your attendees' physical abilities, interests, and backgrounds.
When dealing with large numbers of remote workers (since many of these individuals may never have met in person), incorporate icebreakers at the beginning of any session to help guests break down barriers, get to know each other, and feel more comfortable collaborating.
One of the most important components of team building happens after the activity is over. Ensure that you schedule debriefing time to reflect on the experience and extract key learnings. This provides an opportunity for participants to discuss their observations, share insights, and connect the lessons learned to their daily work.
Personalize Swag
The key to great swag is to make the bags memorable and valuable to attendees. If you have the opportunity, send out pre-event surveys to gather insights into attendees' preferences. This can help you tailor the swag bags to their specific interests. You could also set up interactive swag stations where attendees choose their own items. This creates a fun and engaging experience. Another option is to offer some customizable options for certain items, such as letting attendees choose their preferred color or size. This gives them a sense of control over what they receive.
Employ a Reward and Recognition Program
If you don't already have a rewards and recognition program, start one. Celebrating both team and individual wins makes employees feel seen and appreciated. While individual awards allow people to have the spotlight, team rewards build connections within departments, strengthening their ability to be creative, collaborative, and trusting of one another.

A culminating event for your reward program might be an incentive trip where team members and accomplishments are celebrated. These experiences are one of the most exciting rewards for employees. When tied to a specific goal or milestone, incentive trips can drive both motivation and engagement.

Though the destination will be the highlight for attendees, getting your team there can also involve smaller rewards from gift cards and certificates to more local experiences. Employees value recognition for their efforts and achievements. This is especially true for remote workers, who can often feel as if they are working in isolation with no one truly noticing their dedication. A rewards program acknowledges their hard work, making them feel appreciated and valued as part of the organization.
Create Spaces for Leadership to Meet One-On-One with Employees
Whether informal or formal, meeting individually with employees can help them feel appreciated and supported. These meetings provide the time and conversations to build relationships and connections that help individuals succeed in the workplace. People who feel valued and seen are more productive, more engaged, and more likely to foster that in others. It's contagious.

At your next corporate event, create spaces for leadership to be available to attendees. These can be both formal (a meet and greet) and informal (a social hour) meetings, but provide a chance for attendees to get valuable face time with leadership.
Set Up Mentorship Programs
One of the most successful aspects of franchises is their mentorship programs. This is a tool that can be successfully implemented for remote workers to ensure they have the support necessary to become essential elements of your organization. Establish a mentorship program that pairs remote employees with experienced mentors within your company, and use your event to kick off the program. Meeting mentors face to face will help build relationships that can prove to be a key element in engaging employees. This not only supports professional growth but also helps remote workers feel more connected and valued.
Of course, corporate events or even destination meetings are a great way to excite your employees. Meeting in person is invaluable when it comes to team building, creating shared memories and experiences, and allowing your employees to connect with one another in a meaningful way.

With the right event planner, corporate events can be an unforgettable experience that bonds your employees–boosting loyalty, engagement, creativity, collaboration, productivity, and more. If you're ready to plan the ultimate engagement event, reach out today, and let's get started!