Engaging employees at home isn't something we've had to worry about before.
COVID-19, the novel coronavirus that has penetrated the entire globe, has shifted the way we work, learn, engage, and network. With bans on gatherings over ten people and many states and municipalities enacting shelter-in-place orders, the ability to gather together with our colleagues for corporate events has seemingly halted. Teams are working from home in unusual circumstances these days, but the need to bring them together to keep them engaged—while continuing to learn and build culture—still exists.
Here are a few fun corporate event ideas to help you bring elements of cancelled or postponed in-person corporate events to your employees at home.
Bring Content to Them
If you have a new product or marketing promotion you were going to debut at your event, have your speaker(s) share these messages virtually to your team. This can be done live with software like Zoom or Skype for Business, so employees can ask questions in real time.
PRO TIP: Record these sessions to distribute to employees who cannot join live. Many employees are now learning to work from home with small children that take supervision or older children who they are now home-schooling. Flexibility and understanding are key!
Send Swag
Sending care packages filled with the swag your employees would have received at your event can give them an extra morale boost and show that you care. Plus, because they are branded, it reminds them of their company and keeps their passion for work ignited.
Set Up Virtual Networking
A key component to any in-person event is the interaction with other employees. Set up virtual networking meetings to allow employees to ask each other questions, discuss work projects and issues, and just catch up with one another.
PRO TIP: Set up multiple virtual networking events on different days and times to help accommodate those working with more fluid schedules.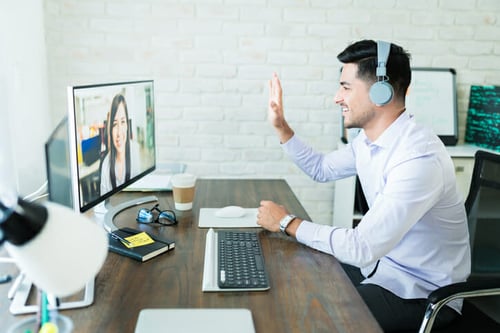 Even in times of uncertainty, hosting (virtual) corporate events is still a vital piece of your organization's business. Let Bishop-McCann know how we can help engage your employees from home, and check out our virtual offerings here!