If there's one thing most of us can agree on, it's that 2020 has been tough. From the harsh economic downturn causing a spike in unemployment to becoming accustomed to the new safety protocols necessary to take on the outside world, it's been a difficult year for most. Much of our lives have been affected by this pandemic, and travel was no exception. In a time when people would love to have an escape from the real world by traveling to a far-off location, most people have ceased travel in an effort to stay safe. But is traveling during COVID a huge risk to take? Or is it safer than we originally believed?
According to a Harvard study, it may be safer than you think. The study states that, "the universal use of masks in settings such as those on aircraft may reduce infection risk from respiratory particles to less than 1 percent." Due to their effectiveness, the study goes on to explain the importance of masks being worn from the beginning to the end of the travel process. This importance is demonstrated through a real-life example cited within the Harvard bulletin. On a 15-hour flight with 350 passengers, 2 COVID-positive passengers reduced the transmission risk by wearing their required masks. The safety measure resulted in no other passengers contracting the virus. This is reassuring information when considering air travel. One concern with coronavirus is prolonged exposure to others, so knowing that two infected people spent 15 hours in close contact with hundreds of passengers without infecting others is a promising sign.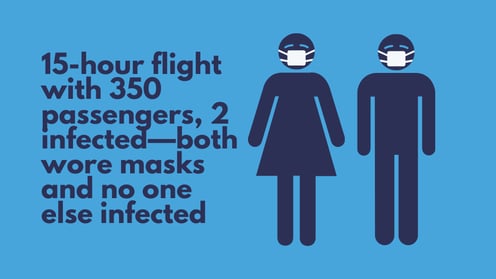 Furthermore, the Harvard study discusses other measures that can be taken while traveling during COVID in addition to wearing masks to further reduce the spread of the virus. Additional precautions taken by airlines include the "increased ventilation with HEPA filtration in the aircraft and disinfection of surfaces." Filtration of air on a plane is an important aspect to keep in mind when deciding whether or not to fly. Every two to three minutes, the air in a plane is replaced with new air, which helps remove contaminated air particles. And according to a report in CNN, "most planes are fitted with air filters designed to trap 99.99% of particles." This is a huge aid in stopping the spread since the virus is most commonly spread through respiratory droplets. A study conducted by the United States Department of Defense concluded that an airplane's filtration system effectively removes air particles containing the virus.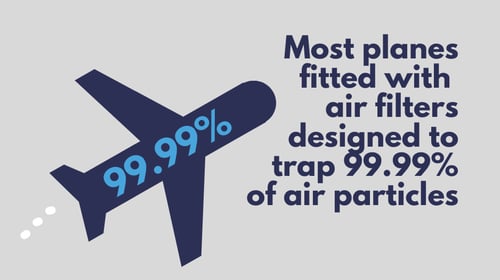 The efficacy of masks and an aircraft's air filtration system was demonstrated further on a flight from Taiwan to the US. The flight had 328 passengers, including 12 who had coronavirus and were symptomatic. However, when tested after the flight, all crew members and other passengers were negative. This isn't to say that catching the virus is impossible during flights. While there is risk, just as there is for most activities that involve exposure to other people, the risk is low when masks are worn and people follow safety protocols.
People wary of traveling during COVID should also consider choosing an airline that leaves the middle seat open, increasing the distance between passengers. A professor of statistics at the Massachusetts Institute of Technology's Sloan School of Management found that the risk of obtaining the virus on a US flight that does not leave the middle seat open is around 1 in 4,300, while the risk of contracting it with the middle seat open is 1 in 7,700. This reduces the risk greatly and is a definite factor to consider if you are concerned about boarding a flight.
Though there is still much that is unknown about COVID and we are just beginning to understand this life-changing virus, recent research does point out that flights have a low risk associated with them when individuals approach the process safely. When masks are worn, distance is kept, surfaces are disinfected, and the air is filtered, people should have much more peace of mind boarding their flights.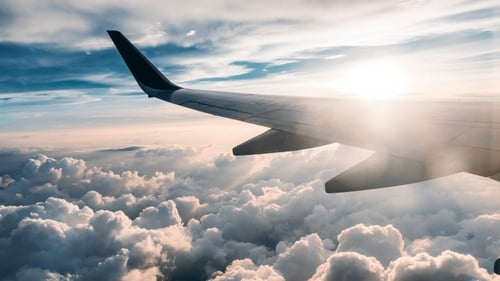 Looking for specific information on how you can reduce your chances of contracting coronavirus when flying?
Travel during COVID safely by following our list of tips below!
Wear your mask through the entirety of the travel process
Maintain six feet of distance when moving throughout the airport, boarding the plane, and exiting the aircraft
Try to avoid touching your nose, mouth, and eyes
If possible, book a flight with an airline that leaves the middle seat open
To increase precautions, wear a face shield in addition to your mask to protect your eyes
Use hand sanitizer regularly, especially after touching surfaces
If possible, avoid using the plane's restroom