If there's one thing most of us can agree on, it's that the last few years have been challenging. From the economic downturn and supply chain issues to adjusting to the varied safety protocols in different spaces and places, it's been difficult for most. Our lives have been affected and changed by this pandemic in ways that we have yet to realize, and travel (or lack thereof) was among the biggest changes.
Just when people needed an escape from the real world that traveling typically offers, most travel halted in an effort to stay safe. But is traveling still the risk it was a year or two ago? Many people have resumed air travel, pleased with the precautions taken by both TSA and airlines, so let's take a look at how you can continue to keep yourself safe and return to travel for both business and pleasure.
Quick Links
The Current State of Travel During COVID
When COVID-19 first appeared on the scene, we understood very little about transmission or even how contagious the virus could be. Now, two years into the pandemic, we have a far better grasp on the science of transmission and enough research to understand the best ways to protect ourselves. In addition, we understand now that air travel is among the safest forms of travel during the pandemic.

Early research indicated the same. On a 15-hour flight with 350 passengers, 2 COVID-positive passengers reduced the transmission risk by simply wearing their required masks. The safety measure resulted in no other passengers contracting the virus. In fact, because of airflow and filtration requirements on airplanes, most viruses don't spread easily on flights. In fact, according to a CNN report, "Most planes are fitted with air filters designed to trap 99.99% of particles." Similarly, a study conducted by the United States Department of Defense concluded that an airplane's filtration system effectively removes air particles containing the virus.
However, one remaining concern with the virus is the prolonged exposure to others in airports and security lines, as well as boarding and deplaning. Therefore, it's crucial in these areas that travelers adhere to the COVID-19 precautions set forth by the airlines, CDC, and TSA.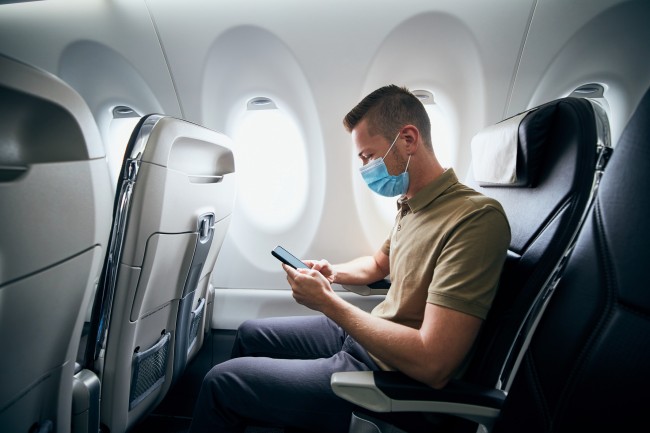 CDC Recommendations for Travel During COVID
As COVID-19 progressed, the CDC updated its information and provided advice to help individuals avoid contracting and transmitting the virus. When it comes to travel, the CDC recommends:
Delaying travel until you have been vaccinated.
Testing for COVID-19 within three days of travel if unvaccinated, as well as upon arrival at your destination and home.
Checking your destination for Coronavirus updates and alerts.
Confirming airline and airport expectations for travelers and being prepared.
Wearing your mask over your mouth and nose when moving through indoor spaces during travel.
Washing your hands and using antibacterial hand sanitizer as needed.
Postponing travel if you are experiencing any symptoms or are feeling ill.
Testing before traveling to confirm your negative status if you are asymptomatic.
Remembering to protect yourself and others through social distancing and wearing a mask.
What Airlines Are Doing to Keep Passengers Safe
With the economic impact of COVID-19, many businesses suffered, especially in travel and hospitality. It should come as no surprise then that airlines were eager and willing to do what was necessary to help keep their passengers safe.

Skytrax has even set up a rating system to help travelers understand how major airlines are handling COVID-19 precautions and safety. To earn a five-star rating from their team, airlines must:
Demonstrate excellent airport processing standards, including contactless technology, customer handling, and social distancing protocols for check-in, boarding, and arrival.

Airline lounges must meet a high standard of cleanliness with efforts made to enable social distancing and safe delivery of both food and beverages.

Onboard cleanliness and cabin presentation must be excellent; may utilize UV sanitation, as well as scientifically supported mass disinfectant sprays and cleaners.

Catering systems must be adapted for the pandemic with reduced contact and enhanced food safety practices for meals and snacks.
However, many airlines are tailoring their COVID-19 precautions, so that means travelers will want to check with airlines regarding precautions and procedures. Much like the CDC and TSA, airlines are requiring masks before, during, and after travel. Further, many have instituted contactless methods of communication, check-in, payment, and changes. Additionally, airlines are asking travelers to complete checks ensuring they are not experiencing symptoms. Beyond that, each airline is offering different measures and protocols from reducing to eliminating change fees and more.
Many people were eager to return to travel as demonstrated by numbers at the end of 2021 and the arrival of holiday travel. Statistics show that even with the Omicron variant, travel had returned to 92% of 2019 levels. Airlines themselves would see a 184% increase in travel from last year. We're ready to return to family travel, business trips, vacations, and more. Given that the airports are crowded again, what's the best way to keep yourself safe while COVID-19 is still in the pandemic stage?
It's fairly simple. Follow the rules and guidelines set forth by the airlines, CDC, and TSA. They're designed to keep you and your fellow travelers safe. The most important element is ensuring that you don't travel when sick, you get tested before and after travel (especially if you're unvaccinated), and you take as many precautions as you can, from wearing a mask to washing your hands regularly. Also, don't forget to employ the tools the travel industry has instituted to assist you, such as contactless options.

Is your team ready to travel again? Ready to return to destination meetings or offer incentive trips? Our team is ready to help.

Bishop-McCann is a full-service event planner, which means we can handle everything for your event from strategy and production to venues and travel. If you're ready to plan an unforgettable corporate event, reach out to us today, and let's start planning!