Last week, I had the pleasure of experiencing my first Bishop-McCann Staff Retreat. This retreat brings our company together, from San Francisco to Chicago, into the heart of the Kansas City Crossroads. During this time, we reflected on the past year, conceptualized the year to come, and came together as a family to refuel our creative energy.
One of the things that this company holds close to its core is giving back to the community. With our headquarters being located in Kansas City, we chose to do our giveback activity at Harvesters - The Community Food Network. This organization is one of the largest in the area. Their goal is "to feed hungry people today and work to end hunger tomorrow." They assist 26 counties in northwestern Missouri and northeastern Kansas. Harvesters - The Community Food Network is able to provide food for over 700 nonprofit agencies, as well as some emergency food pantries, children's homes, homeless shelters, and others. Also provided by this amazing local organization are education programs in attempts to raise the community's awareness of hunger and nutrition.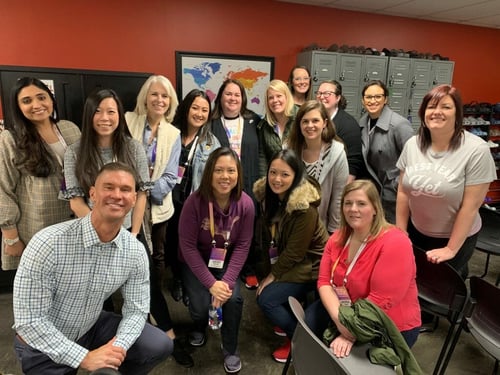 Bishop-McCann prides itself on creating JOY for those both inside and outside of our company. We focus on companies and organizations that truly make a valuable impact and continuously work toward a positive development in our world.
At Harvesters, our company split into groups of 20 to help package and distribute different goods. From paper towels to frozen chicken nuggets, this corporate event planning company got to work. Over 100 employees spent two hours volunteering and spreading JOY to the Kansas City community. I can't tell you how good it felt to be a part of something that was physically making an impact on the community that I live in.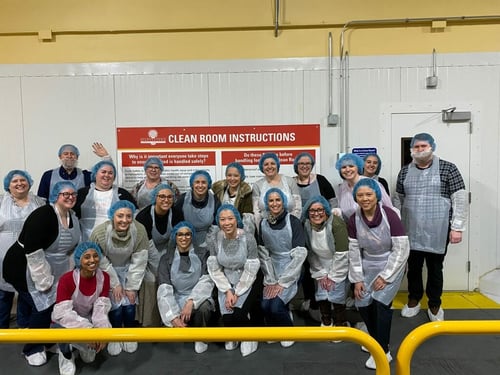 I can personally say that this experience has made a difference in my awareness of my community. Not only did it feel good to put forth an effort to better the society I live in every day, but it was also truly humbling. I believe it is easy to donate money or pledge a certain sum to a cause; however, giving your own physical effort is a special type of reward in and of itself. I think I can speak for all of Bishop-McCann associates when I say that giving back to Harvesters - The Community Food Network was a truly educating and gratifying experience. I urge you to get more involved with your community, in whatever way you can. No matter the size, you are making an impact.