Conference relaxation can be hard to find. With all of the sessions, note taking, walking, eating, and networking, sometimes you need to find a place to relax and be creative. I've been to a lot of conferences for Bishop-McCann, but recently, I had the privilege of attending Adobe MAX, the Creativity Conference, from November 4–6 in Los Angeles.
MAX is the annual gathering of more than 10,000 graphic, web, and multi-disciplinary designers; creative and art directors; film, video, and motion graphics pros; photographers; and creative leaders. The three days are filled with sessions, keynotes, hands-on labs, workshops, a community pavilion, and evening events, such as the welcome reception and MAX Bash.
Naturally, working for a corporate event planning company, I take note on unique ideas at the conference. What I thought was well planned was the conference relaxation stations throughout the community pavilion and conference space. Below, I'll discuss some of my favorite areas.
Creative Park
In the community pavilion, there was a "Creative Park," which consisted of various lounge areas and interactive activities. Oversized, multi-colored, mobile "CREATIVE PARK" letters made it an instant attraction. Increased padding under the carpet allowed you to instantly start your conference relaxation with comfort. A ball pit was available to jump in and let out your creativity. Triangular seats, beanbags, and hanging egg chairs allowed for additional seating. Charging cubes were placed throughout, so designers charged their devices while catching up on emails.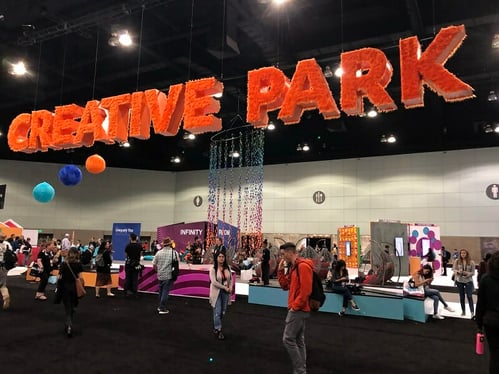 One of my favorite activities was the "My Creative Type" quiz. Attendees could take a quick quiz to discover their creative personality: the Thinker, the Adventurer, the Maker, the Dreamer, the Artist, the Producer, or the Innovator. Find the link to this quiz here. Let us know what type of creative you are (I'm the Innovator, Shannon is the Artist, and our sales friend, Devin, is the Producer)! What are you?
Puppy Love
The community pavilion partnered with Wags & Walks to host "Puppy Love Wednesday" where puppies were brought in for snuggles with attendees. Instant conference relaxation! The seating mimicked turf with bright dog statues scattered throughout. Information was available about Wags & Walks, which is a non-profit dedicated to rescuing homeless and abandoned dogs from high-kill shelters, helping them find their FURever homes.
Registration Re-Purposing
The installation to celebrate 20 years of InDesign was flanked with matching hot pink and light pink beanbags for an additional lounge area outside of the keynote ballroom. The registration area was re-purposed after day one to house multiple hammocks and oversized pillows. The conference space boosted lots of areas where attendees could decompress through soft seating options. I feel relaxed just thinking about it.