Nov. 14, 2016 - Recently Bishop-McCann in collaboration with one of its technology partners Consensus Online and the preferred medical content company were tasked by a leading HCP client on how to apply iPad technology to enhance a series of critical events. Below are the 9 client benefits that came from this successful engagement, which can be used as corporate event solutions:
Meeting materials distribution management which was positioned within a side panel including an interactive personalized agenda, speaker bios, floor plan, participant list, material supplementing the sessions and access to the gamification element. This model allows for last minute changes - making specific material accessible to specific delegates
Q&A support tied to attendees sending questions to the speakers during the presentations. Medics from the client side selected, organized and prioritized questions before these were sent to the chair iPads through our special moderator system - ensuring that the limited time for Q&A is spent in the best possible way.
Personalized notifications used to aid the event logistics such as when "Your next breakout session is starting and which room locations"
Voting and ranking questions during sessions which can be used as an interactive way to help maintain the attention of the participants and to reinforce learning.
Open ended questions pushed to participants that can be used during breakout session to spark reflection and capture insights, opinions, feedback and ideas.
Delivery and execution of meeting/breakout evaluations which speeds time to capture key event and sessions.
Gamification around quizzes which can be leveraged for interactive team challenges. During this meeting participants were asked to enter 4-digit codes from the iPad side panel to unlock questions and a series of multiple choice voting questions and/or open ended questions. For this meeting we saw excellent participation with more than 85% of participants visiting the data answering questions.
Going Green By including meeting material on the iPad to save on printed materials. It also makes it possible to accommodate last minute changes and personalize material available to individual participants.
Management on confidential materials As you can imagine with HCP meetings, security is a key element. All our processes, equipment and technology have been tailored to meet the highest of requirements. We set up a local closed Wi-Fi for our iPads at every venue we work at. This Wi-Fi has no access to the internet and no material can be transmitted. Everything runs off local servers and nothing is stored locally on the iPads. In case an iPad is stolen, no material is left on it - and as soon as it leaves the range of our Wi-Fi nothing can be accessed.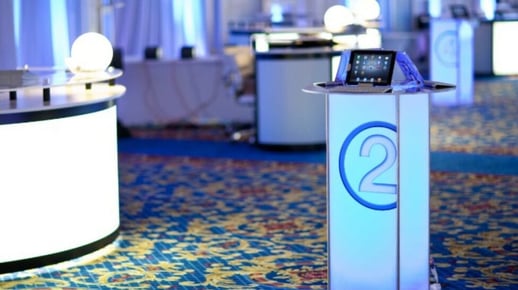 Through Bishop-McCann's partnership with Consensus Online, our team delivered a tailored iPad solution for this HCP client. Unlike our competitors - we do not simply deliver practical congress tools we create and deliver strategic meeting solutions capable of elevating the value created by bringing people together.
More ways to leverage technology and mobile apps for your next corporate event can be found in the below blogs offered by @MeetingsTomorrow & @BizBash: