The 2019 IMEX America show is scheduled to take place on September 10-12th. IMEX America hosts their conference at Sands Expo at The Venetian l The Palazzo, one of the world's largest event facilities in one of the world's most extraordinary hotels. IMEX America is really bringing it home this year with 20+ new exhibitors, 180+ FREE expert-led learning sessions, and COUNTLESS, sensational social engagements. From innovative new content and new exhibitors to astounding experiences, you WILL NOT want to miss the top 12 things to experience at the 2019 trade show.
12. Explore the BRAND-NEW IMEX America Discovery Zone
The new Discovery Zone will be available to explore all day on Monday, Tuesday, Wednesday, and Thursday. You will be introduced to new concepts and ideas that can provide more imagination, connectivity, and memorability to your corporate events. IMEX gives a teaser: "Our new Discovery Zone where you can get up close and personal with… (well, you'll have to come and find out)." The suspense is already killing me!
Within the Discovery Zone, there is the Inspiration Hub. This hub will be available all day on Tuesday, Wednesday, and Thursday. It offers a wide variety of educational activities using different formats, including fun-filled campfires and peer learning at Hot Topic Tables. Visit the Inspiration Hub for short sessions between activities throughout the show!
11. Smart Monday
Experience cutting-edge professional development powered by IMEX America's strategic partner, MPI, ON THE HOUSE! This complimentary session provides you with the opportunity to immerse yourself in a full day of free education and networking before the show opens. Focused on your professional development, IMEX provides extremely in-depth practical workshops. There is so much more to be discovered in this session; don't forget to add it to your calendar!
Monday, September 9th, 9:30am-4:30pm
10. Virtual Reality Exhibits
With hints of "innovative" and "creative" activities followed by a picture of a woman wearing virtual reality (VR) glasses, it's only natural to assume IMEX will be including VR booths at the upcoming trade show. If you have yet to try a VR experience, take advantage of this opportunity! Technology is already extremely advanced in 2019 and does not look like it is stopping anytime soon. Tech trends are constantly flowing into the corporate events and meetings industry. Stay on top of the game and learn about the trending technology, so you can implement it into your upcoming projects.
9. Learn from These Keynote Speakers
Artist Phil Hansen is a keynote speaker for the 2019 show, and his presentation is titled "Embrace the Shake: Transforming Limitations into Opportunities." After developing a career-ending tremor in his drawing hand, Phil embraced his "shake" by redefining his limitation as an impetus for creativity. He restored his artistic abilities and has helped businesses approach their limitations in new ways.
Monday, September 9th, 8:30am-9:30am
The comedy group called Four Day Weekend has a presentation titled "'Yes, and…: The Power of Improvisation in the Workplace." The group describes how they have built their 22-year-old business on the methods of "yes, and…." They take their onstage skills and apply them to the corporate world through customized training that brings improv philosophies to life through activities and conversational debriefs.
Tuesday, September 10th, 8:30am-9:30am
Nationally recognized researcher, best-selling author, and speaker, Michelle Gielan, titles her presentation "The Optimism Quotient: Changing Our Mindset, Fueling Success." Research in neuroscience and positive psychology is showing the ripple effect rational optimism can have on performance, profitability, and happiness at work. Michelle will empower you with practical, research-based, positive communication strategies to increase happiness and success.
Wednesday, September 11th, 8:30am-9:30am
8. Connect with New Suppliers
With over 20+ new exhibitors, you will have the opportunity to meet with more than 3,000 suppliers from every sector of the global meetings industry. You can meet US domestic suppliers, major hotel companies, global tourist offices and convention bureaus, airlines, spa resorts, event management specialists, and so much more.
7. IMEX Run
This fun run allows you to join your colleagues for an early morning 5K along the Strip! Enjoy the morning sunset as you experience the heart of Las Vegas. IMEX America states, "It's our way of helping you get the best possible start to a busy day at the show." This 5k is open to joggers, sprinters, and amblers.
Wednesday, September 11th
6. Explore the City's Dining Scenes
Here is another chance to join your colleagues off the show floor. There will be a "Lip Smacking Foodie Tour" provided by the company, Lip Smacking Foodie Tours. They tell us, "We take you off the beaten path to Vegas' booming, newly revitalized downtown that's now home to the city's most exciting dining scene featuring local chefs crafting imaginative farm-to-table, seasonal, artisan fare." If you enjoy food as much as I do, this is something you will regret missing out on!
5. Boogie Up to the Rooftop at Drai's for MPI's Rendezvous
Enjoy a fun night—you deserve it! Boogie on up to the rooftop of Drai's for a fun Vegas celebration. Enjoy the multi-sensory dance floor, poolside lounge, and open bar! Additional registration and payment are required. (It will definitely be worth it!)
4. Breakfast in Bed (Especially After That Rooftop Party)
Breakfast in bed might be the perfect recipe for a night after Drai's! Start your last day off with breakfast in bed, courtesy of Business Events Montreal—just find their booth near registration. I would suggest doing it earlier rather than later.
3. Be Well Lounge
This might be my favorite part! The Be Well Lounge is open all day Monday, Tuesday, Wednesday, and Thursday. This lounge provides guided meditation and relaxation. This will definitely give you a chance to relax for a few minutes after so much excitement all day long! Go enjoy a peaceful session to keep your mind strong and sharp throughout the trade show.
2. MPI's Five Funky Icebreakers
Join Jessie States to learn about five funky ice breakers to help corporate event attendees get to know each other. Get to know your peers during this outside-the-box experience, and experiment with icebreakers that could help your own attendees break the ice just a little bit better.
1. NETWORK, NETWORK, NETWORK!
"I have been able to network and meet a lot of people in the industry. It's been great to be able to meet with everyone all around the world. From Europe, the Caribbean, and all over in one place."

2018 IMEX attendee
Learn, network, and connect with the global meetings industry in exciting ways in the exciting city of Las Vegas. "If you're a meeting and corporate events professional, you'll find all the suppliers you need for your events—from new venues in major cities across the world to the latest event tech providers. We welcome meeting and corporate event professionals from a huge range of disciplines and sectors. Whether you're a meeting planner, an association executive, an incentive travel buyer, or an in-house corporate event expert, IMEX America is for you."

IMEX America
Also, as promised, here is a pre-show checklist provided by IMEX America: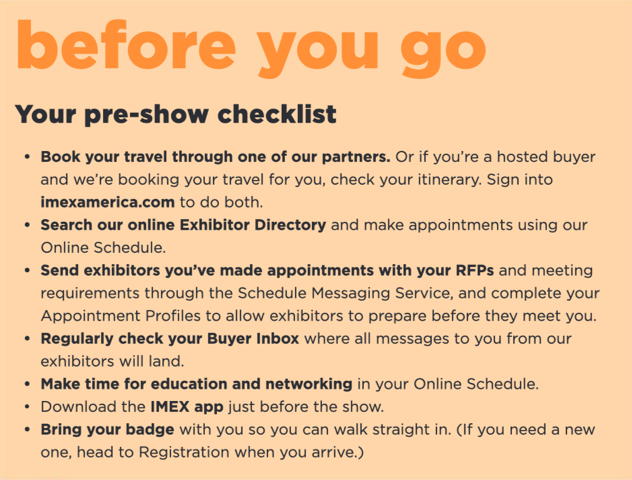 For more information about the 2019 IMEX America trade show, visit their website located at https://www.imexamerica.com.
Bishop-McCann hopes you have an awesome experience! If you would like to chat during your time,