It's no secret that the idea of healthier and more mindful living is on the rise. Incorporating balance into daily work life is becoming more and more important to reduce stress and stay at the top of your game. Businesses know that in order to keep their employees performing at a high level, they need to improve their incentive programs. A retreat or trip with wellness activities incorporated into the overall event not only shows attendees that management cares about them, but it also leaves them feeling energized and rejuvenated. According to a recent study, wellness is the second largest trend for incentive travel programs this year.
At Bishop-McCann, we have found that scheduling health and wellness activities into any event proves to be a successful addition. Here are a few activities that have been very popular with meeting attendees as of late:
Optional group run or walk
Morning tai chi session or yoga class
Fresh pressed juice bar for breaks
Make your own snack/trail mix station
Calming giveaway items, such as rose water face spritzer, aromatherapy candles, or refreshing mints
This spring, we incorporated a Zen Zone into a corporate event, giving attendees an area where they could go to escape the fast-paced meeting environment. After the general session on the second day of the event, we dedicated the entire afternoon to wellness and self-improvement, inviting attendees to the Zen Zone. The result was phenomenal!
The Zen Zone included:
Chair massages
Manicure stations
A health bar where attendees could request fresh juices, smoothies, or protein shakes
A VR lounge where attendees put on noise-canceling headphones and a VR headset to escape to a private island or the mountains
Traveling light therapy stations that acted as a therapeutic light experience putting users in various states, such as deep relaxation, dreamlike, or meditative
A give back station where attendees could put together care packages for a nearby homeless shelter
A candle making stations where attendees could choose their own scents and make small candles to take home with them
During the same afternoon, we offered 10 sessions focusing on a different area of wellness. Some of the sessions included lessons on how to obtain a positive growth mindset, how to step outside of your box, what nutrition tips to follow, and various other aspects of balancing work, family, friends, and time for yourself. The feedback we got from attendees was outstanding.
The Zen Zone is a prime example of an activity focused on health and wellness that we added into a corporate event, but you can go one step further by holding your meeting at a destination that is focused on health and wellness. Just this past week, our President & CEO, Rob Adams, attended a Young Presidents' Organization (YPO) event held at the Miraval Arizona Resort and Spa in Tucson.
The entire meeting focused on the theme "be more" – "be more vulnerable," "be more balanced," and "be more connected." The idea was that the health and wellness location acted as a catalyst to inspire attendees. The meeting content and gifts carried the theme throughout, and the group name of GNOSIS, which means knowledge and insight from yourself, was used on the materials.
Morning meditations, hiking, and spa sessions were just a few of the planned activities during the corporate event. There was even a personal life coach available to reinforce the goal of gaining better insight from yourself and others through balance.
Attendees received a copy of Brené Brown's book, Daring Greatly, to emphasize being more vulnerable. They also received a Tibetan singing bowl to encourage being more balanced and a picture frame with a group photo to emphasize being more connected.
Be More Balanced Gift: Tibetan Singing Bowl and Tingsha Cymbals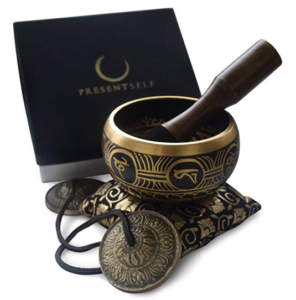 As a result, attendees left the meeting feeling more focused and renewed while having a better sense of personal purpose. Rob said the experience was unforgettable. "Everyone who attended the event felt good about how they spent their time that weekend and vowed to continue their efforts to be more mindful when they got back home."
This just shows the value of incorporating health and wellness into any corporate event. People return to work happier and healthier. They feel cared for, empowered, and refreshed—ready to seize the day and perform at their highest level.