Smart Badges Make Networking Easy at Meetings and Events
Let's face it—for many people, networking at events or meetings is a daunting task filled with a lot of awkward conversation. Most of the time, meeting attendees only get a name and maybe a business card from people they mingle with at a networking event. It's even tough when attendees are approaching exhibitors in a trade show environment, where you would assume the conversation should be easier. There's no guarantee that someone will stop by an exhibit booth and start up a conversation that leads to a sale. This is where smart badges come in. A smart badge is a new type of wearable technology that solves these problems with any in-person interaction.
At Bishop-McCann, our goal is not only to create JOY at our client's meeting or event but also to make sure that all of the attendees feel connected and get the most out of every minute spent at the event. Recently, we came across a smart badge technology that we think is top-notch. The Proxfinity's (a portmanteau of proximity + affinity) CUE is one that visually connects people.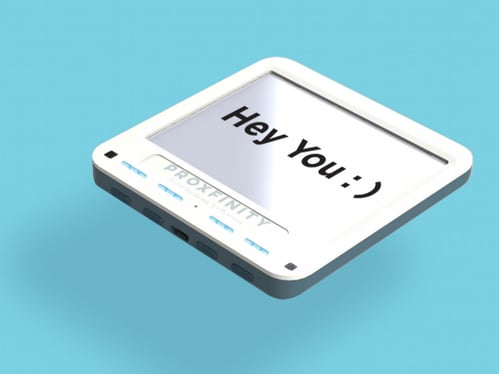 Here's How It Works
At check-in, all attendees receive the smart badge, which is loaded with their contact information and responses to a simple pre-event survey containing custom questions derived from behavioral insights and the attendee's goals.
When there is a match, the CUE's lights flash notifying or "cueing" the attendees.
Attendees can then flip the badge up to see the interests and data that they share, making it easier to start a conversation.
The smart badges record the locations of discussions and the time spent talking. They even exchange contact information so that attendees and trade show partners can track leads easily.
No additional downloads or apps are needed.
When attendees aren't networking, the smart badge can check attendees into a room or workshop and confirm how long they were there.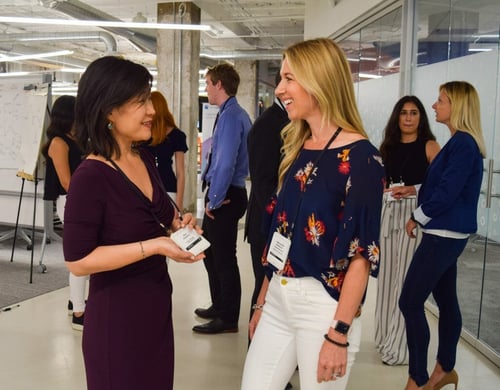 After the meeting or event, reports are available for attendees that show the number of connections generated, the average number of meaningful conversations, connections by demographic, and topics that drove discussions. The smart badge even keeps track of possible connections that may have been missed.
The result is that social barriers are lowered, making it easier to strike up a conversation and making networking time become much more valuable. Attendees get more relevant information from face-to-face interactions instead of just someone's name, and exhibitors walk away from an event with follow-up information and the next steps at hand.
Numbers from Proxfinity
167% average uptick in attendee connections per event.
100% attendee participation in surveys and data generation.
30% more viable leads for salespeople.
35 data points are generated every minute per attendee.
For meeting and event organizers, this smart badge is particularly beneficial because we have the ability to track matching, view analytics, see traffic flow, and monitor session attendance for our clients. It also gives us the ability to do live polling and send push notifications.
For businesses, Proxfinity CUE helps with cross-selling and collaboration by showing separate departments and teams how to work better together. The badges also improve organizational connectivity and business information sharing. Sales are boosted by syncing internal experts with frontline salespeople.
For meeting or event sponsors, the Proxfinity allows for branding and logo placement, which means enhanced visibility. Because of timed logo placement technology, a partner can sponsor the entire event or just a reception or breakout session.
So whether you are planning, holding, sponsoring, or attending an event, this smart badge improves the event experience and helps people connect easily. Plus, the Proxfinity CUE is easy to wear. It's durable while being thinner than a cell phone and lighter than a pad of sticky notes. Attendees can pick it up and put it on just like a regular name badge. It's definitely something to consider for your next meeting or event.