From holidays to celebrations, sharing meals is one of the ways we connect. That makes them an essential part of any corporate event, and pharmaceutical meetings are no different, even if they can be a bit more complicated. When it comes to pharma events and HCP attendance, menus can be a compliance challenge, but that doesn't mean they need to be any less spectacular.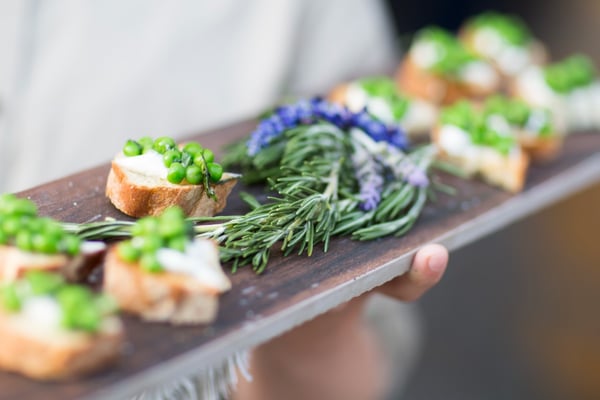 Pharma Event Management and Open Payments
One of the most challenging aspects of pharma event management is seemingly managing two parallel events – one for HCPs and one for other attendees. While HCPs shouldn't feel as if they're experiencing a different event, Open Payments and the Sunshine Act mean that all exchanges of money or transfers of value (ToV) for aspects such as food and beverage must be recorded and reported.

In short, that means you have to be mindful of those expenses. An event planner must always keep in mind PhRMA and EFPIA during the entire event planning process from negotiating with venues to actual event execution.
PhRMA and EFPIA
While Open Payments and EFPIA require you to report payments and ToVs, it does not provide a framework for determining what amounts are ethically and legally acceptable. In fact, those numbers are subjective and largely dependent upon the pharmaceutical company itself.

However, guidelines regarding what ethically distinguishes reasonable payments from extravagances are provided by two organizations. For the United States, the PhRMA Code on Interactions with Healthcare Professionals is utilized, and outside of the US, the corresponding European code is the European Federation of Pharmaceutical Industries and Associations (EFPIA).

Though the federal law requiring disclosure doesn't provide guidelines regarding acceptable amounts, these two industry organizations have stepped in to provide the framework. Still, it's worth noting that their guidelines are just that – guidelines. Ultimately, what a pharmaceutical company wants to spend is up to them.

Of course, it's also important to understand that even though there is no codified amount, pharmaceutical companies want to keep payments and ToVs from appearing ethically questionable.
Pharma Event Budgets and HCPs
Because of these guidelines, when it comes to pharmaceutical meetings and event planning, there are likely two budgets: one for the event and one for HCPs. When it comes to Open Payments, pharma events that include HCPs must record and report payments within certain categories, referred to as "Natures of Payments." Pharmaceutical events' natures of payments may include:
Food and beverage
Accommodations
Travel
Meeting room rentals
Honoraria/consulting or speaker fee
For all of these items, you'll likely have to negotiate special pricing to help you stay within both your overall budget and your budget for HCPs.
How to Keep Your Pharma Event Menu On Budget and Compliant
When it comes to corporate events of any kind, food is often a centerpiece. However, delivering the wow factor through food while being mindful of HCP compliance concerns can be a bit of a balancing act.
In addition, staying compliant for travel and lodging often means no bells or whistles, no lavish resorts, and no first-class travel for HCPs. However, food and beverage can be slightly more complicated. Beverages and meals for HCPs will be capped, so staying on top of that is essential, especially during the planning phase.

Often hotels and venues do not publish pharma-specific menus, so you'll need to ask, especially if there will be HCPs in attendance. On the other hand, restaurants typically have tiered menu packages that appeal to pharma or medical companies. You may have an opportunity to source and contract multiple programs or events at the same time and yield contractual savings. That can help you deliver more for less while staying compliant.
There are some additional strategies to help keep your pharmaceutical event menu on budget and HCP compliant.
1. Opt for plated meals. Plated meals are typically less expensive than buffet offerings because the culinary team can control portions, keep costs down, and cut down on waste.
2. Consider menu sharing. Ask the venue what other groups are in-house and what they're serving. Often bundling with another group versus creating your own menus is a cost and time saver for culinary teams. "Piggybacking" off their menus can reduce costs for everyone involved.
3. Exercise your negotiation skills. Ask the culinary team to get creative. Be clear about what the constraints are and what your budget is; it may give a chef an opportunity to flex their creative muscles. You can even provide sample menus from past events to help kick off the process.
4. Consider themed stations. Themed stations such as tacos, flatbreads, salads, sliders, Asian noodles, and bowls are among the top food and beverage trends, and they can go a long way. With simple and inexpensive ingredients, they provide a variety of options for attendees.
5. Try skipping passed appetizers and hors d'oeuvres. Not only are these food items incredibly expensive, but they're also labor intensive for the culinary team/servers. They can result in skyrocketing food costs.
6. Stay green and save money by skipping bottled water. Bottled water can be costly, and water stations will save you money. Added bonus? Reusable water bottles make great event swag!
7. Work with an experienced event planning agency. In addition to these strategies, agencies with pharmaceutical event experience will have additional tricks up their sleeves, including established relationships with event venues ideal for your pharma needs.
If you're ready to plan your next pharmaceutical meeting that considers your unique needs, then work with the team at Bishop-McCann. We got our start in the pharmaceutical space, and throughout the years, we have honed our expertise. Let us put our experience to work for you and your guests. Get in touch today!