This past December, Bishop-McCann team members from all offices decorated Sweet Cases for the Adopt Kansas City Kids Agency, which is part of the Missouri Department of Social Services. Associates put their creative minds together during our Holiday Lunch to really make sure the children receiving the cases felt special as part of BMC's Just Right Projects.
Sweet Cases included material for fun activities, such as coloring books and crayons, and comforting items, such as blankets and teddy bears. Cases even included a toothbrush and toothpaste.
"The sweet cases are such a comforting sight for children and youth entering care. It's wonderful for them to instantly have something of their own for their treasures as well as practical personal items. The artistic and whimsical designs are appreciated and always bring a smile to children as they pick out their favorite duffle to match their personality. Thank you for the thoughtful duffle bags filled with necessities and comfort," said the Tanya Keys, the agency's Regional Director.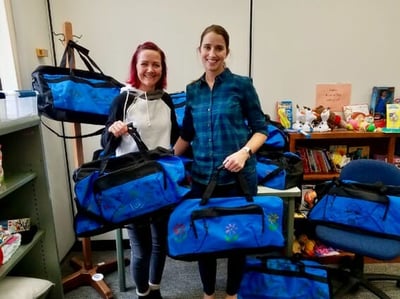 Nicole McCoy, Director of Global Sourcing, spearheaded the idea to include the Sweet Cases as a part of Bishop-McCann's Just Right Projects. McCoy and her family welcomed a little brother from the foster care system, so the Adopt Kansas City Kids Agency struck a personal chord with her.
"Knowing that every city has foster care kids who could benefit from a little extra love, I thought partnering with the Adopt Kansas City Kids Agency would allow all of our offices to not only help children in the community, but also introduce the program to our planners who are regularly called upon to create a team-building or philanthropic component in their meeting planning," McCoy said. "You know the saying, 'It takes a village?' Our industry provides opportunity for our staff and attendees to be part of many villages, and what a giant impact we can make on society by contributing a bit of time and love at each stop."
Learn more about Bishop-McCann's dedication to helping communities and other Just Right Project initiatives here.