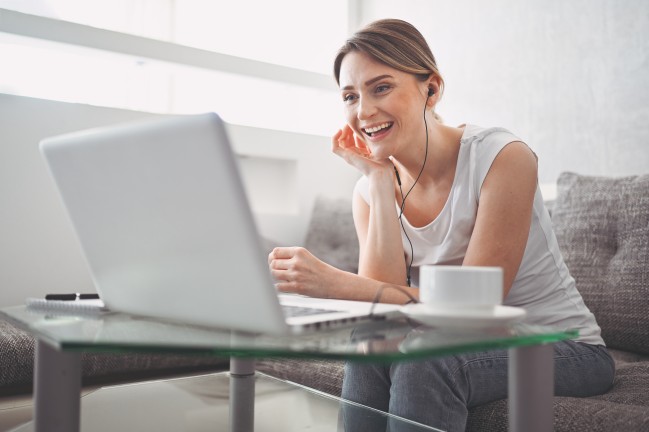 One of the best outcomes of the rise of virtual events in the face of a pandemic is the fact that it forced us to re-envision the way we create and host corporate events. Not only did we find ways to create engaging and successful virtual events, but we also began to see the value in hybrid events, whether there were gathering restrictions or not.
Suddenly, we had events without geographical boundaries, events that became more affordable for many to attend, events that required us to create virtual experiences and ways to connect despite the distance, and events that explored content delivery and how we combat constraints that made delivery challenging. In some ways, it's exciting to see how and where necessity will continue to invent.
One of the challenges of hybrid and virtual events has always been content delivery. From bandwidth to running live feeds, virtual events presented a variety of technological issues. However, an asynchronous virtual event solves one of the biggest challenges for event attendees – how to fit all the sessions into their schedules.
Quick Links
What Does Asynchronous Mean for Virtual Events?
Asynchronous, especially as it relates to content delivery, grew in popularity predominantly with the arrival of virtual classes and online education. In that context, it meant that student learning could now happen in different places or even at different times. Flexibility meant more people had access to the content.

For virtual events, asynchronous content means that attendees and guests are not relegated to attending sessions at the time they are live. Through on-demand content, attendees and guests can watch recorded sessions, customizing corporate events to meet their needs and interests. Push notifications can even be delivered that suggest events and content based on the preferences of the individual (a bit like Netflix, but more on that later).

What Are the Benefits of an Asynchronous Virtual Event?
How many times have you been at a corporate event and noticed two sessions you'd like to attend, but they happen to be at the same time? What if you could attend both? Asynchronous virtual events make that possible. Not only is that great for attendees, but event planners and hosts benefit from it as well. Asynchronous virtual events create:
1. Flexibility - Attendees in multiple time zones? No problem. Even if you have a speaker or presenter in a different time zone, there's no need to worry about coordinating a time that works for everyone (especially when that's next to impossible in some situations). With 49% of organizations saying international attendance creates issues, asynchronous events solve that problem.
2. Access - In much the same way that virtual events opened doors for many to attend corporate events, workshops, and conferences that they wouldn't be able to attend otherwise, asynchronous virtual events do the same for individuals who might otherwise not participate. One thing we have learned from virtual education is that it created opportunities for participation and access for individuals who were unable to attend by traditional methods. Don't like speaking in a crowd? Participation in discussions in virtual events happens outside of the physical crowd. We create access and opportunity for voices we may not normally hear.
3. Increased and More Diverse Dialogue - Speaking of those voices we may not normally hear, increased access has a direct impact on the quantity and quality of the dialogues that take place at your event. More participants create the potential for richer conversations that don't get cut off by the clock. For example, an individual viewing the session or presentation later can reignite conversation by commenting in a discussion forum on a previous participant's comments or questions. Users who are subscribed to (or notified of) new content can return to message boards or threads to re-engage.
Most of us have been in a session, participating in a great conversation or engaged Q&A, when everyone looks at their watch and suddenly the conversation grinds to a halt. What if those conversations could continue? What if they could pull in more people who attended the session at a different time? Asynchronous virtual events open up opportunities for continuing deep dialogue on topics that matter to guests. Further, the extra time enables participants to contribute thoughtful, meaningful input, leading to a more valuable experience for guests.
4. Post-Event Engagement - Up until now, post-event engagement has mostly consisted of feedback, surveys, and any networking connections an individual made on their own. However, one of the most amazing aspects of asynchronous events is the ability to continue to engage audiences even after the event has ended. Because the content is not tied to a time or space, those rich conversations can carry on well beyond the event, keeping attendees connected to you, your business, and other attendees. These post-event discussions add additional value to the event itself. Further, organizations or businesses may want to utilize drip content and slowly release sessions that will keep guests returning to the site regularly. This can increase post-event engagement and keep discussions and ideas flowing.
5. Attendee Preferences - Whether attendees want to quickly attend sessions back-to-back or take more time to absorb the content, they can move at their own pace. Similarly, individual scheduling conflicts are gone. Guests can choose a time that works for them to attend the sessions they choose.
6. On-Demand Events - Imagine if after attending your event, a guest returns home to their work or social network and shares how amazing your event was. Now imagine if those individuals could then find your content online for themselves. One of the biggest benefits of an asynchronous event is the material. Content can be repackaged, gated on your site, or offered via paid access. Hopefully, the information and sessions from your event are valuable enough to be offered year round, enabling anyone to participate, even if it's piecemeal.
What Are the Drawbacks of Asynchronous Virtual Events?
All of that sounds great, right? However, it's important to understand what events work in this format. While there are significant benefits, asynchronous events are not a substitute for meeting in person when decisions need to be made quickly. The drawbacks include:

1. Loss of Informal Communication - Informal communication, especially within organizations or among colleagues, has significant value. With asynchronous events and sessions, attendees lose some of this. That makes it ineffective for brainstorming sessions or events that thrive off of spontaneity or require enthusiastic audience participation.
2. Loss of Connection - Attending an event together (such as a session that includes a transformative experience) is invaluable in creating connections. Shared experiences bond us, and in the work world, they can reignite a sense of purpose and shared mission or vision. Some of this is lost in the virtual event space, but even more so when events happen in different places at different times.
3. Loss of Efficiency - Some sessions are time sensitive and require synchronous events, while some benefit from participants being able to act upon what they've learned, discussed, or decided immediately. Similarly, certain meetings or events are designed to be short and intense when decisions must be made quickly. Asynchronous virtual events are not helpful in that case, creating unnecessary drag and friction on action items.
Given those drawbacks, one of the most important aspects of corporate event planning is understanding the goal of your event and sessions, along with determining the best delivery method.

Four Tips for Including Asynchronous Content for Hybrid and Virtual Events
If you're ready to test how you can include asynchronous content at your next virtual or hybrid event, here are some important aspects you'll need to consider.
1. Know Your Content
Few things can ruin a session quite like underestimating the necessary time frame. As mentioned above, certain content lends itself to long engagements. In other words, some content will benefit from extended conversations with more participants and more time to think and mull over concepts and ideas. However, other types of sessions just won't translate to the extended time frame of asynchronous sessions. Look for topics that will benefit from extended engagement and deeper conversations.
2. Communicate the Concept Clearly
Your participants need to understand how the conversation will flow, how new participants may enter and exit the conversation, and how to manage their expectations regarding responses. This can help with miscommunications and misunderstandings. Further, it makes clear for participants that they also have time to think, prepare their thoughts, and communicate without feeling the pressure of needing to make a quick response.

Additionally, it's smart to set some boundaries or rules regarding the communication space and how the tools are used (if necessary).
3. Provide the Tools Your Attendees Need
From ensuring videos are high quality to providing the applications attendees need to actively participate, supporting asynchronous events takes tech-savvy. One of the most important considerations from a tech standpoint is the need to ensure that your event app(or any other applications used) can support continued engagement across multiple platforms. Communication tools are of the utmost importance as one of the goals of this kind of content is to encourage and facilitate ongoing discussions.
4. Keep an Agenda or Schedule
Do not confuse asynchronous with a free for all. Even though the boundaries of time and space for the event attendees are loose and flexible, that doesn't mean an agenda or timetable isn't set by the speaker, leader, or facilitator. Resist the temptation to let sessions be open-ended or unstructured. Attendees will still want to understand the flow and direction of a session or meeting.
These tips will help you get started, but as with any event, there's a multitude of aspects to manage. That's why the Bishop-McCann team is here.
If you're planning a hybrid or virtual event with synchronous or asynchronous scheduling, technology, or more, get in touch with us today. We're excited about the events evolution and are ready to help you make it engaging, exciting, and successful.