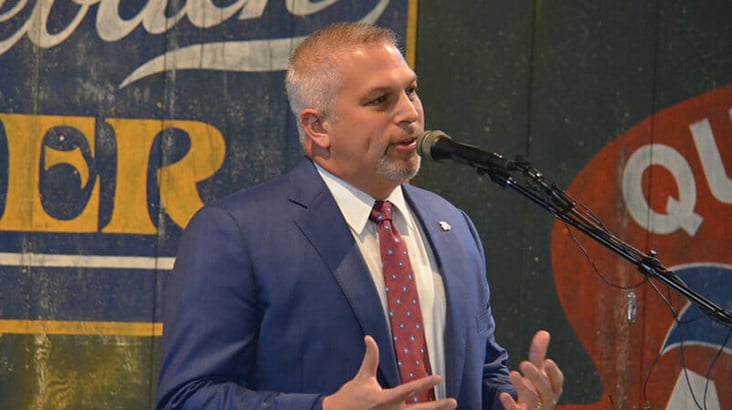 At Bishop-McCann, we know how important a good keynote speaker is to the success of any meeting or corporate event. That's why we are so selective and passionate about the speakers we recommend for entertainment. One such speaker that we have on our roster is Joel Goldberg. A native of suburban Philadelphia and Chicago, Joel has been a member of the Kansas City Royals' television broadcast team since 2008, serving as the host of every pregame and postgame show on FOX Sports Kansas City. He won a 2001 Mid-America Emmy for sports reporting and has covered multiple championship teams in Major League Baseball and the National Football League. His strong relationships with professional athletes, coaches, and sports team management for the last 25 years has awarded him with a multitude of stories and team-building strategies. Now, he's sharing those stories about life with companies, organizations, and associations across the country.
Joel's presentation on "Building and Sustaining a Championship Culture" has made quite an impact on audiences, but he wants to make it clear that it's not a "baseball speech." As a speaker, he uses stories from his experiences behind the scenes in baseball to teach life lessons. Joel emphasizes the power of rising after failure, the significance of building trust, the value of networking, and the importance of connecting people from culturally diverse backgrounds.
What is unusual about Joel is that he provides a different perspective than a former athlete or coach. He relates what he has learned by being around the game, its coaches, and its players. He talks less about wins and losses and more about the bigger story of baseball. He then explains how that can be applied not only to work life but also to daily life.
Looking for a dynamic, leadership-focused speaker for your next meeting? Visit joelgoldbergmedia.com, or learn more about Joel by downloading his podcast, "Rounding the Bases," which features leaders and executives making an impact around the country. If you aren't sure who would be the best speaker for your next company meeting or corporate event, contact us. Our connections, depth of experience, reciprocal partnerships, and relationships within the entertainment industry ensure our ability to secure the perfect speaker for you. We will help you create an experience and book a speaker that attendees will remember for years to come.