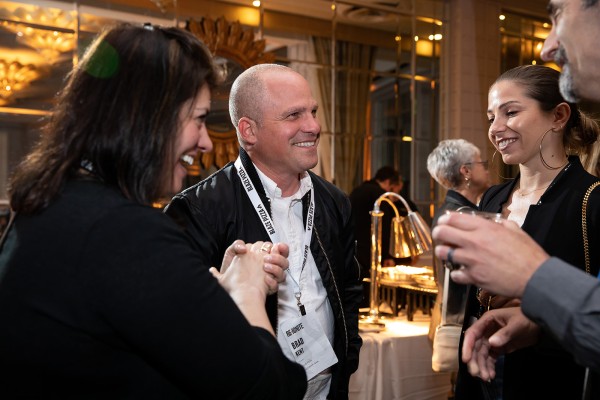 People invest in franchises for a variety of reasons. Whether that be because they're ready to be their own boss or because they're passionate about the brand, many people see the value of being a part of a franchise. But across the board, one of the most important reasons seems to be the support new franchisees receive from the franchise organization.
From brand recognition to corporate support, franchises provide a unique opportunity for individuals who seek to open their own businesses. Many of the benefits of investing in a franchise are standard. However, what can really make you stand out from the crowd as a franchisor is a structured mentor program that provides the standard benefits and more.
Quick Links
What Is a Mentor Program?
Ideally, mentor programs are structured programs that provide one-on-one training, advice, and support for individuals new to a business from established and successful veterans of the organization.
Additionally, these programs are designed to create a sense of community within the organization by sharing insights and information between people who share a similar experience or journey. Typically, mentor programs will match individuals by finding additional commonalities to help facilitate knowledge sharing.
Why Mentor Programs Are Important for Franchises
Many franchisees choose franchise organizations for their first foray into entrepreneurship because of the support they'll get as they navigate their new role as a business owner and leader. However, starting any new business is stressful and comes with challenges, even when that business is a franchise.

This is why a mentor is an invaluable resource. Because these individuals are experienced franchisees who have shared a similar experience, their input and guidance for a new owner is incredibly beneficial. These veterans have been through considerable trial and error in both training and business practices, so their expertise is one of a franchise's biggest assets. A mentor program utilizes this knowledge to replicate their success in other areas.

To establish a structured and effective mentor program, franchise organizations should ensure mentor programs include:
Training that acclimates new franchisees to the brand and its values
Hands-on, in-person site visits that allow new franchisees to see a site "in action"
Introductions to resources, vendors, and people who can assist and answer questions
Mentors with proven success, as well as the soft skills to be a successful mentor
One-on-one mentoring that includes visits to the new franchise business and information on how to meet customer or client needs
What's the benefit here? The franchisee feels supported and seen, as well as welcomed into the franchise organization with their own personal ambassador. This ensures that you begin to build loyalty and excitement about the brand from the start.
What Role Mentors Play in Your Franchise Organization
As noted above, mentors serve as ambassadors for your brand, as do all franchise owners. However, they also serve as ambassadors for your investors and owners. The experience your new franchisees have with your mentors has the potential to shape their entire franchise organization experience.
Further, research into the value of mentoring found the following:
94% of individuals with a mentor suggest that the investment in their careers and development results in increased loyalty
90% of individuals who had a mentor report being happier with their job (and likely your franchise!)
93% of individuals who had a mentor report it was a valuable experience
Not only are the new franchisees getting a personalized introduction to your franchise, its values, and its goals, but the mentors themselves benefit as well. In fact:
Most mentors hone and develop their own skill sets
Nearly half expand their understanding of customers and their market
30% increase their knowledge of ways to expand their customer base and market
In turn, this skill development and sharing among your franchisees strengthens your own brand. Further, when it comes to franchise events, your mentors and mentees have the opportunity to share this knowledge, as well as their experience, with other attendees.
How Your Franchise Conference Can Launch a Mentor Program
With the opportunity for your franchise mentors and mentees to share their successes and tout the benefits of a mentorship program at a franchise conference, it makes sense that your franchise event is the ideal place to launch your program.
Your franchise conference is often your only chance to gather all of your established and experienced franchisees in one location and introduce them to potential and new franchise owners. As such, it's also the perfect time to identify regional owners who have similar markets, gather them in sessions to discuss best practices for their markets, and allow them to informally network prior to matching them in potential mentoring relationships.

Further, because your franchise conference likely includes a trade show, your mentors can introduce new franchisees to regional vendors and help them establish relationships that will lead to success in their own businesses.

Finally, when you successfully match a mentor and new franchisee at your event, mentors can advise them on the best sessions to attend to help them be successful in the early stages of their business. When nearly 20% of businesses fail in the first year, providing support at that time is crucial, and a mentoring program can provide that crucial support.
In addition, when individuals considering franchise ownership see the level of investment and support given to new businesses, they become excited about your brand (as do all your other attendees).

If you're ready to talk about creating a franchise event that boosts your brand while engaging and delighting your attendees, then reach out to our team today! Bishop-McCann has experience and expertise in helping brands of all sizes maximize the opportunities a franchise conference can provide. We're ready to help!