I recently took a trip to Ibiza, Spain, with some friends, and I can only describe it as SUBLIME. It was the ideal vacation for relaxing and having a ton of fun. Ibiza is an island off the coast of Spain in the Mediterranean Sea, about an hour from Barcelona by plane. It is known for its vivacious nightlife and is popular among celebrities and Europeans during the summer. We had an incredible time, and if you ever have the chance to go, here are some of my recommendations for great restaurants and the best beaches for laying by the water.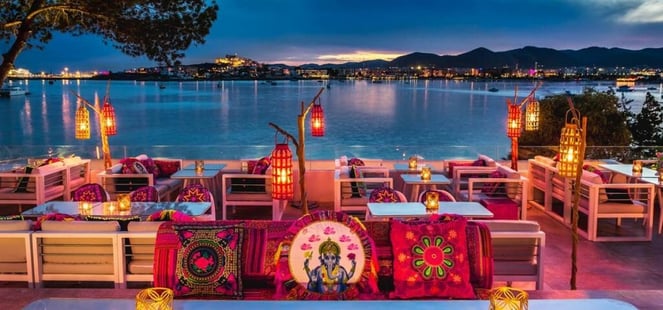 Patchwork
Patchwork is a stunning restaurant set on the water with gorgeous views and festive décor. It is has all the chic, boho vibes mixed with modern design—perfect for enjoying dinner at sunset. They offer delicious Lebanese cuisine and exotic cocktails. Also at this location are sister restaurants, Sa Punta (featuring fine dining) and Ginger (featuring Asian menus). Both are equally beautiful with their own unique flair. I kept thinking to myself that I would love to buy the pillows, art, and light fixtures to decorate my house… and they do in fact have a home décor store as well, proving that your wishes CAN come true!
CharterAlia
There's no better way to enjoy the Mediterranean Sea than on a catamaran tour sailing on the beautiful water... take your corporate event planning to the next level! The boat had large hammock-type nets built in for relaxing and soaking in the sunshine. We brought our own snacks and drinks for the day. Our Ibiza guide was knowledgeable and super accommodating whenever we were ready to move on to the next site. The water was so clear that we could see blooms of jellyfish swimming around. Some of us waited for the jellyfish to pass so that they could jump in the water—any opportunity to take a fun boomerang! We ended the tour with a perfect sunset view before coming back ashore.

Cala Bassa Beach Club
During our catamaran excursion, one of our stops was at Cala Bassa Beach Club. It was the most picturesque little spot with crystal clear turquoise water against the beach. We got on a dinghy that brought us to shore where we had lunch at the beach club restaurant, which also featured a bar and some tiny boutiques. It was a lively scene with people of all ages basking in the sun. The restaurant featured fresh Mediterranean seafood. We got to enjoy oysters shucked tableside, squid ink paella (a must when in Spain), and a really nice presentation of salt baked whole fish.
O Beach Club
Beach clubs are plentiful on this island, and whether for lounging, dining, or dancing, I'd say that it's not a trip to Ibiza if you aren't at a beach club each day. If you're looking for a great pool party, O Beach Club is the place to be. The music is pumping, and the venue is first class. It has a fun energy, and there are different DJs each day of the week—plus exciting aerial performances. It's particularly good for people watching, if that's your jam, too.
Modernista Blanc
For all my fellow wine lovers out there, I have to share this amazing discovery we made in Barcelona, Spain. The night before we flew to Ibiza, we had dinner at Michelin star restaurant, Xerta. The presentation of every course was exquisite, but the highlight of our meal was the white wine they were pouring. The Modernista Blanc is a blend of White Grenache, Macebo, and Muscat. It was super easy to drink, well-balanced, and refreshing. Plus, it paired oh so nicely with our dishes, especially being a seafood-centric tasting menu. I don't think that you can get it in the US, but you can be sure that anytime I see it on a wine list, I will definitely be ordering a bottle… or six!