While the pandemic has spread fear and anxiety across the country for months, our team members are focusing on spreading joy and love whenever they can. With a mission to create JOY, Bishop-McCann prides itself on giving back to the community. Last week, 10 members of our team were able to help others by volunteering at Harvesters – The Community Food Network. Having volunteered at Harvesters in February, some of our BMC employees decided that it was time to give back once again to this deserving organization.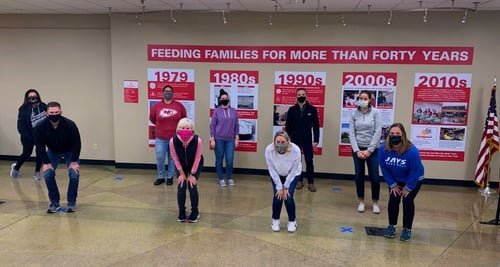 Masked up and ready to go, the BMC team members arrived at Harvesters with a COVID-conscious mindset. Along with wearing masks and socially distancing, our employees also washed their hands before ever touching the items they were packing. During this time, the team worked on putting together BackSnacks. BackSnacks focus on helping feed school-aged children, providing them with backpacks filled with various snacks, such as granola bars, crackers, and other kid-friendly foods. These backpacks are given to needy children weekly and provide a food source on weekends when they are unable to eat at school. According to Harvesters, "More than 100,000 children in Harvesters' service area receive free and reduced-price school meals during the week, and many of those are at risk of hunger on weekends." With these BackSnacks, more children can go home without fear of going hungry over the weekends.
"Not only were we able to help feed hungry children by volunteering, but we also were able to bond as a team. We miss seeing everyone's faces in the office, so giving back at Harvesters was a perfect way to reconnect in person and create some JOY for those who need it most."

Rob Adams, President & CEO
During the two hours that our team spent at Harvesters, they were able to pack 350 BackSnacks for children across the Kansas City area. With the COVID pandemic negatively impacting the economy, Harvesters estimates that 131,620 children in their service area are food insecure, meaning they may be unsure when or where their next meal will come from. Before coronavirus hit, there were 93,090 food insecure kids. That means there has been a 6% increase in food insecurity for children under 18, and one in five children are currently food insecure.
"Knowing that COVID has increased food insecurity for children, this was the perfect opportunity to volunteer at Harvesters. During such a difficult time due to the pandemic, we thought that helping kids go home on the weekends with food was a great way to spread some positivity and love."

Zach Bowman, Business Manager
At Bishop-McCann, giving back to the community is an essential aspect of our organization. Our Just Right Project is our charitable division, and we have three pillars on which we focus our giveback: empowering youth, fostering healthy living, and encouraging passion for the arts. In addition to our Just Right Projects, Bishop-McCann also pledges 1% of our profits to be donated to various non-profit organizations through Pledge 1%. We also offer our event planning services to worthy causes, such as for Big Brothers Big Sisters of Kansas City's Rooftop Crawl.
Learn more about how you can help those who are food insecure, and check out the "Take Action" tab at the top to find out how you can donate food, time, money, and even your voice.