With the number of virtual programs doubling in 2020, event planners everywhere are trying to find ways to make their virtual event stand out. As we've stated in previous blogs, holding virtual attendees' attention can be a difficult feat to overcome when considering the number of distractions going on at home. Along with that challenge, there is the issue of tangibility with a virtual event. People who leave an online program with nothing in hand can feel disconnected from the event, so even the best virtual meetings often need something more. The solution for this lack of tangibility? Eventure.

While specializing in virtual events, Eventure is your one-stop shop for all your gifting needs. From virtual events to live and everything in between, Eventure provides an easy to use online platform that allows you to create flawless gifting experiences for your attendees. Having just launched this month, the company is already filling orders and is ready to make your next event one that your attendees won't soon forget.
Bishop-McCann's Founder & Chairman, Dan Nilsen, and President & CEO, Rob Adams, both realized that there was a much-needed complement that's been missing from virtual events. Due to this realization, they decided to create Eventure together in order to fulfill this missing component and create more powerful virtual events through the use of gifts. Because of their background in the events industry, Dan and Rob understand how much of a struggle it can be to find and order the perfect gifts for attendees. That's why they focused on creating a process that is easy to use for event planners and enjoyable for the guests receiving gifts.
"Meeting planners have worked tirelessly to reinvent the industry and continue providing effective meetings and events on a virtual platform. Our easy-to-use eCommerce system, combined with our exceptional customer service, takes the work out of gift giving. It creates a seamless, customized experience while delivering a flawless, customized product to delight meeting attendees."

Dan Nilsen, Eventure's Co-Founder

Connect Box
Eventure offers gifting solutions for virtual, hybrid, and live events. While Eventure gives you the option of building your own box, they also have several pre-curated boxes to choose from. The first types of boxes are called Connect Boxes. With either the Connect or Collaborate Boxes, your attendees will feel more engaged in and connected to your event. Including items such as brain snacks and white boards to communicate with other attendees virtually, these boxes bring attendees together. Check out their Connect Boxes.
...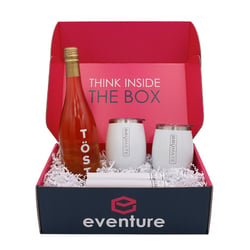 .
Applause Box
Another category of giftbox offered by Eventure is the Applause Box. For events where recognizing star employees is the main objective, these boxes are the way to go. Both the Applause and Standing Ovation Boxes include items such as non-alcoholic bubbly and confetti shooters, perfect for getting your guests excited to be honored at your event. You can even have Eventure create a custom recognition webpage that features your organization's award winners when you order the Standing Ovation Box! Learn more about their Applause Boxes.
...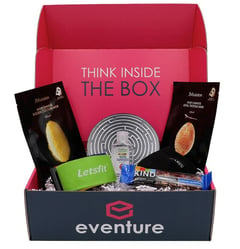 Wellness Box
The last types of boxes that Eventure has pre-curated for your attendees are the Wellness Boxes. The Wellness and Vitality Boxes are made to help your guests focus on both their mental and physical health. With items such as resistance bands and a book on mindfulness, this gift will make your event attendees know that you care about their health and wellbeing. Check out the other fantastic products included in the Wellness Boxes.
No matter where your event is taking place or what your event objectives are, Eventure is your new go-to company when it comes to event gifting. Because their roots are in the events industry, they understand it like no one else. If you're looking to elevate your next virtual meeting (or any type of event for that matter!), go to eventuregifting.com. Make sure to check out their shop to see all the amazing pre-curated options they have for you!