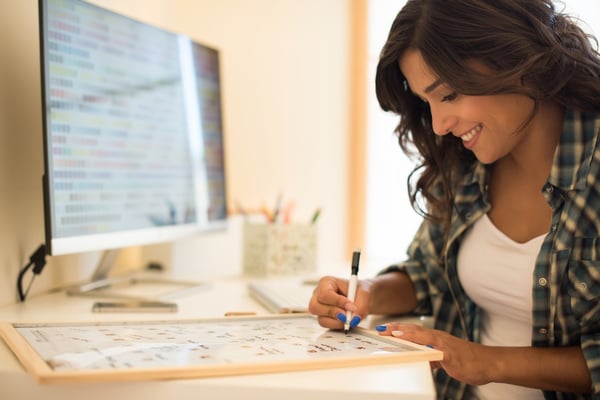 Despite unprecedented challenges, the events industry has been making great strides toward recovery in the past two years. During this time of recovery, many of us spent considerable time reinvesting in professional development opportunities and flexing our creative muscles to find ways to work around the challenges of the moment. However, now that schedules are becoming busier, finding time for this type of professional growth may be more difficult, but that doesn't mean we should forget about these opportunities.

The event planning industry is constantly evolving, demanding new skill sets, creative thinking, and the ability to adapt to changes. On the part of the planner, that means staying on top of professional development opportunities, as well as the resources that can help us stay on top of event trends.
Benefits of Professional Development for Corporate Event Planners
Obviously, the first and most important benefit of professional development for event planners is staying current with industry trends and maintaining industry networks. But there's more to it than that. Opportunities to connect with other event planning professionals present additional chances for personal and professional growth.

Promotes career growth and change - Exposure to unique ideas, roles, and challenges may open up a new career path for you or the opportunity to apply what you've discovered to your existing role and expand it.

Provides opportunities for personal growth - While what you learn can be applied to your career, there are more personal benefits to learning, such as improved mental health and confidence.
Identifies skill gaps - Obviously, some professional resources and opportunities are focused on building new skills, but many can also help you learn what you'll need to know to advance in your career.

Though all professional development resources and experiences are designed to bolster your career skills, they help meet personal goals as well. For so many, career growth is tied to personal growth and vice versa, so finding opportunities and resources that add to both aspects of your life is invaluable.
Top Resources for Corporate Event Planners
The good news is that there is no shortage of resources available to the corporate event planner, and the best part is that many of them are free. From podcasts to in-person classes, you have options.
Free Resources
Courses/Webinars
Meetings Professionals International
Meetings Professionals International (MPI) is a fantastic resource for helping you connect with other professionals, as well as vendors and suppliers. While the website is free, the MPI academy has fees associated with it.
Cvent
Cvent, an industry leader in corporate event management software, offers a variety of free webinars on their website (you'll have to provide your email). They also have a great blog for trending information.
Coursera
Coursera offers free access to collegiate-level audit courses specifically designed for organizational teams and more. Use this time to hone your current knowledge or explore a new area of interest.
Bizzabo
Bizzabo is a creator of event management software and platforms for in-person, virtual, and hybrid events. Their goal is to create shared experiences that matter, and their site features some great tools and resources you can download in exchange for your email address.
Podcasts
Podcasts are always a great resource. They're designed for multi-tasking on a commute, at the gym, while cooking, and more. So give a listen to a few of our faves.
The Events Experience
At Bishop-McCann, we have our own podcast that can help industry professionals stay up to date! The Events Experience takes a deep dive into everything event planning, and our experts discuss the latest tips and trends for virtual, live, and hybrid events to keep you in the know when it comes to the events industry.
Meeting Minds
"Meetings, conferences, audio visual, logistics, and audience experience are at the heart of every weekly broadcast." Host Charles Eide talks with industry leaders and innovators from around the world about how to make your events stand out!

#EventIcons
Every week, Will Curran interviews some of the biggest names in the events industry, allowing the audience to ask any questions they might have. "Whether you do event planning, event production, meeting planning or just love events, this is your time to pick brains and see how the icons of the event industry think."
Gather Geeks
Host David Adler, founder of BizBash, shares "information, innovation, and inspiration for anyone involved in planning events and meetings" in this events industry podcast.
Events Professional Associations
While there are quite a few niche organizations that deal with aspects of the event industry (like those that deal with destination management, venues, international events, and more), these are a few of the top affiliations and organizations event planners need to know about.

Meetings Professional International
For 50 years, MPI has led the way in understanding the power of the events industry and how meetings can change us. "MPI strives to lead the world in education, networking and innovative solutions that advance not only the meeting and event industry, but the careers of the professionals in it."

Events Industry Council
When it comes to setting industry standards for professionalism and the expectations for foundational knowledge, the Events Industry Council is the standard. From certifications to support for event professionals and the events industry, they promote professionalism and excellence in the event industry.

Professional Convention Management Association
As the "world's largest community for business event strategists," Professional Convention Management Association (PCMA) provides education, training, and insights for events. Their guiding principle is that events have the potential to drive social and economic growth for individuals, businesses, and the communities they serve.
Resources for Event Professional Certifications
While continuing education opportunities abound on sites like Coursera, those looking to advance their careers will want to work toward professional certifications.
Professional Convention Management Association
In addition to ad hoc training opportunities, PCMA also offers a certification for Digital Events Strategist. They provide a "comprehensive toolkit to help you effectively plan, produce and measure the results of digital events." The certification is designed to strengthen and establish authority in the production of live streaming and digital events.
Events Industry Council
With the primary goal of establishing professional credentials, the Events Industry Council seeks to elevate the profession by educating its members and helping them achieve excellence in their careers through certifications like Certified Meeting Professional (CMP). This certification is considered foundational for many in the event planning industry.

International Live Events Association
Much like the CMP certification, the goal of the International Live Events Association (ILEA) is to standardize the profession through the creation of certifications that establish a baseline for knowledge and professionalism within the field. More specifically, they offer a certification in Certified Special Events Professional (CSEP).
Events Leadership Institute
With a similar objective of standardizing the necessary skills of event professionals, the Events Leadership Institute also offers certification for meeting professionals (CMP), as well as additional courses and certifications, including Event DEI Strategist.

Meetings Professionals International
MPI and its academy offer a wide variety of educational programs from certificates in meeting management (CMM) to more focused certifications regarding emergency preparedness and contract negotiations. If you're looking to supplement existing certifications and build on existing skills, this is a great place to start!
No list will be exhaustive as the landscape continues to change. In fact, there are several digital, events-focused programs and certifications that popped up after the demand for virtual events spiked in 2020.

Still, the team at Bishop-McCann wanted to share a few of our favorite resources to help you continue learning and bringing the most innovative ideas to your events. We love providing information on the industry to help us all continue to grow as we adapt to an ever-changing environment. Reach out to our team today, and let's talk about how we can work together!